Atlantic 10 men's soccer preseason coaches poll revealed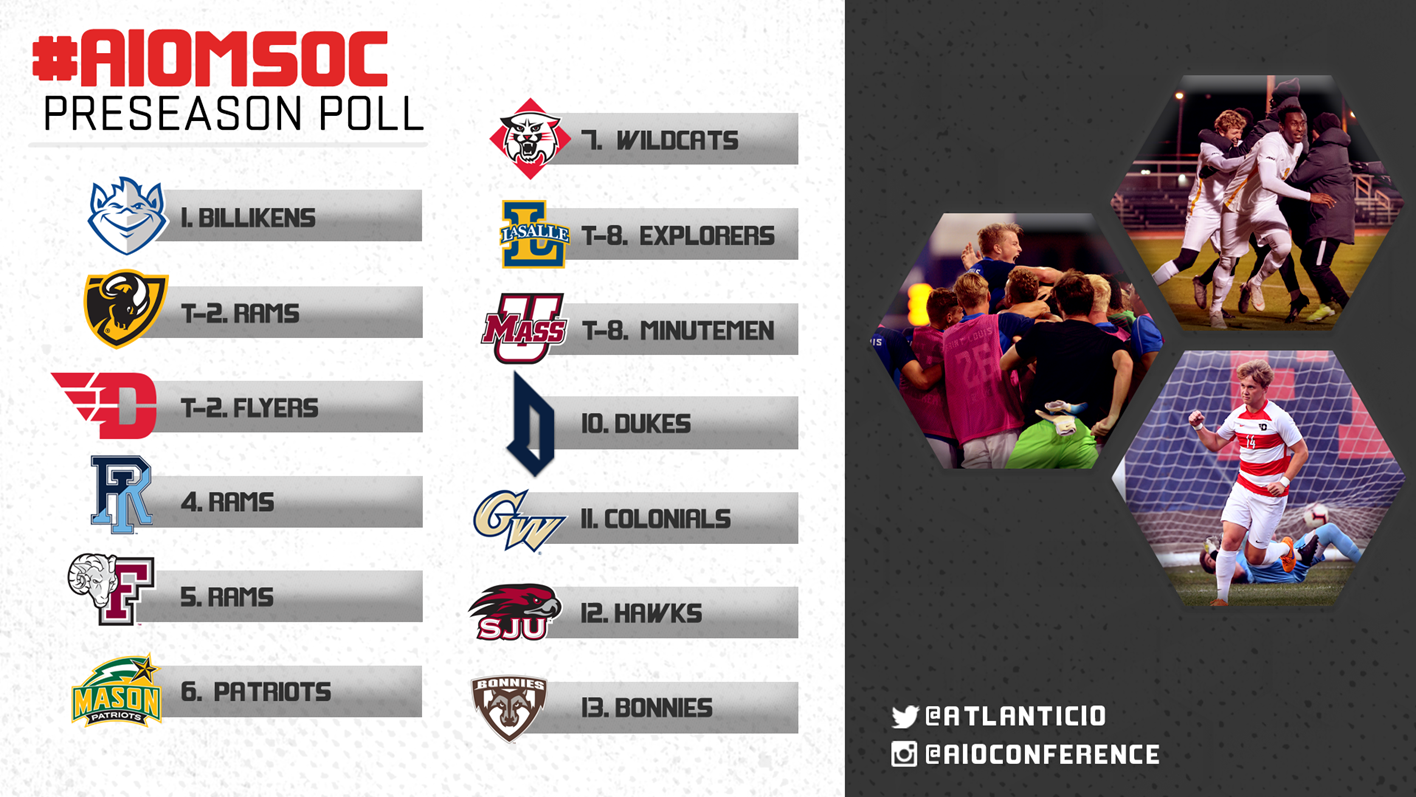 NEWPORT NEWS, Va. – Saint Louis has been selected as the Atlantic 10 Conference men's soccer preseason favorite for the 2020-21 spring season.
The league announced the annual Preseason Poll Tuesday ahead of the start of the season on Wednesday, February 3. Conference play will begin on March 13.
The Billikens were chosen first in the poll with 145 total points after finishing last year with a 6-2 record in league play and a 8-8-1 overall mark. The Bills return a strong sophomore class with three All-Rookie selections from a year ago in goalkeeper Patrick Schulte, midfielder Kipp Keller, and defender Mujeeb Murana. SLU's defensive line held conference opponents to just four goals all season, an A-10 best.
Following the Billikens in the poll are VCU and Dayton, tied each with 143 points.
Dayton returns the Offensive Player and Midfielder of the Year, respectively, in Jonas Fjeldberg and Kingsford Adjei. The pair contributed 11 goals a piece to a Flyers offense that topped the A-10 in scoring percentage, shots, goals and assists. The A-10 Rookie of the Year, Toluwalase Oladeinbo (eight goals), also returns for the Flyers, who fell to Rhode Island in last year's Championship final.
Defending A-10 Champion Rhode Island finished fourth in the poll with 135 points. The Rams (14-4-3) finished atop the A-10 last year with a 7-1 record, and defeated third-seeded Dayton, 1-0, in the A-10 Championship. Offensively, the Rams will look to senior Filippo Tamburini, who led the team with nine goals and four assists.
Fordham was picked fifth, tallying 115 points, followed by George Mason with 86 points, Davidson (76 points), La Salle and Massachusetts (76 points each).
Duquesne, George Washington, Saint Joseph's and St. Bonaventure rounded out the poll.
The four-team 2020-21 Atlantic 10 Championship will be played on the campus of the highest seed, April 15-17, with the winner advancing to the NCAA Tournament. Select regular-season matches and A-10 Championship matches will be streamed live on ESPN+.
2020-21 Atlantic 10 Men's Soccer Preseason Poll 
| | |
| --- | --- |
| 1. Saint Louis | 145 |
| T-2. VCU | 143 |
| T-2. Dayton | 143 |
| 4. Rhode Island | 135 |
| 5. Fordham | 115 |
| 6. George Mason | 86 |
| 7. Davidson | 76 |
| T-8. La Salle | 75 |
| T-8. Massachusetts | 75 |
| 10. Duquesne | 63 |
| 11. George Washington | 60 |
| 12. Saint Joseph's | 36 |
| 13. St. Bonaventure | 31 |