Air Force women's soccer hires Laura Busby from LSU as new head coach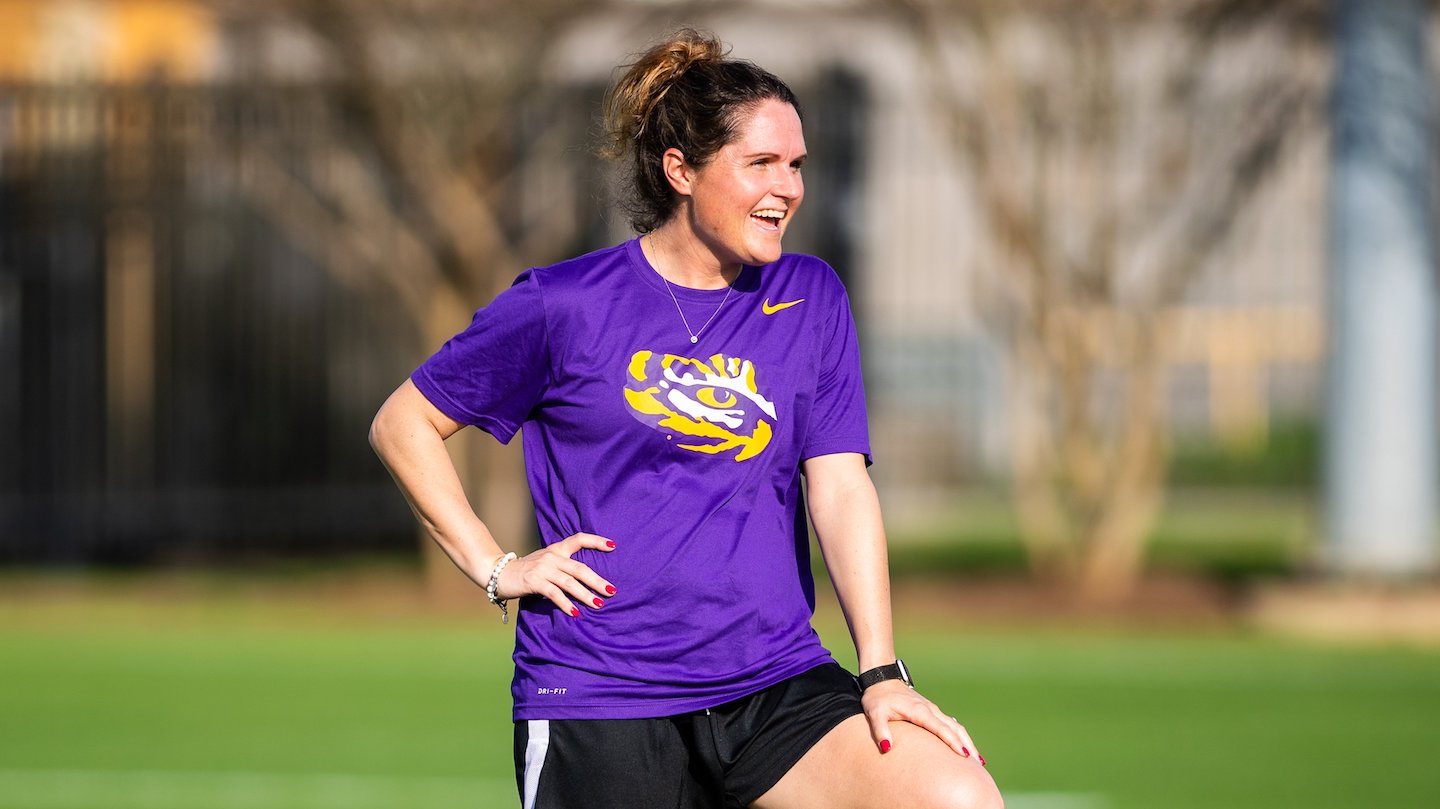 COLORADO SPRINGS, Colo. – Laura Busby has been named head coach of the Air Force women's soccer program, Director of Athletics Nathan Pine announced. Busby, who most previously spent two seasons as an assistant at LSU, becomes only the third head coach in the history of the program.
"We are pleased to announce Laura Busby as our next head coach of women's soccer and to welcome her and her husband Hubert back to Colorado Springs and into the Falcon Family," Pine said. "Her energy, passion and leadership will be instrumental in moving our program forward. She showed a great understanding of our mission of developing leaders of character for the Air Force and Space Force, I cannot wait to work with her toward that end."
Busby comes to the Academy with familiarity of the Front Range, having worked with current LSU head coach Sian Hudson as an assistant at the University of Colorado-Colorado Springs.
"I want to thank Nathan Pine and the rest of the senior athletic department staff for entrusting me with the future of the Air Force women's soccer team." Busby said. "I have been so impressed by the people I've met and the genuine support they have for the program as well as the Academy."
Busby succeeds former head coach Larry Friend, who retired after 13 seasons leading the Air Force dugout.
"It is an honor to serve as the next head women's soccer coach and my staff will work tirelessly to ensure we are providing the best experience possible for our cadet student-athletes," Busby said. "I would also like to thank coaches Sian Hudson and Nikki Izzo-Brown for their support and mentorship throughout my career. I am fortunate to have some amazing female role models in my life and I look forward to providing that same mentorship to the current and future Falcons in my new role as head coach."
An All-American forward at West Virginia, Busby's two seasons at LSU were spent with an offensive directive. Her duties included crafting offensive tactics while honing the skills of LSU's attackers. In her first season with LSU, Busby helped the Tigers increase their goal output by 10 from the year before she arrived.
"During our time coaching together, Laura has proven herself to be an outstanding coach and administrator," said LSU head coach Sian Hudson. "Her tactical awareness, individual player development and overall mentorship of the players she has worked with has been integral to the success of the programs we have led. Laura will be a great addition not only the AFA, but also the Mountain West Conference and I look forward to watching the Falcon program grow under her leadership."
Prior to her two seasons at LSU, Busby was the head coach at Jacksonville University. During her time in Jacksonville, Busby aided two Dolphins to the Atlantic Sun All-Freshmen teams. One of those freshmen, Olivia Abdallah, led Jacksonville in goals in 2019 with five on the season, becoming the first freshman to lead the program in scoring since 2014.
Busby's first coaching stint alongside Hudson was in 2017 at UCCS, as the pair helped to guide the Mountain Lions advancement to the NCAA semifinals with a closing record of 17-5-1 on the season. The 2017 UCCS coaching group was named the Regional Staff of the Year in the South Central Region as they helped a UCCS program that went 3-12-1 in 2016 prior to their arrival to the aforementioned 17-5-1 record in 2017, capturing the Rocky Mountain Athletic Conference tournament title for the first time in program history that season as well.
Busby had her first collegiate coaching position only a year and half removed from her playing days at West Virginia (2001-04). In her final season in 2004 under head coach Nikki Izzo-Brown, Busby was named a NSCAA Third Team All-American after making 21 starts for the Mountaineers, scoring eight goals while recording nine assists.
"I have had the privilege of coaching and watching Laura for over 20 years in the soccer world," said Izzo-Brown, who just completed her 26th season as head coach at West Virginia. "She is a terrific coach and mentor to her student-athletes. There is no doubt that with Laura leading the way, the Air Force women's soccer program will compete for championships. They are lucky to have such an incredible human being leading the way."
Busby was an assistant coach at Purdue University for three seasons (2006-08) before moving to Bucknell University as an assistant coach from 2009-11. She was a member of the Purdue coaching staff that helped the Boilermakers to the Big Ten Tournament title in 2007.
A native of Pottstown, Pa., Busby graduated with her bachelor's in physical education from West Virginia University in 2004, then earned her master's in athletic coaching education from WVU in 2005. She earned four letters for the WVU women's soccer team from 2001-04 helping the Mountaineers to the NCAA Tournament in each of those years.
She was a two-time NSCAA Scholar All-American in 2003 and 2004, recording 31 career goals, 15 of which were game-winners. Busby also registered 23 career assists during her four-year career for a total of 85 points. After her collegiate playing days, Busby turned professional and played for Pitea IF in Sweden. She also played in several semi-pro leagues in the states with the Chesapeake Charge and Colorado Pride. She was named the 2013 Women's Pro Soccer League All-East Player of the Year as a member of the Charge.
Busby will be accompanied by her husband, Hubert Busby Jr., in Colorado Springs.