Players That Impressed: ECNL Girls Fall 2023 Phoenix National Event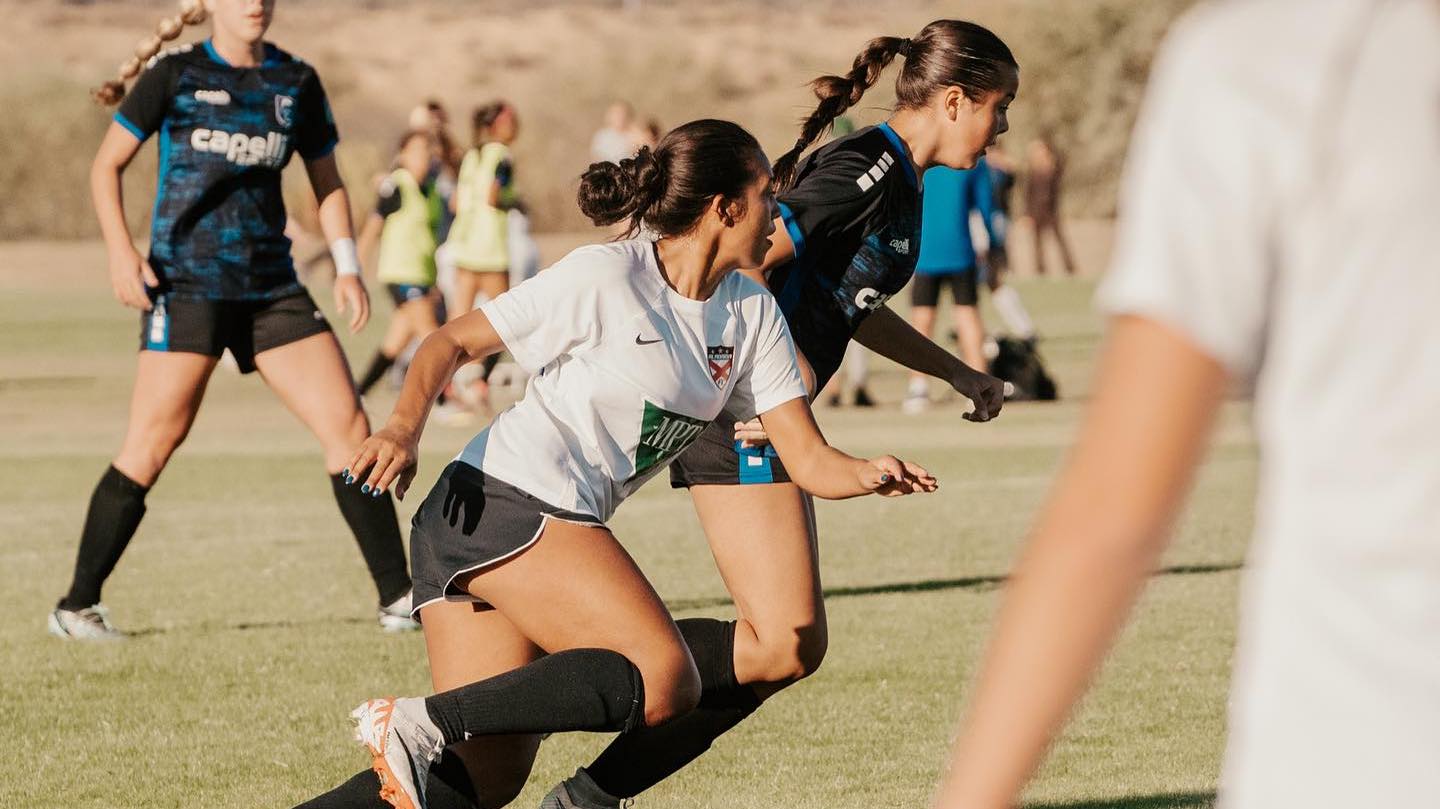 The ECNL Girls held their third National Event of the 2023-24 season over the weekend in Phoenix. The event featured 180 teams from the league's U15-U18/U19 age groups. (View Results)
Below are some of the top players from the weekend's event sorted by graduation year. You can also nominate a player who stood out during the event through the following link.
2028
Served as one of KC's chief attacking architects, setting up Jacy Hackler's goal in their second match against Slammers FC. Kincaid's timing in the midfield, always seems to be on point-she can speed up and slow down play depending upon what the situation calls for and is comfortable lacing together passes in even the thickest of traffic. Despite playing up in a Showcase event, she showed remarkable poise burying her penalty kick chance against Rebels SC.
2026
Olivia D'Ambrosia | Forward
Colorado Rapids 07 (CO)
Led the Rapids attack this weekend at ECNL Phoenix accounting for four of the team's eight goals. She used her speed to find spaces on the attack and finished with precision in front of the goal. D'Ambrosia also applied pressure on the opposition's backline, forcing several mistakes that created goal-scoring chances for her teammates.
———————
Brea Gibbons | Defender
GSA 08 (GA)
Anchored the GSA to two strong shutouts over Michigan Hawks Magic (3-0) and FC Wisconsin (2-0), making several key clears in each match to keep her team ahead. She also showed that she can be an asset up top, scoring a brace against Hawks to cement the victory.
Hard work is paying off! Check out 2 of the goals I scored today to help my team win 3-0 vs. Michigan Hawks!!#ECNLPHX@GSA08GECNL@GSAsoccer@TopDrawerSoccer@PrepSoccer@TheSoccerWire@ECNLgirls @ECNLSoutheast@ImYouthSoccer@ImCollegeSoccer pic.twitter.com/xPeAAyL0sD

— Brea Gibbons (@BreaG_Soccer) November 11, 2023
———————
Sophia Morrison | Forward
Gretna Elite Academy 08 (NE)
Assisted on two of Gretna's three goals in their 3-2 win over Santa Rosa United on matchday two. Morrison was superb at transitioning her team from a defense into an attacking mode, using her quick passes and excellent field vision to find her teammates all across the pitch.
———————
Laney Palmer | Forward-Midfielder
Kansas City Athletics Elite Academy 08 (KS)
Led the Athletics over the weekend with three, including a critical brace in their 4-3 thriller against Rebels SC to wrap up their time down in Phoenix. Off of the ball, Palmer makes smart, precise cuts against defenses that forces the opposition to get out of position and thus gives her teammates space to create. With the ball at her feet, she is equally impressive never wasting a step and always driving at her opponents with conviction.
———————
Danielle Chaump | Forward
Sting Dallas Black 08 (TX)
Captained Sting to three major wins over Mustang SC (1-0), Concorde Fire Platinum (4-0), and MVLA (2-1). Against Concorde, Chaump was a pivotal figure on each goal scoring twice while setting up teammates Kate McCallister and Kyleigh Ward for their other two goals.
2025
Was a key contributor in an impressive offensive performance by the Eagles 07 team this weekend. Consistently driving the ball into open spaces, her clever one-touch passes opened up the field to allow her teammates to capitalize with multiple scoring opportunities. In addition, her relentless pressure breaking down the opposing team's defensive line helped ensure wins for her team over the three days.
Charli Harris | Midfielder-Forward
FC Dallas 07 (TX)
Set the tone for Dallas on the attack down in Phoenix with a goal in their 3-0 opening day win over Bay Area Surf. Whether playing up top or in the midfield, Harris is always working, trying to create goal-scoring opportunities for Dallas. Although their second match against Beach FC didn't go quite how they expected it to, losing 3-1, Harris' hard work keep Beach on their toes, setting up Holly Storer for their lone goal.
———————
Melia Rodriguez | Goalkeeper
Classics Elite 07 (TX)
In the team's first match, Rodriguez appeared in the second half and stopped every shot she faced, helping her team rally from 2-1 halftime deficit to win 3-2 over Liverpool IA Michigan. In the Saturday match against Marin FC, Rodriguez intercepted a cross into the box and immediately passed it to Abby Casey, who started an attack that seconds later resulted in a Mikayla Cunningham game winner. In the showcase, Classics Elite 07 ECNL finished 3-0 with an impressive +5 goal differential.
———————
Brooke Howard | Midfielder
Sting Royal 07 (TX)
All weekend, Brooke demonstrated her fierce competitiveness to win the ball in the midfield, ability to transition quickly between offense and defense and provide precision passes that broke defensive lines leading to several scoring opportunities for her team. In her final game of the weekend, Brooke delivered a 30+ yard driven ball through the defense to a streaking Danika Womack for a one touch finish for the lone goal in the 1-0 win against Sporting California ECNL.
———————
Madison Asiel | Forward
FC Dallas 06/05 (TX)
Provided consistent scoring for Dallas down in Phoenix, headlined by her hat trick performance in their 3-2 victory over Beach FC. Asiel added another goal as well in their 1-1 draw with Michigan Hawks, giving her four of Dallas' six goals on the weekend. Her goal-scoring prowess aside, she was also a threat with her passing and her runs off of the ball, forcing defenders out of position and creating opportunities for her teammates to exploit.
2024
Mackenzie Yoder | Goalkeeper
Slammers FC 06/05 (CA)
After being sidelined due to injury for nine months, Yoder came back looking like she never left, making multiple key saves in wins over Rockford Raptors (3-0) and MVLA (2-1). Her timing and decision-making were still on point and she seemed more than comfortable making diving saves in difficult situations. Slammers are currently in second place in the ECNL Southwest 06/05 standings (7-1-2, 23 points) and having a healthy Yoder should only improve their chances down the stretch.
———————
Elle Ervin | Midfielder
Liverpool FCIA Michigan 06/05 (MI)
Earned Player of the Match honors at the ECNL National Selection Game after scoring a brace to lift the East team over the West 3-2. In one-on-one situations with a defender she can break past them with ease and either hit a shot on target or lay off and create a goal-scoring chance for her teammates. Ervin has verbally committed to playing college soccer in 2025 at the University of Michigan.
College Recruiting Commitment Tracker