Players That Impressed: ECNL Girls Regional League Virginia Event (Fall 2023)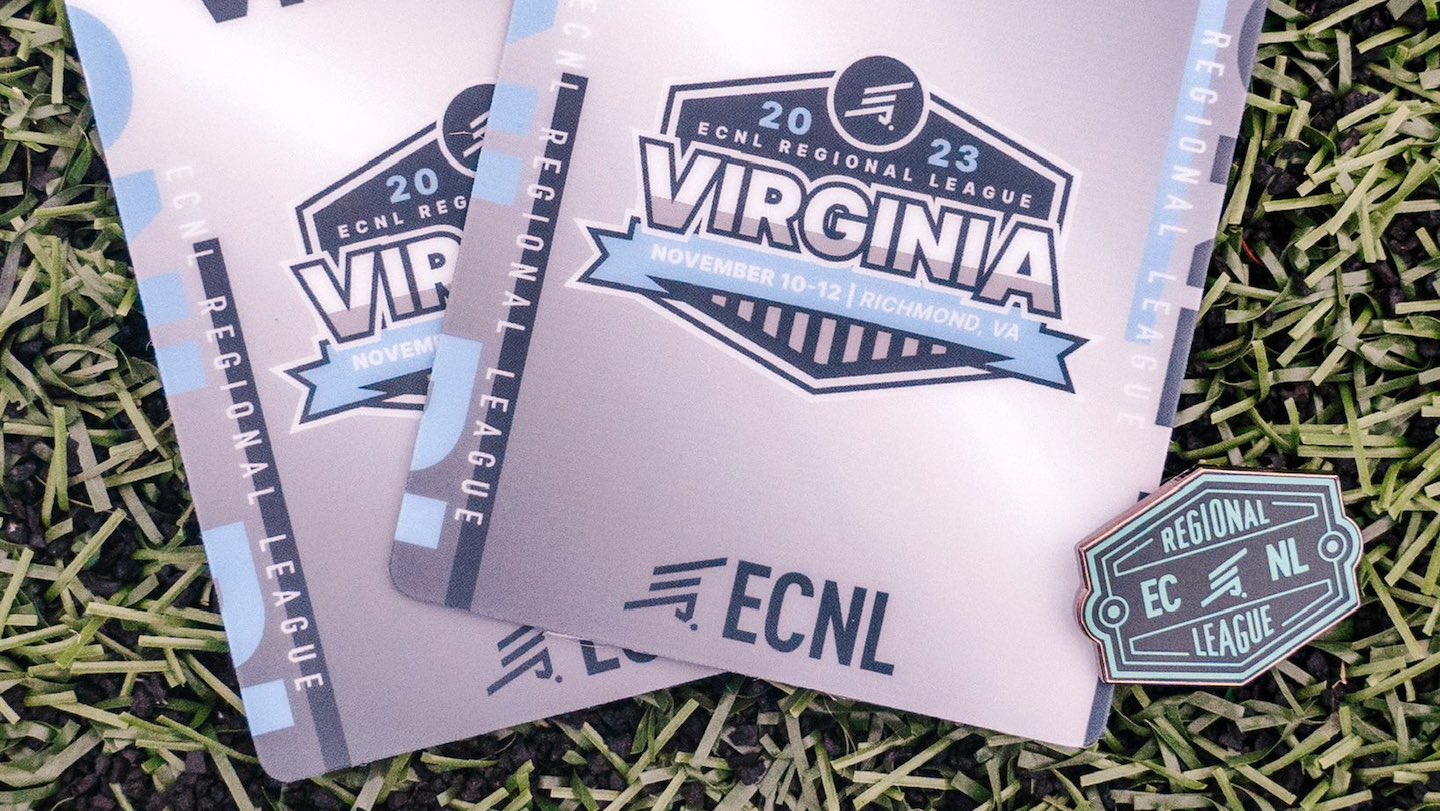 The ECNL Regional League Girls held their first National Event of the 2023-24 season over the weekend in Virginia. The event featured 180 teams from the league's U15-U18/U19 age groups. (View Results)
Below are some of the top players from the weekend's event sorted by graduation year. You can also nominate a player who stood out during the event through the following link.
2027
Ava Kus | Defender
Evolution SC Mercurial 07 (IL)
Held a strong Richmond Kickers team at bay by making several key clears down the stretch to preserve the 2-1 victory on matchday one. Kus has excellent field vision and can change the field of possession with either a long cross or a short diagonal pass to the outside. At center-back she has remarkable poise and leads a highly organized backline.
2026
Scored a cracking left-footed goal to put Evolution SC on the board against Rebels SC. Gronlund used her speed and quickness all weekend long to force defenders out of position, giving her team plenty of goal-scoring opportunities.
ECNLVA left footed goal vs a very strong Rebels SoCal (#1 in SoCal league). @Evolution_SC14 @ECNLgirls @TheECNL @ImYouthSoccer @TopDrawerSoccer @JREskilson @PrepSoccer @mattsmithsoccer @TeddyBahu @girlssoccernet @ImCollegeSoccer #ecnlva @TheSoccerWire pic.twitter.com/QBV765ETb7

— Emma Gronlund 2026 Midfielder (@gronlundem26sc) November 13, 2023
———————
Katelyn Haiser | Forward
Evolution SC RL 06/05 (IL)
Made a big impact for the Evolution SC offense, playing up with the 06/05 team for the weekend (2-1-0 two goals, one assist) and helping out the Evolution 07s with their final game (1 goal). Haiser consistently delivers by creating goal-scoring opportunities with dynamic runs, composure in front of the goal and quick shots from difficult angles. With a team-first mentality, she is always looking for the smart passes to assist her teammates in hitting the back of the net.
———————
Ashlyn Valentine | Goalkeeper
Atlanta Fire United RL 07 (GA)
Maintained three clean sheets while in goal for Atlanta Fire down in Richmond, aiding the Fire's efforts in earning an undefeated record (7-0 over Florida West, 5-0 over Arizona Arsenal, and 7-1 over McLean with the lone goal being allowed by Atlanta's backup). Valentine made several key diving saves and punch outs throughout the weekend and ran a tightly organized backline. In addition to playing travel soccer and for her high school team at Norcross, she is also the Varsity Quarterback for their flag football team.
2025
Mia Greathouse | Forward
Sting Dallas Black RL 06/05 (TX)
Scored four goals to lead Sting Dallas Black to an undefeated mark in Virginia (6-2 over PSA Monmouth, 4-2 over Beach FC (VA), and 2-1 over Atlanta Fire United). Her ability to connect on a pass and immediately go at goal makes her difficult to breakdown (as evidenced by her hat trick against Monmouth). But she is also a marksman with her passing, able to pick out her teammates and open space and provide service with the right amount of speed and pace.
———————
Grace Pritchard | Centerback
Fever United  RL 07 (TX)
Anchored a Fever United defense that earned three shutouts (2-0 over GSA, 8-0 over PSA Monmouth, and 4-0 over Orlando City) to mark a strong run down in Richmond. Pritchard is not afraid to take on attackers in one-on-one situations and can make the strong, professional challenge to end goal-scoring opportunities. She can also help out on the attack as a winger at times, using her breakaway speed to open up play.
———————
Dylan LaMonica | Goalkeeper
NTX Celtic  RL 06/05 (TX)
Earned five points for Celtic against Beach FC of Virginia (2-1), Richmond Strikers Elite 2 (2-0), and PDA Blue (1-1) the hard way, making multiple key stops in each match to preserve the result. LaMonica has excellent footwork and can make the diving save in crowded areas. She is also able to read where the opposition is situated on goal kicks and provide highly accurate service to her teammates.
Highlights from #ECNLRLVA
2:0 Win Against Richmond Strikers.
See more of my HighLights on https://t.co/ioAd1ZsqV0 pic.twitter.com/D0lj04nSgU

— Dylan LaMonica (@DylanLamonica22) November 13, 2023
———————
Isabella Prince | Midfielder
Western NY Flash RL 07 (NY)
Set the tone in the midfield for the Flash by using her timely passes to maintain possession for large portions of their two wins against Virginia Rush (6-0) and Virginia Valor (2-1). Prince can also take on multiple defenders and drive at the opposition when called upon. She also represented her club in the ECNL RL National Selection Game.
———————
Kalli Meredith | Forward
Fever United  RL 07 (TX)
Led the Fever offense, five goals and three assists in the Fever's three wins on 14 goal scored. She pushes defenses with her speed and athleticism, seamlessly moving the ball through the backline with strikes off her left and right foot.
———————
Julia Rutter | Goalkeeper
Fever United  RL 07 (TX)
Decisive in maintaining a three consecutive shutouts in Virginia, ( 2-0 over GSA RL, 8-0 over PSA Monmouth RL, 4-0 over Orlando City RL) Rutters command behinds a stellar defensive line helped propel Fever to three strong results. A sharp, engaged goalkeeper, Rutter was able to provide scoring opportunities to her offensive line with deliberate and quick distributions that resulted in goals. On the defensive end, she shut down any scoring attempts and one-on-one situations that broke through her backline. Julia was also selected for the 2022-2023 ECNL All Regional League U16 team for North Texas.
2024
Charlotte Burge | Goalkeeper
Virginia Rush 06/05 (VA)
Earned Player of the Match honors at the ECNL Regional League National Selection game for her multi-save effort (including two in penalties), ensuring the East the victory. With her club team Virginia Rush, she earned a clean sheet against Evolution SC and a 1-1 draw against a strong attacking team in the Albion Hurricanes.
Congrats to Charlotte Burge of @VARushSoccer for earning the Continental Tire ECNL Regional League Selection Game Player of the Match 👑 #ECNLRLVA pic.twitter.com/u7ZnPeIP6M

— ECNL Girls (@ECNLgirls) November 11, 2023
———————
Tatyana Williams | Defender 
Sting Dallas Black RL 06/05 (TX)
Provided consistent coverage along the Sting backline, combining with her teammates Jillian Powell and Anna Williams to limit opponents' scoring chances. On the pitch, Williams is a leader and takes charge of moving her team from a defensive position to an attacking one. As an outside back, she uses her speed to make smart, tactical runs and create goal-scoring opportunities including providing an assist in their 6-2 win over PSA Monmouth. She has committed to playing college soccer next fall at Alabama State University.
———————
Sofia Chiovare | Attacking Midfielder
LA Breakers FC RL 06/05 (CA)
Slotted in as an attacking midfielder for the Breakers and immediately made an impact, leading the team to outscoring their opponents 9-1. In addition to her work on the attack, she also made several key interceptions throughout the weekend and helping the Breakers earn an undefeated record down in Virginia (2-0-1). Chiovare was also selected to participate in the ECNL Regional League National Selection Game.
———————
Anaya Lozano | Midfielder
Virginia Rush 06/05 (VA)
Contributed to all of Rush's goals in their home state, either scoring them directly or providing quality service for her teammates to capitalize on. Lozano plays a major role in transitioning her team from defense to offense and can make a timely stop or interception to maintain possession.
College Recruiting Commitment Tracker