HopeSoloGate: Why is U.S. Soccer not acting?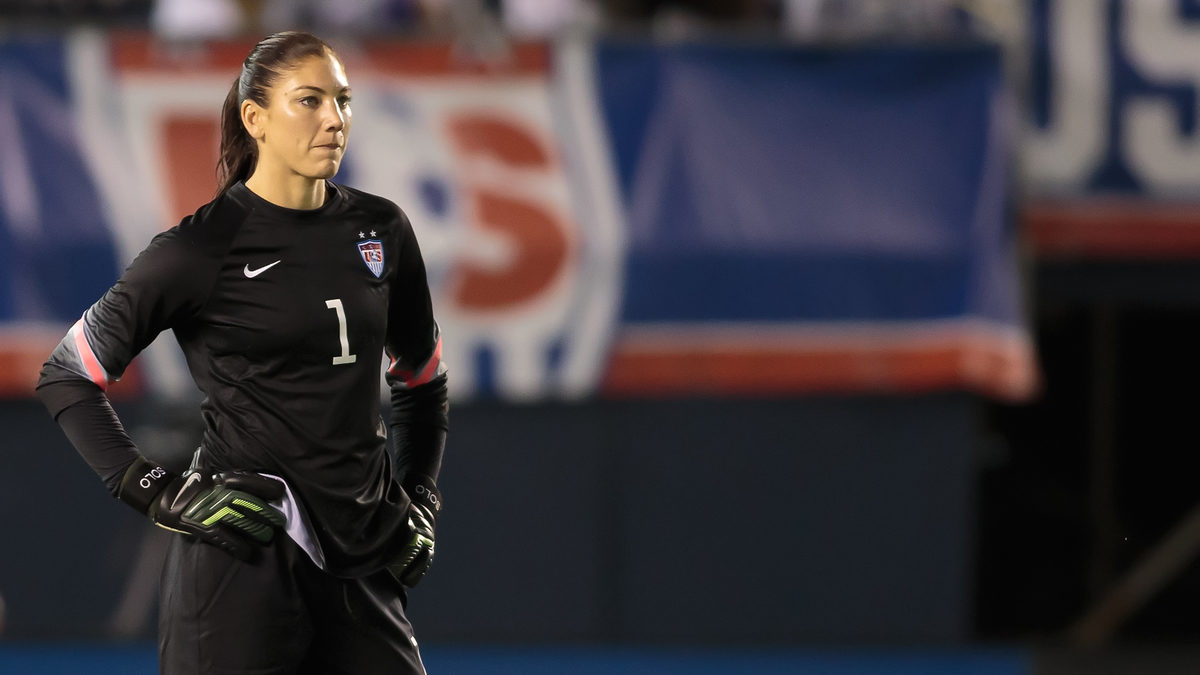 Shouldn't Hope Solo be suspended like Ray Rice and Adrian Peterson?
After being arrested on domestic assault charges in June, Solo continued to play for her NWSL team, the Seattle Reign, and also for the U.S. Women's National Team in two friendlies. In fact, she reached, then surpassed, the all-time record for career shutouts held previously by Briana Scurry. U.S. Soccer lifted her profile in their media blitz with what seemed incredibly unfortunate timing, 
By the numbers, Solo is the best USWNT goalkeeper ever. But should she have this distinction? Should she have been suspended or released or at least excused until after her trial date in November? After all, her situation seems similar, just lower-profile than the NFL cases of Rice and Peterson, and yet U.S. Soccer Federation president Sunil Gulati has not taken the action NFL commissioner Goodell did with the gridiron football stars.
"While Rice and Peterson were banished after massive sponsor, political and fan pressure, even Nike has been silent on Solo," writes Cindy Boren of the Washington Post.
Is there a double standard? Or is it just that fewer people are paying attention to women's sports so there is a lesser hue and cry around Solo? Does less fan pressure means no action is necessary? Is the power of public opinion so strong? Should it be? Isn't guilty, guilty?
These are all things I am asking as people pose these questions of me. Hey, I follow and write about soccer, particularly women's soccer, but I'm not a lawyer or lobbyist, I'm a fan. I don't know all the legalities involved here — the distinctions between criminal law vs. civil law, the contract clauses of one player vs. another, one team vs. another, one league vs. another. I don't even know all the facts of the case. I just raise the issue here because I think we should.
What's clear to me is that whoever had the idea to media-blitz Solo when the record-breaking moment was at hand was not thinking about the kickback. Her U.S. Soccer profile photo, along with her shutout stats, scrolled through my news feed and I was shocked.
So much so that I did what I don't usually do; I clicked on the comments, which were already in the several hundreds, and not one of them was positive. In fact, they were virulent. What was U.S. Soccer thinking?
+ READ: Alex Morgan, Abby Wambach lead USWNT past Mexico, Solo sets shutout record
Apparently, what they were thinking was: Hope Solo is an extremely talented goalkeeper and she was about to change the record books. Could they have been so blind they didn't see that they were running headfirst into the NFL blast furnace? Maybe someone else can answer that question. I can't.
What does seem clear is that Solo's teams were happy to have her play, starting her and even celebrating her. In recognition of her achievement, she was awarded the captain's armband for the game following her record-setting performance. The team and U.S. Soccer apparently separates professional from private matters. What happens at home stays at home. What happens on field is what we are about.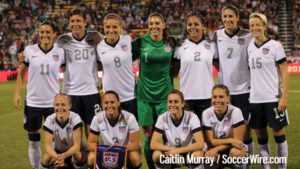 The question is: Should it be that way?
It seems, at least for a few egregious instances in NFL football, the answer is no. Personal matters cannot be set aside, because professional players are "role models" and this is not a role we want modeled. The fan outcry against players could cost franchises attendance and dollars. Opposing domestic violence is a cause they see needs addressing; we'll see how serious they are about making rules and enforcing them.
Back to Solo, because she is why I write. People, especially young girls, do see Hope Solo as a role model.
John Smallwood of the Philadelphia Daily News wrote, "If you've ever attended a match played by the U.S. women's soccer team, you know that thousands of girls in the stands scream in adoration. Their passion for their female soccer heroes is as intense as that for any NFL player.
"Solo is one the USA's biggest stars, and kids are drawn to her."
Young people, especially, see these players as bigger than life. They tend to idolize players and put them on pedestals. They are celebrities, right alongside the highly regarded movie stars, showbusiness personalities and pop vocalists. If we're lucky enough to catch a glimpse of them we are happy and even ecstatic if they'll stop for a photo or to take a selfie with us. How many of these idols are perfect role models?
+ READ: LeBolt: Julie Foudy offers an alternative for our childrens' soccer development
I'd argue that celebrity makes it even more difficult to be a role model with its extravagant temptations. Even if you're squeaky clean, the media will find something to take issue with, and in no time it's on Youtube or trending on Facebook or Twitter.
I expect Hope Solo is uniquely unqualified to be celebrated as an all-around role model for our children. She has had enough dust-ups with family, friends, teammates, coaches and the media to disqualify herself. So really, should we ask her to be one?  Do our kids really even see her that way?
Do they want to be Hope Solo or do they just want to play like Hope Solo?  And if they want her autograph because she is an amazing goalkeeper, is that such a bad thing?
The reality is, there are plenty of sports figures who fall very far short of "role model status." Maybe even more in sports than in other pursuits. I wonder if, when we look at them and shake our heads, we aren't indicting ourselves a bit for letting this go on. Because when I see Solo, Rice, Peterson and others, I think of the "problem kid" who found football or basketball or soccer as the reason he went to school. There were rules: cut class, you don't practice — suspended; you don't play, expelled — you're no longer on the team.
For those kids, sports were their reason for showing up. If they had a coach who made them follow the rules and held them accountable for proper behavior with consequences spelled out in advance, they had a chance to discover and a means to practice the self-control they needed and never knew they had.
+ READ: O'Sullivan: The mindset of high performers
This discipline may be most difficult for coaches (or even teachers or administrators) to apply to our most talented players because holding them accountable may mean giving up the win or even forgoing the winning season. That takes a coach with an eye toward human development, not just player development.
I think Solo was rescued from a hardscrabble upbringing by some coaches who finally took an interest in a talented young women who had some "issues." Should we really hold her up as a well-rounded role model? No. Should we celebrate her talent? I think so. Should we hold her accountable for proper behavior? Absolutely. Not for our kids' sake, or even for the sake of our sport, but for hers.
What do you think? Should she have been suspended? Cut from the team? Fined?
College Recruiting Commitment Tracker