HopeSoloGate update: U.S. Soccer, USOC exec speak out as situation simmers
On Monday, the U.S. Soccer Federation explained its decision to allow Hope Solo to continue to play for the U.S. Women's National Team while her legal case is pending.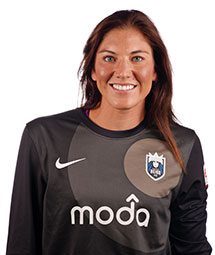 "From the beginning, we considered the information available and have taken a deliberate and thoughtful approach regarding Hope Solo's status with the national team," USSF president Sunil Gulati said in a statement. "Based on that information, U.S. Soccer stands by our decision to allow her to participate with the team as the legal process unfolds. If new information becomes available, we will carefully consider it."
+ READ: HopeSoloGate: Why is U.S. Soccer not acting?
I salute the USSF for not staying mum in the conversation. Just letting things ride to see how it all comes out is not a responsible stance. We need them to take a stand and express their position; their statement may deflect a few of the arrows of public dismay pointing in their direction.
However, this statement was issued hours after U.S. Olympic Committee chief executive Scott Blackmun called the allegations against Solo "disturbing and inconsistent with our expectations of Olympians." But he stopped short of saying she should face immediate disciplinary action from the team. "We have had discussions with U.S. Soccer and fully expect them to take action if it is determined that the allegations are true," Blackmun told USA Today Sports in an email.
+ READ: LeBolt: Hope Solo needs us to try and understand
At least the USSF statement may allow us to emerge from the quagmire we find ourselves in over the case. (A particularly interesting reflection is expressed here by Kate Fagan of ESPNW, who concludes, "I think Solo should be suspended right now, so we don't spend another minute talking about her."
It's not simple law and order here. Our legal system is designed to evaluate, case by case, whether laws have been broken. Whether our trust has been shaken may still be at issue.
College Recruiting Commitment Tracker