LeBolt: Julie Foudy offers an alternative for our childrens' soccer development

What if the best way to get your kid on the U.S. National Team was to not attend their games? Or allow them to quit soccer for a season or two on a whim?
Both of these techniques worked for Julie Foudy, one of the most capped U.S. players in history (271) and a leading member of the U.S. Women's National Team during two Women's World Cup championships and two Olympic gold medal triumphs.
"My parents never came to games," she told SoccerWire.com in a recent interview. "I was the fourth of four kids. If they came to a game my teammates would be like, 'Oh my gosh, what are your parents doing here?' Even at [Stanford University], they came maybe once a year. Back in the day there weren't that many scholarships to go to school, so it was never a discussion of playing for a scholarship."
+ READ: SW Q&A: Julie Foudy asks, what's happened to our women's youth development?
And for one high school season, she chose to play volleyball instead of soccer.
"By the end of the volleyball season I was, like, juggling the volleyballs with my feet. Coach would get all angry with me," she recalled. "But that's why it's good, because it keeps you fresher. I never burned out on soccer. I can't imagine kids today, when they're playing 10 months out of the year, 11 months out of the year."
The absence of the sport she loved just made it more clear that was exactly where she belonged.
Julie recently tweeted:
The USA u20 loss in WWC Qtrs last nt has me bothered… & USA u17s didn't even Qualify for their WWC. Needs 2b addressed. Ahhh.

— Julie Foudy (@JulieFoudy) August 18, 2014

Julie is concerned that the United States is losing ground on soccer's International stage. Why? She is reluctant to cast stones, and actually a bit self-deprecating. After all, she is just a TV analyst and soccer reporter, not an expert in player development, but, pushed for her opinion, our player development system is what she points to.
She is watching our best US players against international competition and sees something lacking. That something she calls "sophistication."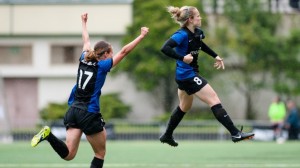 "How in a country so big, with so many kids playing, can we not produce players that have the savvy, [attacking playmakers] like a Vero Boquete, or a Kim Little?" she said. "When you see some of the best players in the [NWSL] in terms of how they are on the ball and their skills set on the ball, a lot of them are foreigners. And that's the sophistication – and maybe we have those players and they aren't getting picked, I don't know. But it just seems to me that we're not sophisticated enough at the youth level. When you look at those U-17 and U-20 teams, we don't have enough game-changers in there."
So what is sophistication and where can we buy some for our kids?
That's at the root of the problem, Foudy says. The "pay for play" and the "you turn out wins or you get fired from your coaching position" has created an environment that may not be healthy for the kids. And she has a stake in this game, as she has two children: her daughter Isabel (age 7) and her 5-year-old son, Declan.
"What are we teaching our kids? And how are we teaching them?" she said. "I'm from Southern California, so I get how intense it is and how competitive it gets with these clubs. That was never the case when I was growing up. There was no fighting amongst clubs for players and it was a totally different environment. Times have changed, but is it a healthy environment in terms of development and the way we are training our kids?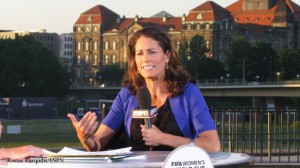 "The pay-to-play structure breeds it," added Foudy, ESPN's lead commentator for women's soccer coverage. "They have to get results all the time, or you get fired as the director of the club. Those are all things we should be addressing."
+ READ: O'Sullivan: The missing ingredient in North American soccer talent development
So what does she plan to do with her kids? Diversify their sports experience for as long as possible. And keep the intensity reasonable: one game and one practice per week is plenty for her daughter.
"There was another group that wanted to sign us up to do another game and another practice a week," related Foudy. "Both me and my husband said, she's 7 years old, she doesn't need two games, two practices a week. And we said, 'Izzy, do you want to do both?' And she was like, 'Nah, I'm just good with the one.' OK, then honor that, you know?"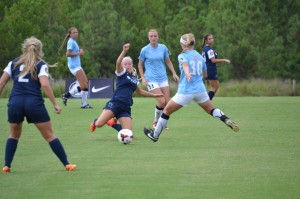 A reasonable and wise approach, but what about when opportunity comes knocking? You know, when the travel team coach says, 'Julie, your kid is especially talented. We need her; this is a great opportunity.'
And that coach will have nerve if he/she is willing to coach the kid of a legend like Foudy, but somebody's got to, because Julie is jetting all over the country covering World Cup play and NWSL playoffs. She's putting her expertise to work, and we're the much the better for it.
But she may have even more to offer in the realm of perspective. She's done it all and she's worried about what it's all come down to. She recalls, as many of us do, a day gone by when youth sports where a place kids played without parents shouting instructions or razzing the referee. Julie didn't specialize early and, in fact, opted for another sport, only to discover the other sport left her aching for the game she really loved. Left by her parents to her own devices, she discovered soccer was where she belonged, and the rest, as they say, is history.
Now, Julie is among a generation of successful players who is now parenting. Who better to ask about how to raise athletic kids? I have interviewed many such role models and successful athletes (Suzy Germain and teammates, Cindi Harkes, others, less prominent) and they all say the same thing: The camaraderie of their collegiate (or beyond) teams is a bond that years can never break. They want their kids to have this experience, but they don't want to push them. Not into their sport or even into sports in general. If they want to quit or change sports or go their own way, it's fine. In fact, they encourage it.
+ READ: The business, and politics, of US Youth Soccer regional tournaments
But if you talk to most kids, including the kids of these parents, they will tell you that their youth sports experience has often not been entirely rosy, not the camaraderie and fun their parents remember. Even with their talent and athleticism and discipline and desire, they all have a story about a coach who was over-the-top, a team that was cutthroat and catty, or parents who made game days nearly unbearable. There's a sour taste they have had to wash out of their mouths in order to persevere. That was not their parents' experience, but it is theirs.
So, if Mr. and Mrs. Foudy engendered sophistication in little Julie with their voluntary absence from the field and their willingness to let her go her own way if she chose, would that be a better way for today's kids? Perhaps. But are we willing to go there? Are we willing to take a laissez-faire attitude toward our kids' athletic development? To trust that college scholarship to chance? Would that really be responsible parenting?
That is the million-dollar question. And we'd like to blame the culture or the coaches or the other parents. We'd like to indict the technical directors who want to start academies or the league presidents who exclude more than they include. We would like to point a finger at the tournament directors, the rating systems, and the college recruiting.
+ READ: LeBolt: University of New Mexico Hazing – a Sad Sign of the Times
But what we forget is we have complete control over the choice we make for our own kid. And what Julie and other wise voices seem to say is, the best approach to development with our young players is to step back. To support them when times are tough and keep them grounded when times are good. Because what grows from that soil is strong and able to weather the storms that will surely come.
Is that sophistication? I didn't get to ask Julie that, but I hope I will. I really want to know what it looks like. What does Julie see when a sophisticated player comes along? I'm pretty sure it has nothing to do with expensive jerseys, neon cleats or a proper ponytail. I imagine it has a whole lot more to do with an individual style that has flair and creativity and delights in the game every time it gets the chance. It's not something I can sketch, script or design. All I can do is plant, water and fertilize.
The question Julie – and so many others – want to ask is: Can we grow that player in U.S. soil today?
College Recruiting Commitment Tracker