Ep 31: Rod Underwood on lack of diversity in American soccer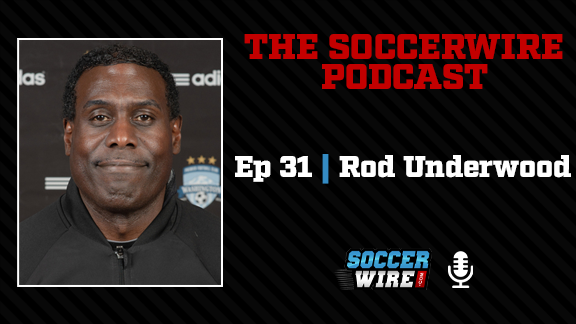 U.S. Soccer 'A' Licensed coach Rod Underwood has a storied career in soccer having been a player, coach, and scout at many different levels. Underwood joins The SoccerWire Podcast host Charles Boehm this week to discuss the many paths his career has taken him on, and his vast array of experiences.
The two discuss what both player and coach development mean for clubs, the questionable move from U.S. Soccer to dismantle the Development Academy, and Underwood's experience as a Black youth and now adult in soccer.
Use the links below to listen to the episode:
Show Notes
[1:43] Rod shares how he got involved with soccer growing up in Atlanta.
[2:56] Rod details his career path ranging from pro club academies to international scouting. He explains what it is like to see players develop along their careers and how similar coaching development is.
[5:35] A deeper detail into player development and what is in it for youth clubs along with coaching development and how kids can fail because of coaches not caring about their current situation.
[8:56] Discussing the USMNT failing to qualify for the World Cup in losing to Trinidad and Tobago and what/if U.S. Soccer is doing to promote development including the focus on MLS buying older international players for star power rather than developing homegrown players.
[13:10] Further breaking down MLS' role in American development and how each MLS club approaches development very differently.
[13:52] Rod explains why he believes that Northern California's NorCal Premier Soccer is the best league in the country, because of the coaching education that they do.
[14:45] Discussing whether most academy recruits should come from your area or from under-scouted areas and how clubs like NYCFC, NY Red Bulls, Portland, Atlanta, and Minnesota have all approached academies different. Rod also discusses the factor that marketing plays in development.
[17:48] Charles shares that at the time of recording, Minnesota United was in the process of cutting their academy and what that news means for challenges in player development.
[19:10] Rod shares about his time as the Sacramento Academy Director including being 100% funded in that players did not pay anything out of pocket to play. He also shares that every MLS club should absolutely have an academy.
[21:18] A discussion on the shocking aspect of the U.S. Soccer Federation dismantling the Development Academy including a talking point on US viewing clubs as businesses versus rest of the world seeing them as a community asset. Rod also touches on the "Alphabet Soup" of youth soccer leagues throwing around the word "elite".
[26:11] Rod discusses and shares stories of what it was like for him as a Black child growing up in the soccer world.
[33:00] Rod shares how his childhood impacted his career especially in his role in the Sacramento Academy as he worked to be inclusive to the city.
[34:35] Rod discusses the role race has an can play in soccer and in hiring.
[39:10] Detailing the role that leadership plays in creating inclusive environments in the soccer world.
[42:38] Rod shares the different places that his career has taken him and the challenges that he has faced along the way and how he is working to make it easier for the next generation.
[46:56] Discussing the lack of Black coaches in MLS and across youth clubs in America and how that may have hindered him getting jobs and how it may hinder Black youth from getting chances on rosters.
[53:33] Rod shares about the different cultures he's experienced along his career and how that has impacted him personally.
[57:32] Rod states what his number one priority would be if he became the President of U.S. Soccer tomorrow.
[1:00:20] Closing thoughts from Rod on moving forward in life through adversity.
College Recruiting Commitment Tracker