Ep 26: State of the NWSL with Yael Averbuch West and Alyse LaHue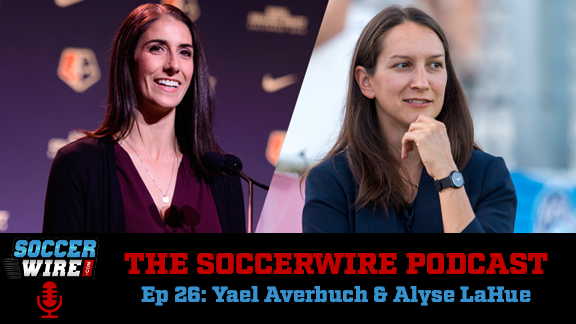 The SoccerWire Podcast has returned after a short-hiatus due to the COVID-19 pandemic. SoccerWire Resident Analyst Charles Boehm is back for Episode 26 with two big guests in former United States and National Women's Soccer League player and current NWSL Players Association Executive Director, Yael Averbuch West, and Sky Blue FC General Manager, Alyse LaHue.
Averbuch joins the show to discuss the ins and outs of the NWSL PA and how it aims to help the players in the league and after their playing career ends.
Later in the episode, LaHue joins to share how Sky Blue FC has adapted and become a leader in the new digital landscape forced by stay-home measures in place for COVID-19. She also discusses the growth and success still ahead for the NWSL and Sky Blue in 2021 and beyond.
Show Notes
[2:43] Yael describes the current narrative/mindset for NWSL PA sanctioned players in relation to the COVID-19 pandemic plus how the PA is helping them cope mentally and physically.
[4:01] Yael shares whether or not club/league officials have been forthright. New Commissioner Lisa Baird has been a great addition to the league – better communication.
[5:32] The threat of COVID-19 to the league's sustainability. NWSL is resilient.
[6:47] The progress made on working conditions in the NWSL including multi-year contracts, year-round salaries, increased spending, and more. Yael is excited for the potential and growth of the union and the league.
[8:36] Discussing how the players are staying fit at home – working out with roommates, stationary bikes, and getting creative at home.
[10:13] How Yael's TechneFutbol app is helping coaches and athletes during the stay home orders.
[11:56] What a transition back to training and playing looks like.
[12:42] What the Players Association is focused on and the impact that it has for the players internally plus publicly via partners and marketing. Looking into player's professional development including paid internships, health and wellness support, and more.
[16:46] LaHue shares what SBFC's timeline has been working through the COVID-19 pandemic. Early assumptions forced the club to adopt and adapt new strategies both with the front office + technical staff. How the club used digital tactics to help the players stay fit, mentally healthy, and connected and the club stay connected with the fans. The club has a 'person first, player second' mindset.
[20:30] Discussing the safety + health of the club's staff and players.
[21:35] How Sky Blue has adapted to overcome a potential financial hit by shifting everyone's job to a digitally focused role. LaHue views this as an opportunity for the club to reach its community in new ways and keep everyone connected both during and after the pandemic.
[23:31] What the 2020 season looks like for the NWSL and its contingency plans. The league is doing its best to create a season out of a difficult situation among the various health concerns.
[25:20] When finances get tight, then women's programs get cuts. LaHue remains optimistic about the NWSL and its future including leadership adjustments bringing new excitement. Looking forward to 2021 including the shifted Olympics dates.
[27:35] SBFC players + staff still all working full time and receiving full salaries but still anxiety around what the future does look like. It is stressful for the players but this is a global pandemic that there isn't exactly a handbook for.
[29:59] LaHue's shares her path to her current leadership position and how she values her staff and their buy-in to her creative leadership style. Her passion for women's equity and how soccer is the vehicle for her doing what she loves in a fun environment.
[33:06] Discussing how when LaHue came into Sky Blue last year as GM, the club's focus immediately became earning back trust and listening to fans + players. The club is built by and for its community.
[35:07] The vision for Sky Blue from LaHue and owner Tammy Murphy to become the best club in the world. LaHue shares a story of having hard conversations with players like team captain and veteran Sarah Woldmoe to earn their trust. Her focus is being a transparent leader for players and fans.
College Recruiting Commitment Tracker