Ep 27: Growing US soccer base and promoting the sport w/ US Youth Soccer CEO Skip Gilbert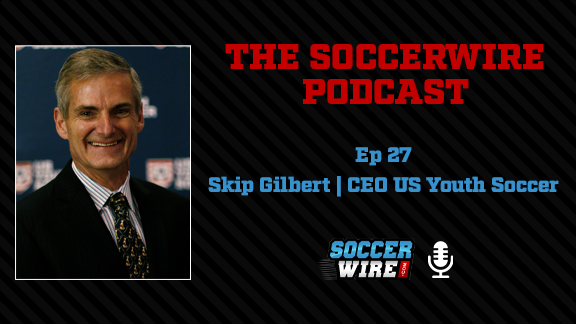 SoccerWire Resident Analyst Charles Boehm is back for Episode 27 of The SoccerWire Podcast with special guest, US Youth Soccer CEO Skip Gilbert.
The two chat about Gilbert's career path to becoming the CEO of US Youth Soccer and how his past experiences will help take USYS to the next level. Gilbert intends to focus on building the base of US soccer and focusing on shaping the future starting with recreational players. He also shares details of how USYS was able to strike a partnership with MLS, future plans for ODP and the National League, and touches on how USYS' pay to play model.
Show Notes
[2:14] – Skip introduces himself, shares his background after his soccer-playing career was ending and how his 8 months with U.S. Soccer kick-started his properties work leading to working as a C-Level Executive for USA Swimming, USA Triathlon, US Open for US Tennis, and US Anti-Doping.
[4:10] – How Skip came into the US Youth Soccer CEO position and how his focus coming into the job is on building the base of the US soccer pyramid and changing the narrative around recreational players to create a foundation for continued soccer success
[7:23] – Skip shares how USYS can move forward competitively with many different organizations like US Club Soccer and AYSO vying for the same spot. Viewed USYS as previously not meeting the growing demand of today's player and working towards fixing that.
[9:10] – Organizations are as good as your base. Skip shares a motto at USA Swimming "Build the base, promote the sport, achieve sustained competitive success" and believe that if you do those three things well, you will succeed.
[10:35] – Sharing how volunteers make an impact in the USYS system especially after the COVID19 Pandemic. "Pay to Play isn't going away but there has to be something else." Skip also states that 6-13 year-olds don't need A & B licensed coaches and kids should grow into making the decision themselves to transition into elite clubs/coaches instead of parents deciding for the kids.
[13:40] – How USYS is finding success within the chaos and turmoil at U.S. Soccer right now includes utilizing the decades of experience at USYS to keep doing what they have done. US Soccer is hands-off with USYS who exist to complement and enhance what US Soccer is trying to do with the federation
[16:45] – Discussing the future of ODP and how the partnership with MLS was about creating a simplistic pipeline for players to follow and improving talent identification. Skip shares an example of how Larry Bird may not have become a superstar if a pay to play model was in place but basketball had a good talent identification program. 
[19:45] – Skip discusses the possibility of creating a grant program for ODP to help offset the pay to play model by looking into corporate partnerships to offset these costs.
[21:33] – Breaking down the challenge surrounding the immense amount of travel required for club teams. Skip shares that it is "silly that a Georgia team is playing a South Carolina team in Florida. There is no reason to travel far to play good competition." An explanation of the 13 National League conferences and its regional focus to keep the kids from having to fly for league games and instead only for national games.
[24:12] – Discussing whether US Club Soccer, ECNL, AYSO, etc teams can play each other. Skip shares that it "makes no sense for a team to drive past a home field for a great team that the two can't play because the leagues have different competitive structures."
[25:26] – Explaining how the MLS/USYS partnership came to be and how they were working through details when the DA announcement hit but was able to finalize enough of plans to make the announcement.
[27:19] – Skip shares how USYS was able to work together with MLS in a short period even though US Soccer was never able to in 13 years. Being able to say we need to put something together with vision, putting the past behind and looking to the future was enough to push a deal through.
[28:50] – USYS and MLS are looking to European model for the player development pipeline where parents don't have to pay once they've been identified.
[31:07] – How clubs that identify talents can and should be rewarded for developing talented players – the excitement for it is there, but details matter. Parents need to temper their expectations for their kids.
[33:15] – Touching on how coaches and clubs aren't incentivized to develop and let their players move to bigger clubs.
[35:06] – How USYS takes into account its member state associations and is transparent and honest with them. The goal isn't to help USYS become better, it's to help each state association become better and collectively they become stronger. 
[37:55] – Skip shares that USYS is working to expand the footprint to capture the widest net for talent identification. "If there is a kid with unbelievable talent to see, we will find a way to see them."
[39:02] – Getting all of the "alphabet soups" of leagues to sit down together and work together would be for the greater good. Skip states that each organization is in it for the 'right reasons' but all have different strategies structure for how they get there.
[40:26] – Taking a deeper look into the National League structure that eliminated the top bracket and is focusing deeper into the conferences with a showcase event monthly in different regions. Showcases focused on not defining the winners but focusing on having the players get seen by scouts in attendance – less pressure to win, more pressure to display whole roster talent.
[42:17] – Discussing the future sponsorship plans for USYS including national deals and using assets from all 55 state associations with the majority of funding going to states versus USYS office.
[44:10] – Touching on the possibility of reducing player fees but it "isn't a huge amount of money that goes to the federation" but ultimately USYS will follow what its members want.
[45:36] – The focus for USYS the next couple of months is getting players back on the field healthy and safely.
[46:08] – Final thoughts on helping communities come together through soccer – one of the great things about the sport is that it unites people.
College Recruiting Commitment Tracker