Dure: USL coaches insist they're not just farming for the future
Save the "winning vs. development" talk for youth soccer. USL coaches want to win.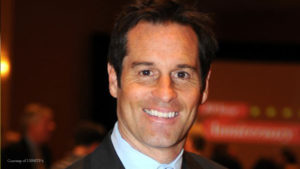 That's the message from coaches Curt Onalfo (LA Galaxy II), Frank Yallop (Arizona United) and John Harkes (FC Cincinnati), three men who have played and/or coached in several top divisions and are now gearing up for the challenge of leading teams in a fast-evolving league.
Many USL teams today, including Onalfo's Galaxy squad, are owned and operated by MLS franchises. Others, including evergreen clubs like the Richmond Kickers and Charleston Battery, have partnerships with MLS neighbors. And a few, like Yallop's and Harkes' teams, are totally independent. Harkes says FC Cincinnati had talks with Columbus Crew SC, but felt more comfortable being independent because the club would maintain control of its roster.
+READ: FC Cincinnati set to debut in 2016, USMNT legend John Harkes tabbed as coach
Moving players on to MLS is a point of pride for all USL teams. Onalfo says USL play helps young pros learn to cope with a variety of circumstances — artificial turf or grass, heat or cold, etc. He's also happy to see Daniel Steres, a cornerstone of his team for a couple of seasons, now starting in MLS with the Galaxy.
But if you ask Onalfo, whose team lost last year's USL final to the Rochester Rhinos, about development, he's quick to emphasize his priority: "We wanna win."
For Onalfo, that means the league only. The eight USL teams that play in the USA and are owned by MLS clubs are not eligible for the U.S. Open Cup.
For Yallop and Harkes, the Cup is another chance to shine.
"We're gonna try and win it," Yallop said.
Harkes sees the Cup as an opportunity his team simply can't take lightly. "That's a challenge for us: How do we size up against the bigger clubs? That's a priority."
Winning it would be a tall order. Last year, the quarterfinals were all-MLS, and only one USL team (and one NASL team) advanced to the round of 16. Two NASL teams reached the quarterfinals in 2014, but the last USL team to reach that stage was Orlando City SC in 2013.
+READ SoccerWire's full range of Open Cup coverage here
That said, three USL teams reached the quarterfinals in 2012. And lower-division clubs have a proud history of upsetting the higher-budget clubs, dating back to the Rochester Rhinos' run to the trophy in 1999.
A lot has changed over the years. Onalfo recalled playing for the Connecticut Wolves in the mid-90s because his brother ran the club.
"The fan base has grown, the caliber of play has grown and it just continues to get better," he said.
The Cup-winning Rhinos were then part of the USL's A-League, formed out of a merger between the fast-expanding USISL and the A-League (formerly APSL). Those teams had affiliations with MLS clubs in the early days — the Carolina Dynamo sent Yari Allnutt, who would go on to lift the Cup with the Rhinos, to the Kansas City Wizards for one game, in which he scored one goal in 45 minutes of action. For a couple of seasons, MLS entered a traveling team of reserves and prospects in the A-League as "MLS Project-40."
But those ties faded. By 2005, MLS had organized its own league for reserve teams, playing a handful of games against each other.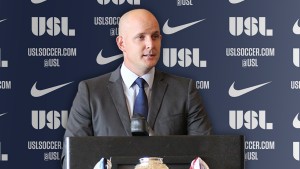 Meanwhile, the USISL was shedding professional teams. Some moved up to MLS, some moved down to the amateur PDL, some collapsed. Then a political dispute led to several clubs breaking away to form the NASL, which managed to meet the stringent criteria to gain Division 2 status.
The USL is currently Division 3, but league president Jake Edwards confirmed Thursday that an application for Division 2 status is still in the works.
(No, the USL isn't racing to implement a promotion/relegation system. "That's not something I think is going to happen any time soon," Edwards said. The USISL experimented with a modified promotion/relegation system in the late 1990s, but teams more frequently chose their own level based on their financial capabilities.)
Since the split, the USL has grown rapidly, building from 11 teams in 2012 to 29 this year. Harkes' FC Cincinnati team is one of this year's newcomers, and he says he'll draw on his experience playing in D.C. United's debut season 20 years ago to build the team.
League play starts Friday night with Sacramento at Seattle and Bethlehem at Montreal. USL teams start their Open Cup campaigns May 18.
College Recruiting Commitment Tracker