RIP Johan Cruyff: Soccer pays tribute to an all-time legend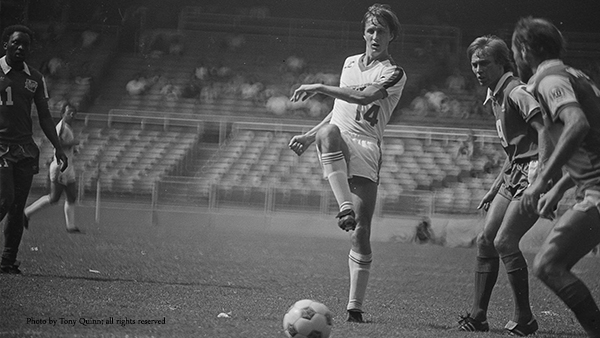 One of soccer's all-time greats passed away on Thursday, as Dutch legend Johan Cruyff succumbed to lung cancer at age 68.
An iconic player whose 20-year career was highlighted by star turns at Ajax, FC Barcelona and the Los Angeles Aztecs and Washington Diplomats in the old NASL, Cruyff revolutionized the sport as a player, then moved into management and proceeded to do so all over again.
He laid the foundations for the global powerhouse that is the modern Barcelona and passed down priceless gems of wisdom that continue to guide and inspire players, coaches and fans around the world. His time in the Wild West that was American soccer in the '70s and early '80s was fascinating, influential and at times hilariously bizarre, but even here, Cruyff left a legacy that helped push the game to its current position in the U.S.
Tributes to Cruyff have flowed in from media outlets around the world, and deservingly so. Here's a brief sampling of some of our favorites.
Pablo Maurer, FourFourTwo USA – Ever the Diplomat: Johan Cruyff's time in D.C.
"Johan Cruyff, it is often said, was a conductor. During his time with the Washington Diplomats, the Dutchman often felt like nobody around him could even keep a beat."
David Hershey, ESPN (reposted from Sport magazine's archives) – When Johan Cruyff ruled American soccer: the Dutch master's NASL years
'Winning had become an easy thing for Johan Cruyff. Coping with the pressures it brought was not. "In Spain, when you dominate a team on the field you make many enemies," he says. "I had no free time. I had to give up my children. If I played bad, my oldest daughter would go to school and the other children would say 'Your father's a disaster.' I wasn't enjoying it anymore. You play, play, play. If you don't get results, you are criticized, tortured by the press…"'
Matt Doyle, MLSsoccer.com – Armchair Analyst: Explaining the legacy of Johan Cruyff
"Cruyff was the driving force behind finding grassroots talent and coupling it with top-down instruction, philosophy and integration. He had the vision to push for a system that builds upon itself, and because of it, Barcelona have reaped greater rewards than any other club."
Daryl Grove, Paste Soccer – 25 Johan Cruyff Quotes That Will Change the Way You Think about Football
"A Cruyff quote grabs your attention not just for its insight, but also for the supreme certainty with which he delivers it. He may seem arrogant, but that's only because he thinks he knows everything."
Sid Lowe, The Guardian – Barcelona were transformed by Johan Cruyff not once but twice, and for ever
"Johan Cruyff is everything. There may be no man who has influenced modern football like Cruyff; at Barcelona there certainly isn't. There he became the defender of a footballing faith, a deity, the man who revolutionised the club, not once but twice, and for ever … Cruyff gave Barcelona a new identity and a new, sporting discourse that complemented and deepened the socio-political situation he came to understand and embrace so well; came to embody, in fact."
Sky Sports – 'I knew nothing about football before knowing Cruyff,' says Guardiola
"At halftime when you had played badly, you expected to get an earful and be told to push yourself and fight more. He told you that you were playing badly because you were running too much. You had to send the ball where you wanted it to go and not to run after it. He told you completely the opposite to what you had always learned."
Peter Prickett – A Football Coach, Or Close Enough (personal blog)
"We have all been shaped by the hand of Cruyff. All things must pass and sadly it is the turn of Johan Cruyff … Whether you are a coach, an administrator or supporter, he is the father of your game. At least of the version seen for the last 40 years."
College Recruiting Commitment Tracker