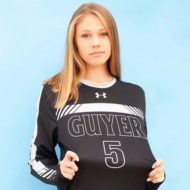 Brie Sauser
Position:
Defender, Midfielder
Birth Date: Dec, 2005
Graduation Year: 2023
Location: Corinth, TX, United States
Dominant Foot: Both
Twitter: @briesauser
Instagram: @briesolar10
[email protected]
Chris Pulpaneck
ECNL/RL Coach
Solar SC
[email protected]
Mandy Hall
Varsity Head Coach
Denton Guyer High School
[email protected]
Soccer Honors
+ Selected and attended the id2 US Club Soccer National Training Camp
+ Selected and attended three times the National Premier League (NPL) Red River Division Player Development Program (PDP).
+ Selected for Guyer High School Varsity Soccer as a freshman
+ Academic All-District Varsity Soccer
I have great field vision, aggressive, strong on the ball, and a natural ability to use both feet. I am good at playing out of the back on the ground or servicing long balls right to a player's feet.
Skills Assessment by a University of Miami Women's Soccer Assistant Coach
Technical Abilities – 92 / 100
Defending – Aggressive as a defender. Good footwork and positioning, and seems to enjoy the 1v1 battles.
Ball Control – Quality 1st touch in space, and controls the ball under pressure.
Tactical Abilities – 95 / 100
Reading The Game – Does well seeing the 1st level of pressure and making appropriate decisions on the ball.
Defensive Awareness – Understands team defensive schemes, shows an understanding of positioning and angles.
Physical Abilities – 95 / 100
Speed – Great speed overall, in particular when running into space. Will be an important asset going forward.
Agility – Showed good agility. Good body positioning and footwork helped you change directions quickly.
Mental Abilities – 95 / 100
Competitiveness – Showed a strong desire to win and seems to enjoy the competition. Keep working hard!
Coachable – Responds well to coaching. Asked good questions and seemed to enjoy the learning process.
Coach's Comments
Sauser is a great athlete who has a natural ability to lead any team she is a part of. She comprehended the information that was given to her and applied it to the 11v11 game with ease. Has potential to be a great center back.
Skills Assessment by a Texas A&M University-Corpus Christi Women's Soccer Assistant Coach
Brie plays well above her age. Her ability to control the game from the back and her ability to posses from the back was a joy to not only coach but watch as well. She could also have success as a winger or outside midfielder.
Some personal facts:
+ Love to volunteer for charitable organizations.
+ Also excel in cross country and track
+ My mother was born and raised in Vineland, NJ
+ My mother won the NJ state soccer title with Delsea Regional High School
+ My father is a professor at the University of North Texas
+ My father is a former student-athlete at Texas A&M