USYS National League Arizona Girls Showcase 2022: Day 1 Recap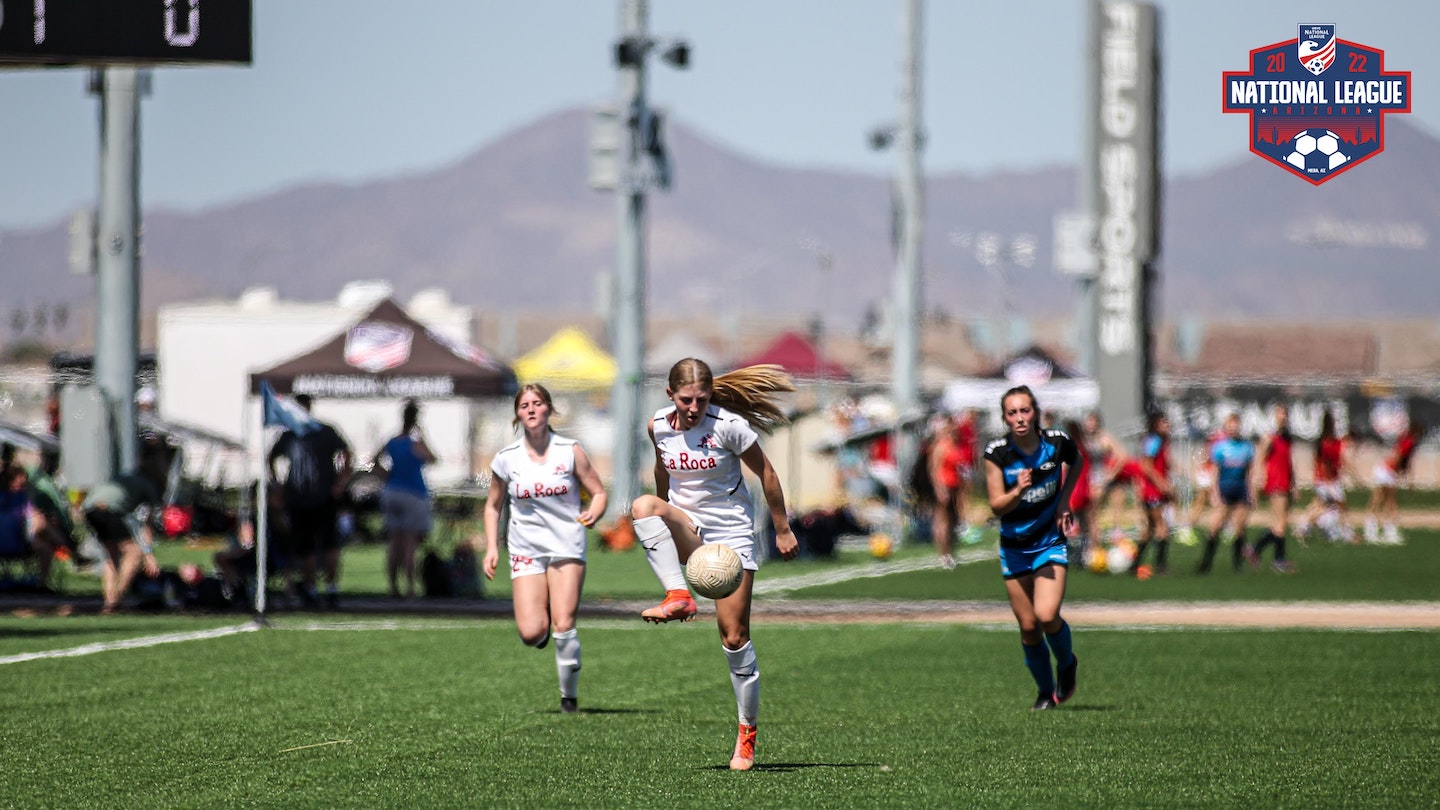 Photo Gallery | Follow the Action
MESA, Ariz. — Top talent was on display on Friday at USYS National League Arizona, as the girls showcase teams kicked off their weekend at Bell Bank Park, Powered by Legacy Sports USA in Mesa, Ariz.
Friday's showcase games included many competitive matchups featuring teams in the 15U-19U girls age groups from the 13 National League Conferences, plus additional teams competing as part of the Legacy Sports USA showcase.
"It's a fantastic opportunity for them to play three games and have a whole set of eyes watching what they can bring to the game, and seeing their attributes and their qualities all in one location over one weekend," said Jay Hamon, coach of Washington Premier FC G07 Black (WA). "It just maximizes their opportunity, and they're very pleased to have those looks this weekend."
P.R.O. SCHEDULE/RESULTS
SHOWCASE SCHEDULE/RESULTS
The girls got the weekend underway with some great Showcase Series action in Mesa, AZ. The only thing hotter than the desert ☀️ was the action on the field 🎥 #EarnYourPlace pic.twitter.com/nvc2FBKg5B

— National League (@NationalLeague) March 19, 2022
Harmon said his team has been anticipating this showcase weekend for months and the initial impressions, between the facility and competition, lived up to expectations.
Washington Premier 07 was a winner on Friday, as was Cook Inlet S.C. 2007 Girls Elite (AK). The Alaska side is competing in the showcase games this season, but its performance in the Northwest Conference has it set to be in National League P.R.O. in 2022-23. Cook Inlet coach Rich Bailey, whose 09 side also qualified for P.R.O., said the team is looking forward to more national competition.
"It's important for us to invest in these trips out of state so they can realize they can compete with some of these girls and see what it's like to play down here," Bailey said following a decisive win on Friday. "The speed of play is always huge. The girls are relishing this. It's fantastic for them to get a chance to come down here."
Showcase games will continue on Saturday, while the National League P.R.O. teams will compete in their first games of the event.
The action in Arizona features half of the girls National League P.R.O. teams in the 15U-19U age groups. Top-finishing National League P.R.O. teams (12 per gender age group) earn direct advancement to the USYS National Championships, and many of the results in Florida will determine which teams punch their tickets.