US Youth Soccer National League 15U-19U Girls continue play at Arizona Event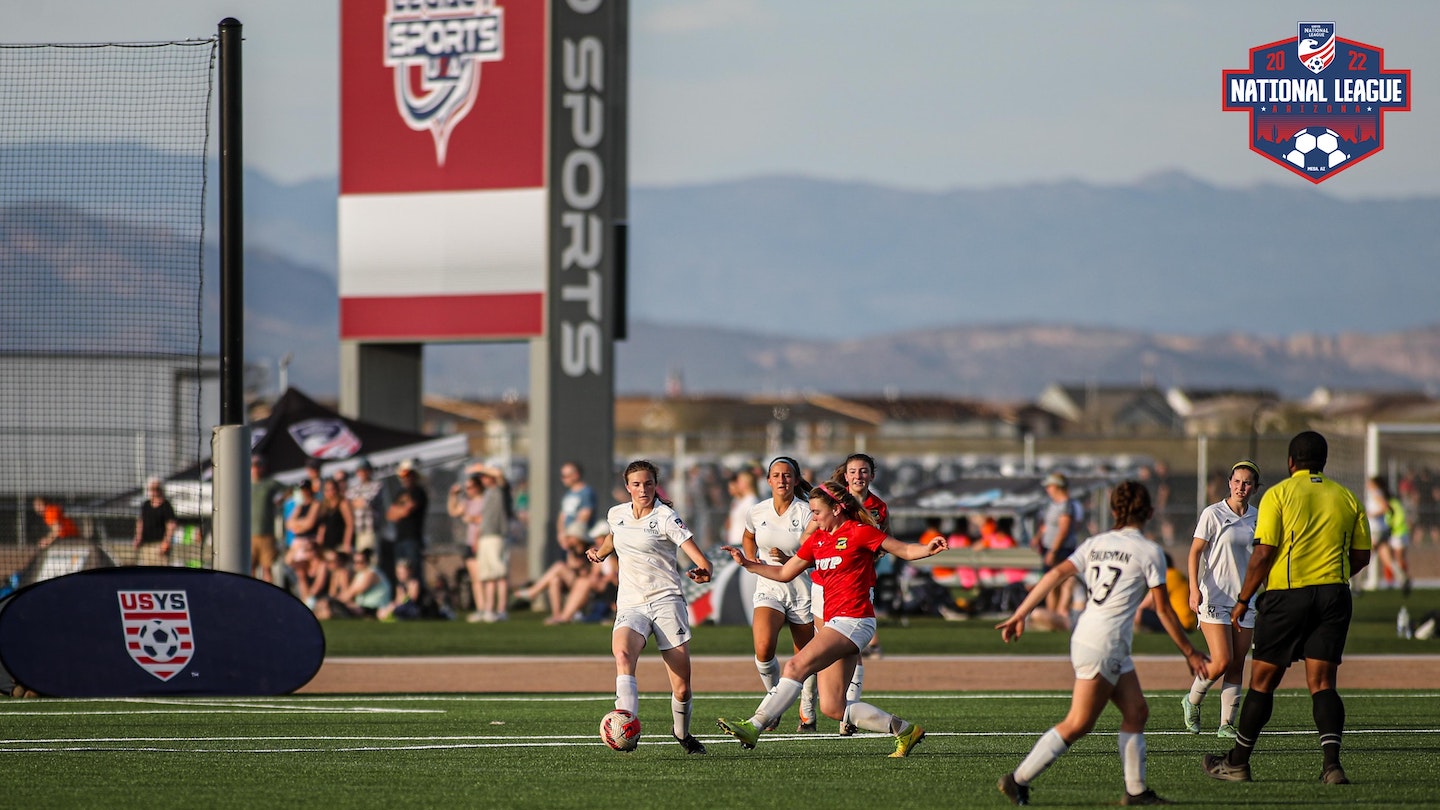 MESA, Ariz. — National League Arizona continued Saturday, as the 15U-19U Girls teams competed in the first National League P.R.O. games of the weekend at Bell Bank Park, Powered by Legacy Sports USA in Mesa, Ariz. Saturday also included the second day of action for the teams competing in showcase games in Arizona.
Top-finishing National League P.R.O. teams (12 per gender age group) earn direct advancement to the USYS National Championships, and many of the results in Arizona will directly impact which teams punch their tickets.
The first full day of National League P.R.O. action in Arizona saw several matchups of top-of-the-table sides. Many of those games were very tight with little separating the sides — showcasing the competitive level of the league.
🎥 National League P.R.O. matches got under way in the desert ☀️ of Mesa, AZ. Check out the sights and sounds of an action packed day. #EarnYourPlace pic.twitter.com/2zqpKItu0m

— National League (@NationalLeague) March 20, 2022
"The team was thrilled to get down here and compete. We are in a really good spot right now to get that Nationals bid, and that's what they want more than anything, so they're fighting for that," Club Ohio Dayton G07 Green (OH) coach Meagan Moran said after her side's draw in 15U Group E action.
"The competition so far in National League P.R.O. has been outstanding. You just can't get this quality of teams when you're playing back home. It's been really nice to see different teams and see what adjustments they make on the fly, because we haven't played any of these teams before."
The quality of competition playing in meaningful games keeps the players highly-focused in the National League P.R.O. games, and 16U SOMD Rush 06G (MD) Brandon Owens said that can help instill a mentality in players that benefits them moving forward.
"The biggest takeaway I get from these games, is you see the players develop the heart," Owens said after his team's 2-2 draw in a Top 2 matchup. "You see who wants to win the individual battles. For any college coaches watching, the players rise to the occasion. It's really good competition one-on-one, and you see who's going to have the heart of a competitor and get it done in a big moment."
Take a brief look at where the National League P.R.O. girls teams stand after Saturday's matches…
In 15U Group E, Club Ohio Dayton G07 Green (OH) played to a scoreless draw against Washington Rush G07 (WA) in a matchup of Top-4 sides. The point left Club Ohio Dayton just behind Saturday victors Idaho Rush 07 Premier (ID) and Utah Surf 07 JC (UT) with a game in hand.
A back-and-forth 16U Group D game saw SDA 06G Orange (NY-W) score a late winner to take a 3-2 win over FC Dallas Youth 06G Premier West (TX-N). SDA is alone in first while FC Dallas is still in contention for a Top 2 finish.
In a Top-3 matchup in 16U Group E, SOMD Rush 06G (MD) and 06 Lady Lobos Rush Premier (TN) tied, 2-2. Both teams are still in the hunt for the group title and a berth to Nationals.
TFA G05 Elite (OH) remains in first place in 17U Group D, but the Ohio side dropped its first points of the season on Saturday in a 1-1 draw against LA Fire 05G Red (LA).
Keystone FC Premier 04G (PA-E) withstood persistent pressure from 18U Group E co-leader Team Boca SABR 04 Girls White (FL) before netting a late penalty kick to earn a 1-1 draw. Team Boca has 13 points from five games and has a big match against current first-place side LASC G04 Bradbury (CA-S) on Sunday.
In 19U Group C, Utah Celtic G03 (UT) dropped its first points of the season in a 2-2 draw against second-place SMSC Elite (MS). Both sides are in good position to finish in the top half of the table and qualify for Nationals.
Showcase games will wrap up on Sunday, while the National League P.R.O. action will continue for its second of three days of play.