USMNT drawn into Group A for 2023 Concacaf Gold Cup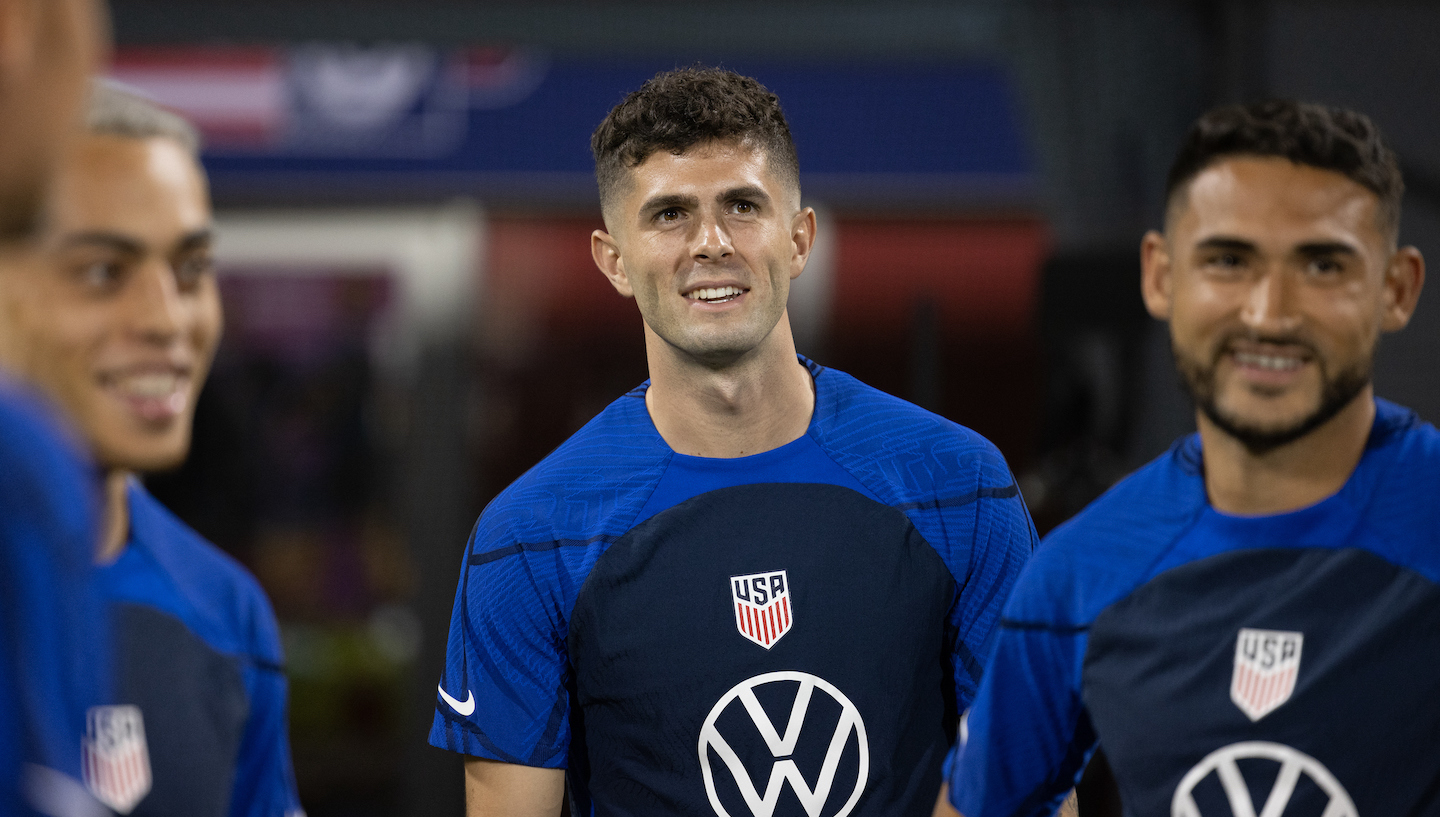 CHICAGO – The U.S. Men's National Team will begin its quest for a record-tying eighth confederation championship as part of Group A in the 2023 Concacaf Gold Cup along with Jamaica, Nicaragua and a team that will be determined through the 2023 Gold Cup Prelims. The Gold Cup will take place from June 24-July 16, with the schedule and specific match venues expected to be announced in the near future.
Based on the Gold Cup Prelims draw, the remaining team in Group A could be one of four possibilities: Curaçao, French Guiana, Sint Maarten or St. Kitts and Nevis. The Prelims Round will run from June 16-20 in the United States at a venue to be determined.
The United States enters the tournament as reigning champions after lifting the 2021 Gold Cup and will seek a record-tying eighth confederation championship this summer. The USMNT won the inaugural tournament in 1991 before being crowned regional champions again in 2002, 2005, 2007, 2013 and 2017 and 2021. Should the USA win the 2023 competition, it would tie Mexico's record of eight titles.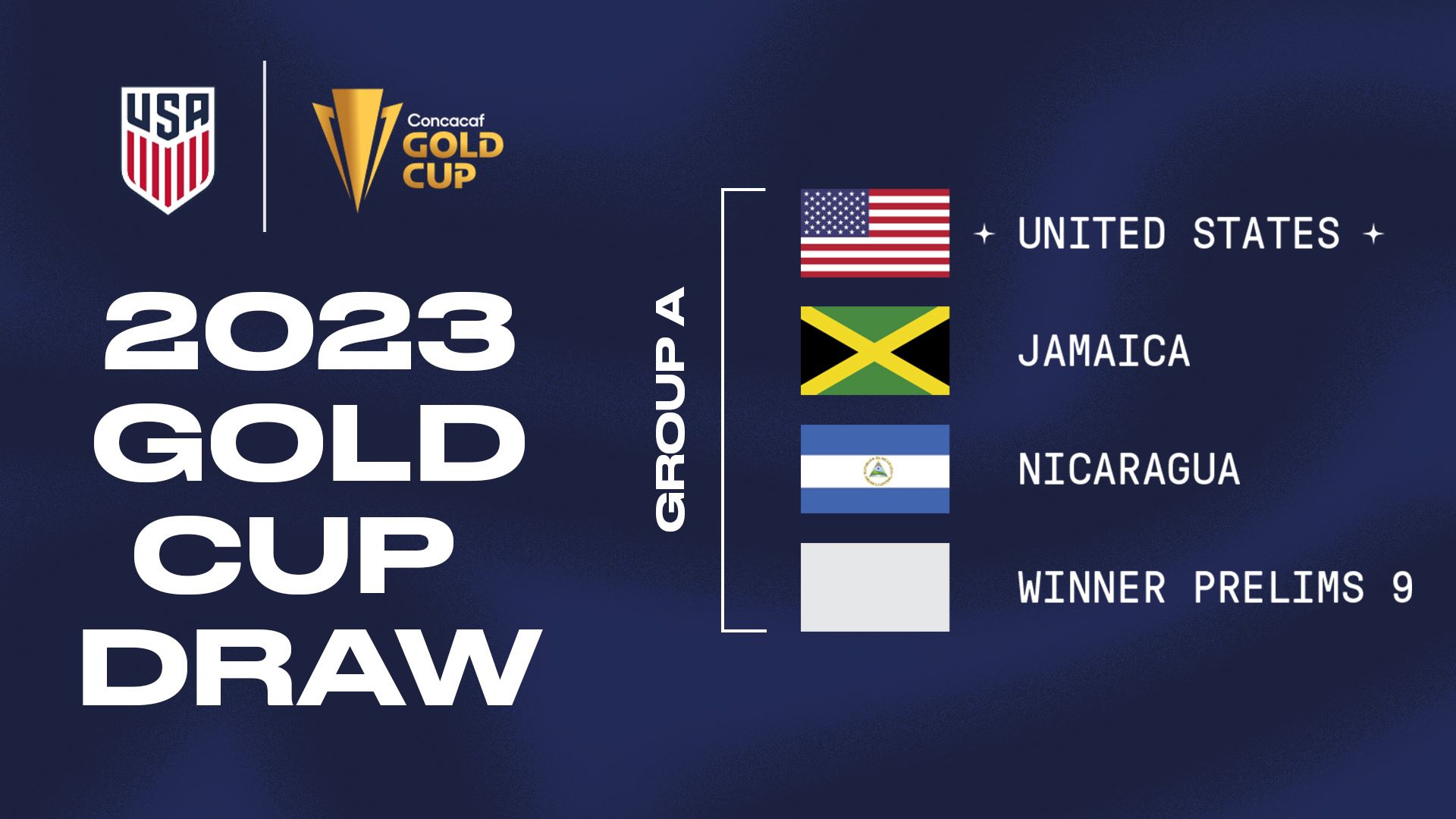 "Overall, I'm pleased with the draw," USMNT head coach Anthony Hudson said. "I think Jamaica is a really tough team and our previous experience in this competition tells us that there are no easy opponents and every game is complicated. As we know, these teams are improving every year, and that's good for everyone."
A total of 12 teams had already advanced to the 16-team group stage. They include the winners and runners-up in 2022-23 Concacaf Nations League League A groups, and the winners of CNL League B groups, including Canada, Costa Rica, Cuba, El Salvador, Guatemala, Haiti, Honduras, Jamaica, Mexico, Nicaragua, Panama, and the United States.
The 12 teams will be joined in the group stage by AFC Asian Cup Champions, Qatar, who made their Gold Cup debut during the 2021 competition and reached the semifinal before losing to the United States. They will once again compete as a guest as part of a major collaboration with Concacaf.
The final three teams will come from the 2023 Gold Cup Prelims, a tournament comprised of the 12 national teams who qualified through their 2022-23 Concacaf Nations League performances, including the third-placed teams from League A groups, the second-placed teams from League B groups, and the winners of League C groups. Those teams are Curaçao, French Guiana, Grenada, Guadeloupe, Guyana, Martinique, Puerto Rico, St. Kitts and Nevis, Saint Lucia, Sint Maarten, Suriname and Trinidad and Tobago.
2023 Concacaf Gold Cup Groups
Group A
Group B
Group C
Group D
USA
Mexico
Costa Rica
Canada
Jamaica
Haiti
Panama
Guatemala
Nicaragua
Honduras
El Salvador
Cuba
Winner Prelims 9
Qatar
Winner Prelims 8
Winner Prelims 7
GOLD CUP IS SECOND HALF OF TOURNAMENT ACTION FOR USMNT THIS SUMMER
Prior to its Gold Cup title defense, the USMNT will also work to defend the inaugural Concacaf Nations League title secured in 2021. Set for June 15-18 at Allegiant Stadium in Las Vegas, the 2022-23 CNL Final Four will pit the USA against rivals Mexico in a rematch of the thrilling 2021 championship match in which extra time heroics from Christian Pulisic and Ethan Horvath guided the USMNT to a memorable 3-2 win against El Trí in Denver. The winner of the USA-Mexico clash will take on the winner of the Panama-Canada semifinal in the championship match, while the two semifinal losers will play for third place. Both matches will be contested on June 18.
GROUP OPPONENT NOTES:
JAMAICA
Head Coach: Heimir Hallgrímsson (Iceland)
Overall Record vs. Jamaica: 19-3-9
Gold Cup Record vs. Jamaica: 5-1-0
Best Gold Cup Finish: Runner-Up (2015, 2017)
Current World Ranking: 63
Qualified by finishing runners up in Nations League A, Group A with a 1-0-3 record. Two of their three draws came against Mexico, including a brave performance in a 2-2 result at Azteca on the last match day.
Only Caribbean nation to have reached the semifinal stage in three consecutive Gold Cups (2015, 2017, 2019).
In 2017, the USA used Jordan Morris' 88th minute winner to defeat Jamaica 2-1 in that year's Gold Cup Final.
In 2015, became the first Caribbean team to advance to Gold Cup Final after beating the USA 2-1 in the semifinal.
The USA and Jamaica have met in the knockout stage of each of the last four Gold Cups: 2015 Semifinal (2-1 Jamaica win), 2017 Final (2-1 USA win), 2019 Semifinal (3-1 USA win), 2021 Quarterfinal (1-0 USA win).
Coached by Heimir Hallgrimsson, who led Iceland to Euro 2016 and 2018 FIFA World Cup.
NICARAGUA
Head Coach: Marco Antonio Figueroa (Chile)
Overall Record vs. Nicaragua: 1-0-0
Gold Cup Record vs. Nicaragua: 1-0-0
Best Gold Cup Finish: Group Stage (2009, 2017, 2019)
Current World Ranking: 140
Qualified by winning CNL League B, Group C with a 4-0-2 record, finishing one point ahead of Trinidad and Tobago.
Making their fourth Gold Cup appearance and first since 2019, Nicaragua have never made it past the group stage.
The only previous meeting with the USA came in the group finale of the 2017 Gold Cup. With the USA needing to win by three goals to clinch first in the group, Nicaragua frustrated the MNT when two penalty kicks were saved during regular play. The USA got its third and final goal late off a Matt Miazga set piece goal.
Head coach Marco Antonio Figueroa is a former Chilean international who has spent most of his coaching career leading clubs in his native country.
PRELIMS 9 COUNTRIES
Group A will be rounded out by the winner of Gold Cup Prelims No. 9, which will see Curaçao face St. Kitts and Nevis, and French Guiana face Sint Martin in the semifinal round. The winners will play each other for the right to join the USA, Jamaica, and Nicaragua in Group A.
Of the four possible opponents that could advance from Prelims 9, Curaçao is the only team the USA has previously faced.
The USMNT holds a 2-0-1 all-time record against Curaçao and a 1-0-0 edge in the Gold Cup.
The USA won the only Gold Cup meeting with Curaçao, using a 25th minute goal from Weston McKennie to earn a 1-0 victory in the quarterfinal on June 30, 2019 in Philadelphia.
Curaçao took over the FIFA records from the Netherlands Antilles, who the USA previously faced in a home-and-away preliminary qualifying playoff for the 1986 FIFA World Cup. The teams drew 0-0 in the first leg on Sept. 29, 1984 in Curaçao, before the USA earned a 4-0 win on Oct. 6, 1984 in St. Louis.