USMNT races past Grenada 7-1 in return to Concacaf Nations League action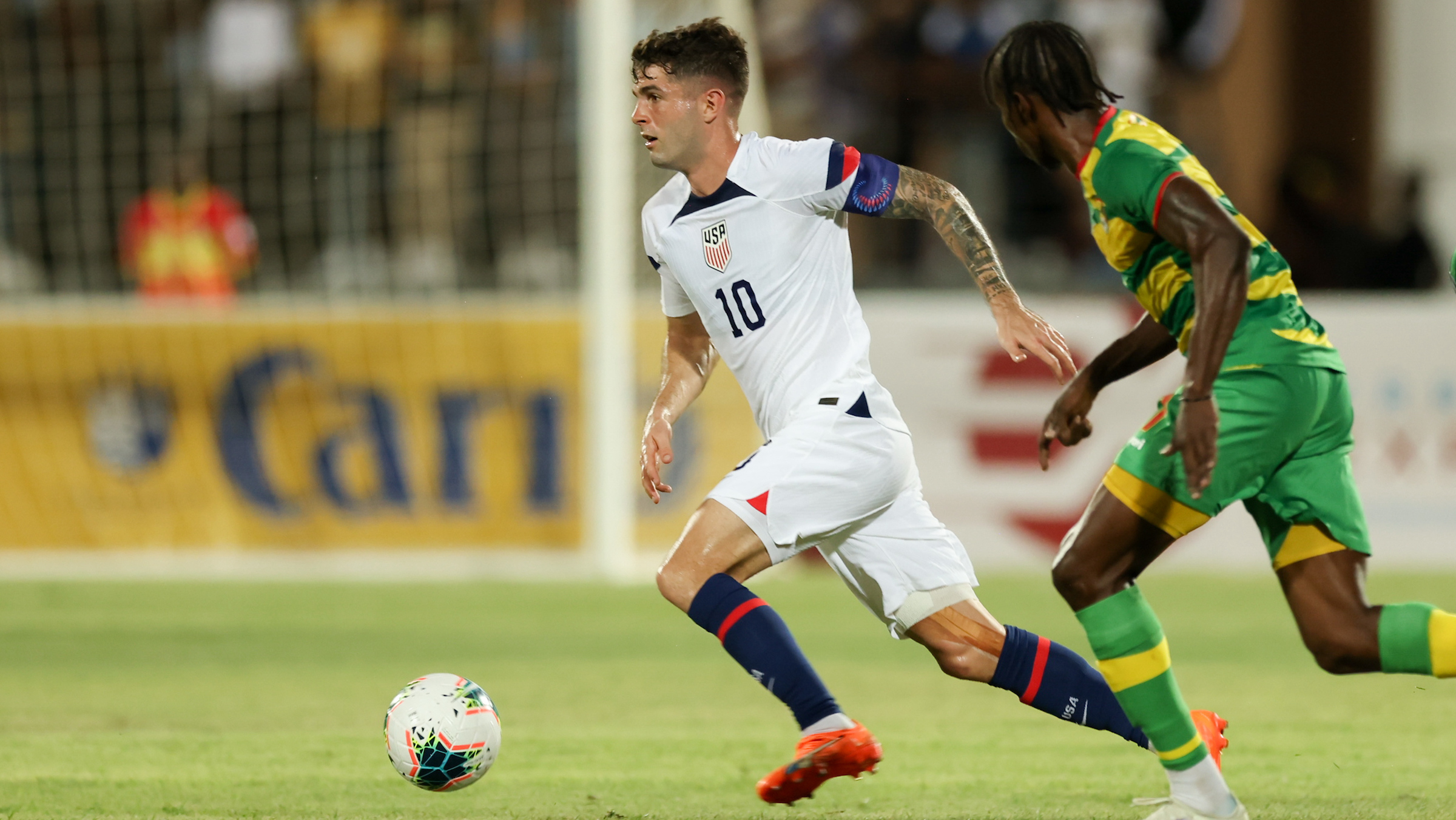 ST. GEORGE'S, Grenada – The U.S. Men's National Team routed Grenada 7-1 to move atop Group D of Concacaf Nations League A on Friday night at Kirani James Stadium.
Weston McKennie and Ricardo Pepi each scored twice, while Christian Pulisic was involved in five goals, including scoring one of his own. Brenden Aaronson and Alex Zendejas also tallied as the USA snapped a nine-game away winless streak in emphatic fashion, setting the team record for most goals in a road match.
With the win, the USMNT leaps over El Salvador with seven points in the group. The teams will meet in the final group match on Monday, March 27 at Exploria Stadium in Orlando (7:30 p.m. ET; TNT, Universo and Peacock), with the USA needing a draw or win to advance to the Concacaf Nations League Finals in June in Las Vegas. Tonight's win also secures the USA a top-two finish in the group and the corresponding berth in the 2023 Concacaf Gold Cup.
On a night where the starting lineup featured seven players from the 2022 World Cup team, four players also earned their 'firsts'. Starting defender Auston Trusty and substitute Taylor Booth made their USMNT debuts, while Zendejas and Jonny Cardoso became cap-tied by appearing in their first official tournament match.
Wearing the captain's armband for the 13th time, Pulisic partnered with left back Joe Scally to create numerous chances down the left side throughout the first half. They wasted little time getting the USA on the board, with Pulisic setting up the first goal after four minutes with a nice cross that Pepi headed home.
Grenada then had a short spell of opportunities at goal, the most threatening coming in the seventh minute when Jacob Berkeley-Agyepong ripped a hard shot from the top left side of the box to the far post, but was denied by USA goalkeeper Matt Turner whose fingertip, diving save deflected the shot off the right post.
Pulisic and Pepi nearly combined again after 12 minutes when the Chelsea forward chipped a ball behind the defense that left Pepi alone at goal, but his shot from close range was handled by goalkeeper Jason Belfon.
Pulisic kept orchestrating, and minutes later set up Aaronson who did well to create separation before doubling the lead with a low shot as he dribbled across the box.
Grenada had no answers for Pulisic, who then drew two fouls and took the ensuing free kicks that resulted in both McKennie goals – including an acrobatic volley just past the half hour and a lunging touch in front of goal two minutes later for his 10th and 11th career goals.
McKennie's quick tallies were in the midst of a flurry during which Grenada got one back on a nice buildup off a restart that ended with Myles Hippolyte scoring on a well-struck shot from 17 yards.
The USMNT kept its foot on the gas to start the second half, and again Pulisic was involved just four minutes in, this time putting away his 23rd international goal on a pass from Luca de la Torre.
De la Torre also set up Pepi's second on the night, which was a well-struck shot to beat the 'keeper near-post, and Zendejas closed out the scoring less than ten minutes after coming into the match with a curling left-footed shot from the top of the box. Zendejas had two other quality attempts, but Belfon came up with fantastic saves on both shots.
GOAL SCORING RUNDOWN
USA – Ricardo Pepi (Christian Pulisic), 4th minute: Christian Pulisic took a simple pass from Joe Scally down the left, used a step-over to create space from his mark before cutting back to his right and whipping a dipping cross from the edge of the box to the top of six, where Pepi stepped in front of his man and connected on a flat-footed, strong header past Belfon. USA 1, GRN 0
USA – Brenden Aaronson (Christian Pulisic), 20th minute: Again on the left, Pulisic took on two defenders  and played a short ball to Aaronson at the top of the area. Aaronson turned the center, took a touch forward inside the box and hit a low shot past two defenders that sailed by Belfon for his seventh career goal. USA 2, GRN 0
USA – Weston McKennie, 31st minute: Pulisic beat two men on the left side before being taken down just outside the box near the endline. He then lifted the free kick toward the back post, where McKennie out jumped his man for a header that was blocked. Before the ball hit the ground, McKennie whipped a left-footed volley past Belfon for his 10th career goal. USA 3, GRN 0
GRN – Myles Hippolyte (Jacob Berkeley-Agyepong), 32nd minute: Grenada worked a nice team goal right off the restart following McKennie's first goal, combining passes down the right side before Romar Frank passed to Berkeley-Agyepong, who set up Hippolyte for a well-struck, first-time left footed shot that eluded Matt Turner's dive. USA 3, GRN 1
USA – Weston McKennie (Auston Trusty), 34th minute: Fouled again about 30 yards from goal down the left channel, Pulisic sent the free kick to the back post again, where Trusty headed the ball back towards goal and McKennie lunged high, and with a glancing touch redirect the ball over Belfon from close range. USA 4, GRN 1
USA – Christian Pulisic (Luca de la Torre) 49th minute: This time from the right, Bryan Reynolds cut in and played a ball to de la Torre at the top of the box. Luca turned and moved it along to the on-rushing Pulisic who entered the box on the left and hit a first-time shot with his right that Belfon mishandled and the ball trickled past the goal line. USA 5, GRN 1
USA – Ricardo Pepi (Luca de la Torre), 53rd minute: Taking a ball just past midfield, de la Torre threaded a low ball between two defenders, and Pepi's well-timed run left him alone at goal. He took one touch and blasted a shot near-post for his second of the night. USA 6, GRN 1
USA – Alex Zendejas, 73rd minute: With the U.S. moving the ball down the right, Grenada's defense attempted to intercept a ball, but the rebound fell to Zendejas, who from the top of the box hit curling shot top with his left that tucked into the left side of the goal. USA 7, GRN 1
ADDITIONAL NOTES:
Tonight's USMNT Starting XI had an average age of 23 years, 117 days and 18 caps overall.
While involved in five of the seven goals, Christian Pulisic recorded assists on the opening two goals before finding the back of the net himself in the 49th minute to register three goal contributions in a match for the fifth time.
Pulisic's goal was also the 23rd of his international career, placing him just one behind Joe-Max Moore for sixth on the team's all-time scoring list.
With his first-half brace, Weston McKennie tallied multiple goals in a match for the second time in his international career. The 24-year-old midfielder recorded his 10th and 11th career goals, becoming the 28th USMNT player to reach double digits.
The only player to appear in all nine of the team's Concacaf Nations League matches, McKennie's goals were also his fifth and sixth in CNL play, which sees him leapfrog Jordan Morris (five goals) for the team's all-time scoring lead in the competition.
With his fourth and fifth career goals, Ricardo Pepi found the back of the net for the first time since also recording a brace in the 2-0 win against Jamaica on Oct. 7, 2021 in Austin.
Luca de la Torre collected two assists in a match for the first time, providing the helper on Pulisic's 49th minute strike and Ricardo Pepi's second goal four minutes later to take his career total to five.
Brenden Aaronson's 20th minute strike was the seventh of his international career.
Starting center back Auston Trusty and substitute Taylor Booth both earned his senior international debuts in tonight's match. Trusty also collected his first assist on McKennie's 34th minute goal.
On the night he became officially cap-tied to the United States, Alex Zendejas also scored his first international goal to make it 7-1 in the 73rd minute.
Midfielder Johnny Cardoso also became cap-tied when he entered the match in the 75th minute.
Right back Bryan Reynolds earned his first start for the Red, White and Blue tonight. Reynolds last appeared in the 1-0 win against Bosnia and Herzegovina on Dec. 18, 2021.
Defender Mark McKenzie made his first start since the World Cup qualifier on Oct. 10, 2021 at Panama. McKenzie paired in central defense with his former Philadelphia Union teammate and fellow Academy alum, Auston Trusty.
Substitute striker Daryl Dike made his first appearance since July 29, 2021 against Qatar in the Concacaf Gold Cup semifinal.
Both Ricardo Pepi and Gio Reyna returned to the Starting XI for the first time since Sept. 27 against Saudi Arabia.
Ten of the 11 starters are products of the U.S. Soccer Development Academy: Weston McKennie, Ricardo Pepi and Bryan Reynolds (FC Dallas); Brenden Aaronson, Mark McKenzie and Auston Trusty (Philadelphia Union); Gio Reyna and Joe Scally (New York City FC); Luca de la Torre (Nomads SC, San Diego Surf); Christian Pulisic (PA Classics)
With teams allowed to dress 23 players, defender Miles Robinson was a healthy scratch from the squad.
The USMNT moves to 5-0-0 all-time against Grenada.
­-U.S. MEN'S NATIONAL TEAM MATCH REPORT-
Match: United States Men's National Team vs. Grenada
Date: March 24, 2023
Competition: Concacaf Nations League
Venue: Kirani James Athletic Stadium; St. George's, Grenada
Attendance: 7,032
Kickoff: 8 p.m. local (8 p.m. ET)
Weather: 78 degrees; clear
Scoring Summary:     1         2          F
USA                               4         3          7
GRN                               1          0          1
USA – Ricardo Pepi (Christian Pulisic)                                   4th minute
USA – Brenden Aaronson (Christian Pulisic)                      20
USA – Weston McKennie                                                         31
GRN – Myles Hyppolyte (Jacob Berkeley Agyepong)        32
USA – Weston McKennie (Auston Trusty)                           34
USA – Christian Pulisic (Luca de la Torre)                           49
USA – Ricardo Pepi (Luca de la Torre)                                  53
USA – Alejandro Zendejas                                                       72
Lineups:
USA:1-Matt Turner; 22-Bryan Reynolds, 3-Mark McKenzie, 20-Auston Trusty, 19-Joe Scally; 8-Weston McKennie (6-Yunus Musah, 57), 14-Luca de la Torre (15-Johnny Cardoso, 75); 11-Brenden Aaronson, 7-Gio Reyna (4-Taylor Booth, 64), 10-Christian Pulisic (capt.) (17-Alex Zendejas, 64); 9-Ricardo Pepi (23-Daryl Dike, 57)
Substitutes not used: 12-Ethan Horvath, 18-Zack Steffen, 2-Sergiño Dest, 5-Antonee Robinson, 13-Tim Ream, 16-Alan Soñora, 21-Djordje Mihailovic
Head coach: Anthony Hudson
GRN:1-Jason Belfon; 2-Benjamin Ettiene, 5-Kayden Harrack, 4-Aaron Pierre (capt.), 16-Arthur Paterson; 7-Romar Frank (18-Kriston Julien 68), 19-Kwazim Theodore, 11-Myles Hippolyte (13-Steffon Abraham, 80), 14-Regan Charles Cook; 20-Jacob Berkeley Agyepong (8-Joshua Issac, 68), 9-Kairo Mitchell (23-Jamal Ray Charles, 68)
Substitutes not used: 12-Jeremy Richardson, 22-Trishawn Thomas, 3-Sawan Mark, 6-Dorrel Pierre, 10-Saydrel Lewis, 17-Trevon Williams, 21-Christian James
Head coach: Anthony Modeste
Stats Summary: USA / GRN
Shots: 19 / 7
Shots on Goal: 12 / 3
Saves: 2 / 5
Corner Kicks: 8 / 4
Fouls: 8 / 11
Offside: 4 / 0
Misconduct Summary:
USA – Luca de la Torre                                  71st minute
GRN – Joshua Isaac (caution)                     80th
GRN – Steffon Abraham (caution)             89
Officials:
Referee: Daneon Parchment (JAM)
Assistant Referee 1: Ojay Duhaney (JAM)
Assistant Referee 2: Jasset Kerr-Wilson (JAM)
4th Official: Okeito Nicholson (JAM)
Bud Light Man of the Match: Christian Pulisic