U.S. Men's Beach Soccer National Team punches ticket to 2023 World Beach Games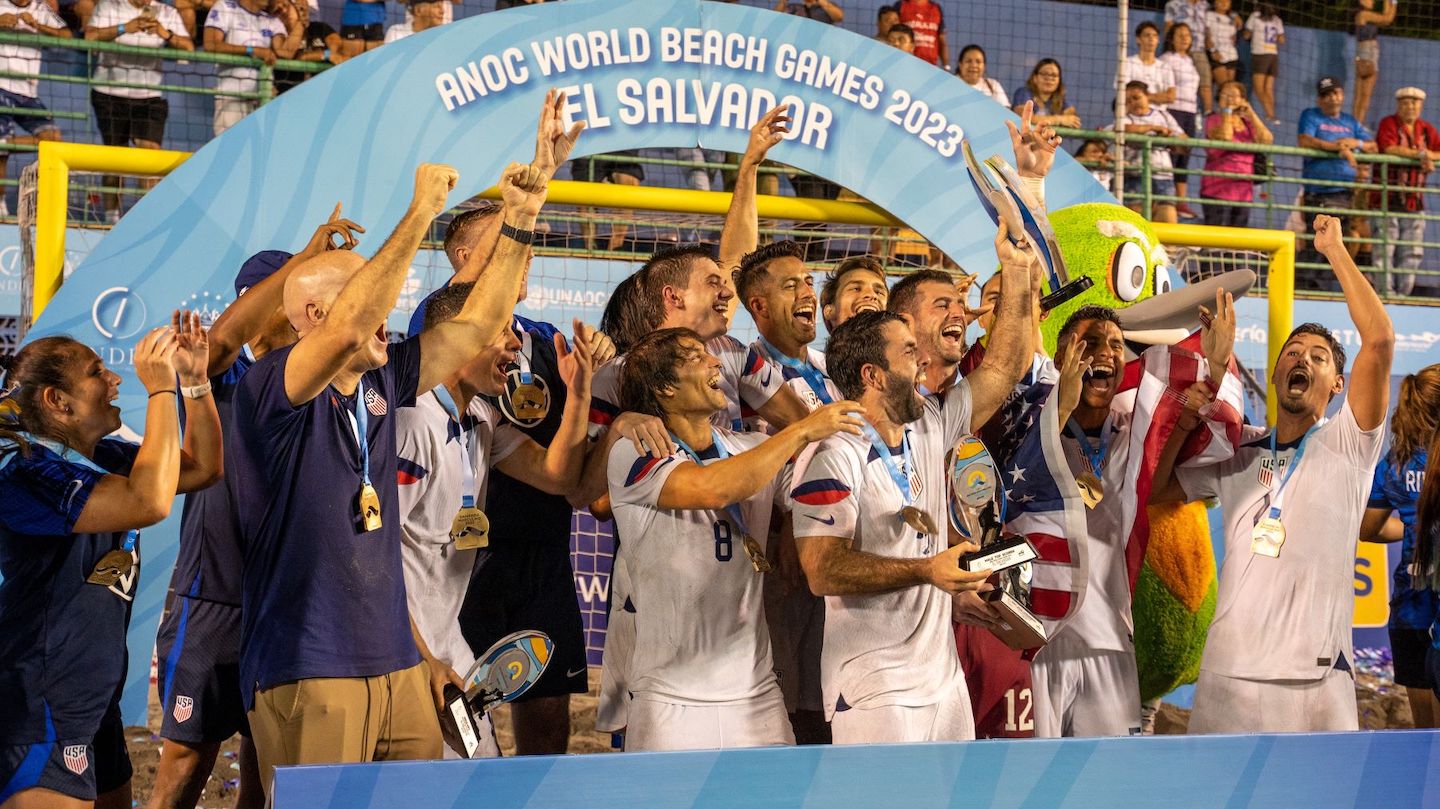 COSTA DEL SOL, El Salvador – The U.S. Men's Beach Soccer National Team defeated El Salvador 4-2 in the final of the Association of National Olympic Committees' (ANOC) World Beach Games Qualifying tournament in front of a capacity crowd of 2,600 at Estadio Nacional Costa del Sol.
Chris Albiston opened the scoring for a third straight game, and Alessandro Canale notched a hat trick as the USA swept its three games and earned a berth at August's World Beach Games in Bali, Indonesia.
Goalkeeper Chris Toth was named Best Goalkeeper, Canale finished tied for Top Scorer and Gabriel Silveira won Most Valuable Player honors as the Beach MNT captured its first title since winning the 2018 Balaton Cup in Hungary.
Nine different players scored in the three games, with seven netting in the quarterfinal win against Belize. Canale led the team with four goals, followed by Silveira and Albiston with three each. Canale's first hat trick against El Salvador was his first since scoring three in a 6-2 win vs. Jamaica on Feb. 25, 2017.
Goalkeeper Austin Collier, defender Alvaro Franco and ala Lukas Holocher all earned their first caps against Belize, with Franco and Holocher also scoring their inaugural international goals during the tournament.
The team now heads to Mexico to compete in the Acapulco Beach Soccer Cup, where they will face Mexico, Colombia and Saudi Arabia from April 14-16. In May, the team will aim to qualify for a third straight FIFA Beach Soccer World Cup at the 2023 Concacaf Beach Soccer Championship in the Bahamas.
================================
USA Game-by-Game Capsules:
APRIL 6: USA 7-2 BELIZE (QUARTERFINAL)
Scoring Summary: 1 2 3 F
USA 4 3 1 8
BLZ 0 0 2 2
USA – Chris Albiston 10:56 (1st Period)
USA – Gabriel Silveira 8:05 (1st)
USA – Alessandro Canale (Toth) 7:17 (1st)
USA – Lukas Holocher 2:44 (1st)
USA – Cody Valcarcel 10:34 (2nd)
USA – Nico Perea (Collier) 3:16 (2nd)
USA – Gabe Silveira (Albiston) :27 (2nd)
BLZ – Kenyon Martinez 11:10 (3rd)
USA – Andres Navas (Valcarcel) 11:10 (3rd)
BLZ – James Martinez 9:10 (3rd)
Lineups:
USA: 12-Chris Toth (Captain), 2-Chris Albiston, 5-Nicolas Perea, 8-Conner Rezende, 10-Gabriel Silveira
Substitutes: 1-Austin Collier, 2-Alvaro Franco, 3-Antonio Chavez, 4-Lukas Holocher, 6-Cody Valcarcel, 9-Alessandro Canale, 11-Andres Navas
Did not Play: —
Head coach: Francis Farberoff
BLZ: 1-Jahym McKenzie, 2-Sean Mas, 3-Jermain Jones, 4-Darnae Garcia, 5-Kenen Castillo
Substitutes: 12-Brenton Garcia, 6-Evan Mariano, 7-Kenyon Martinez, 8-Devin Guzman, 9-James Martinez, 10-Hubert Baptists, 11-Raymond Ramos
Head coach: Dennis Serrano
Misconduct Summary:
BLZ – Kenen Castillo (caution) :42 (2nd Period)
USA – Antonio Chavez (caution) 2'45 (3rd)
USA – Alessandro Canale (caution) 1'06 (3rd)
================================
APRIL 7: USA 5-0 TRINIDAD AND TOBAGO (SEMIFINAL)
Scoring Summary: 1 2 3 F
USA 2 1 2 5
TRI 0 0 0 0
USA – Chris Albiston (Rezende) 9:28 (1st Period)
USA – Cody Valcarcel (Chavez) 5:58 (1st)
USA – Gabriel Silveira 11:02 (2nd)
USA – Conner Rezende 10:23 (3rd)
USA – Alvaro Franco (Canale) 4:36 (3rd)
Lineups:
USA: 12-Chris Toth (Captain), 2-Chris Albiston, 5-Nicolas Perea, 8-Conner Rezende, 10-Gabriel Silveira
Substitutes: 1-Austin Collier, 2-Alvaro Franco, 3-Antonio Chavez, 4-Lukas Holocher, 6-Cody Valcarcel, 9-Alessandro Canale, 11-Andres Navas
Did not Play: —
Head coach: Francis Farberoff
TRI: 1-Jabari Gray, 6-Kevon Williams, 8-Jesse Bailey (Captain), 10-Dominic McDougall,12-Kareem Perry
Substitutes: 21-Zane Coker, 3-Kairon Joseph, 7-Jay-son Joseph, 9-Hakeem King, 11-Shane Hospedales, 17-Tevin Gill
Head coach: Chad Appoo
Misconduct Summary:
None
================================
APRIL 8: USA 4-2 EL SALVADOR (FINAL)
Scoring Summary: 1 2 3 F
USA 2 2 0 4
SLV 1 0 1 2
USA – Nico Perea (Albiston) 7:49 (1st Period)
USA – Alessandro Canale (Valcarcel) 4:54 (1st)
SLV – Heber Ramos :56 (1st)
USA – Alessandro Canale (Navas) 10:48 (2nd)
USA – Alessandro Canale (Franco) 9:14 (2nd)
SLV – Heber Ramos 3:43 (3rd)
Lineups:
USA: 12-Chris Toth (Captain), 2-Chris Albiston, 5-Nicolas Perea, 8-Conner Rezende, 10-Gabriel Silveira
Substitutes: 1-Austin Collier, 2-Alvaro Franco, 3-Antonio Chavez, 4-Lukas Holocher, 6-Cody Valcarcel, 9-Alessandro Canale, 11-Andres Navas
Did not Play: 1-Austin Collier
Head coach: Francis Farberoff
SLV: 12-Jose Lara, 3-Heber Ramos, 5-Exon Batres, 6-Jason Urbina, 7-Elmer Rodriguez
Substitutes: 1-Erick Najera, 2-Oscar Pineda, 4-Melvin Quinteros, 8-Darwin Ramirez, 9-Andres Ponce, 10-Rogelio Zapaton, 11-Francisco Henriquez
Head coach: Rudis Gallo
Misconduct Summary:
USA – Alvaro Franco (Caution) 6:06 (1st Period)