U.S. Women's Beach Soccer National Team qualifies for 2023 World Beach Games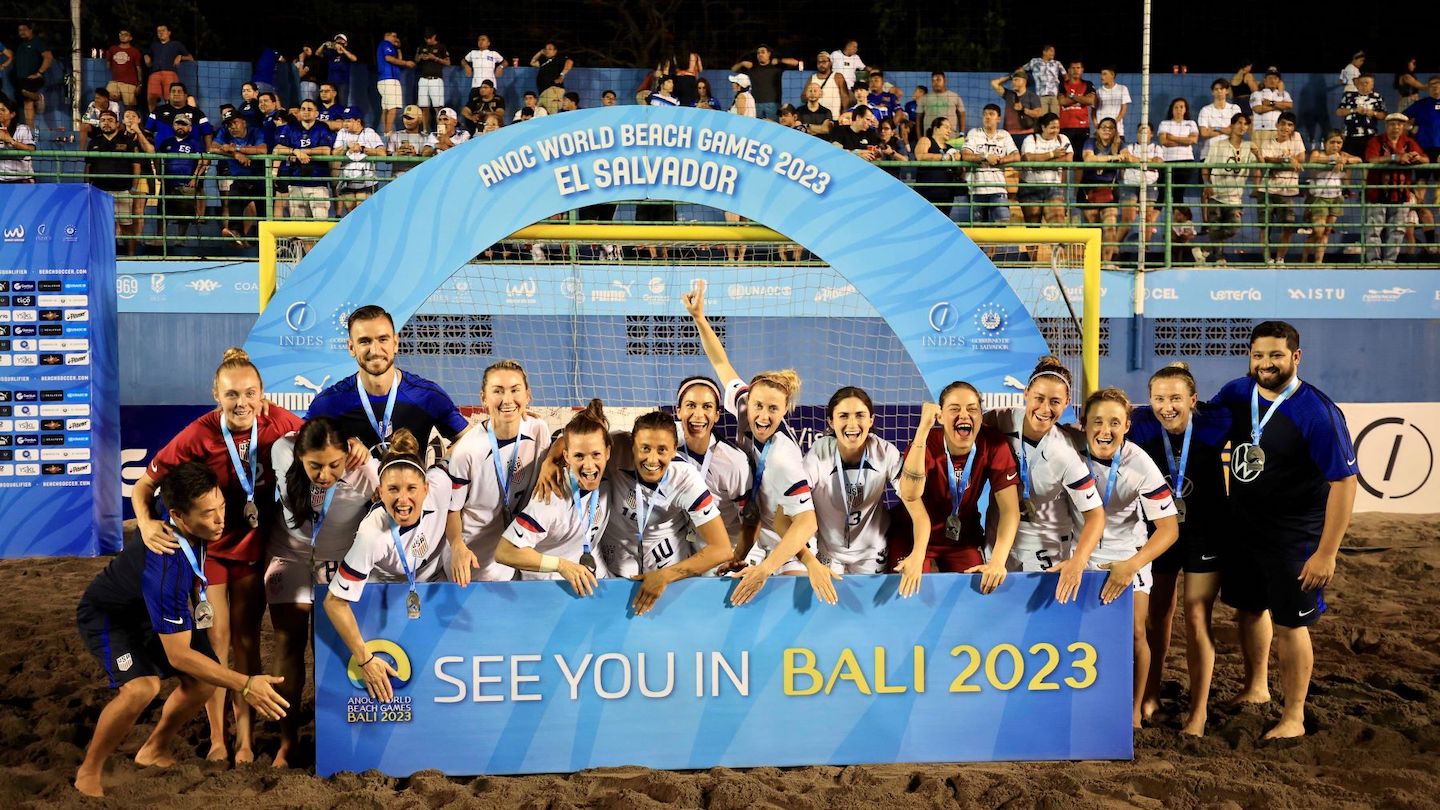 COSTA DEL SOL, El Salvador – The U.S. Women's Beach Soccer National Team defeated Bahamas and Trinidad and Tobago in the first two games of the Association of National Olympic Committees (ANOC) World Beach Games Qualifying tournament before falling to host El Salvador 5-4 on Saturday night in front of a capacity crowd of 2,600 at Estadio Nacional Costa del Sol.
El Salvador won the tournament with six points, however with its second-place finish the USA also earned a berth to the second edition of the World Beach Games, set for August in Bali, Indonesia.
ANOC World Beach Games Qualifiers 2023 Bali – El Salvador

Team

GP

W

W+

L

GF

GA

GD

Pts.

El Salvador- x

3

3

0

0

15

7

+8

9

USA – x

3

2

0

1

17

7

+10

6

Trinidad and Tobago

3

1

0

2

8

13

-5

3

Bahamas

3

0

0

3

2

15

-13

0

x-Qualified for ANOC World Beach Games Bali 2023
Goalkeeper Melissa Lowder was named Best Goalkeeper. During the tournament, she registered her first and the Beach WNT's first international shutout against the Bahamas and scored her first international goal against El Salvador. The U.S. finished second at the inaugural ANOC World Beach Games Qualifying tournament in 2019 and participated in the final competition after a second spot was awarded to Concacaf.
Lauren Leslie and Kilee Quigley extended their streak of participating in every tournament since the team's debut in 2019. Quigley led the team in El Salvador with four goals. Hannah Adler and Kelly Garzon made their Beach WNT debuts and scored their first goals, with Adler finishing second on the team with three. With two goals, Leslie remains the team's all-time leading scorer with 12 career tallies, while Quigley moved into second with 11, passing Samantha Witteman's eight.
The team's next completion is the the Acapulco Beach Soccer Cup, where they will face Mexico, England and the Bahamas from April 14-16.
================================
USA Game-by-Game Capsules:
APRIL 6: USA 6-0 BAHAMAS (MATCH 1)
Scoring Summary: 1          2          3          F
USA                            3          1          2          6
BAH                            0          0          0          0
USA – Kilee Quigley            8:05 (1st Period)
USA – Hannah Adler            5:27 (1st)
USA – Lauren Leslie               :12 (1st)
USA – Kelly Garzon              5:53 (2nd)
USA – Ali Hall                       10:25 (3rd)
USA – Kilee Quigley            7:12 (3rd)
Lineups:
USA:12-Melissa Lowder, 4-Vanessa Valentine, 7-Lauren Leslie, 10-Ali Hall (Captain)
Substitutes: 1-Gabriella Batmani, 2-Danielle Kovacevic, 3-Hannah Adler, 5-Makenzie Chronopoulos, 6-Jeane Sunseri-Warp, 8-Kelly Garzon, 11-Rachel Hunter
Did not Play: 1-Gabriella Batmani
Head coach: Morgan Church
BAH:1-Kendi Outten, 2-Jodei Clarke, 5-Janeka Edey, 6-Karen Wert (Captain), 7- Jade Thelamour
Substitutes: 12-Gina Stubbs, 3-Rachel Rolle, 4-Jada Thelamour, 8-Angel Williams, 9-Hadassah Knowles, 11-Taleah Thompson, 21-Alexis Woodside
Head coach: Daria Adderley
Misconduct Summary:
USA – Ali Hall (caution)                   10:22 (3rd Period)
================================
APRIL 7: USA 7-2 TRINIDAD AND TOBAGO (MATCH 2)
Scoring Summary:   1          2          3          F
USA                             4          2          1          7
TRI                               0          1          1          2
USA – Lauren Leslie              10:00 (1st Period)
USA – Kilee Quigley                 9:28 (1st)
USA – Hannah Adler                8:08 (1st)
USA – Vanessa Valentine       8:55 (2nd)
TRI – Ketara Munreo               6:55 (2nd) – Lowder
USA – Ali Hall                            6:04 (2nd)
USA – Kilee Quigley                  8:38 (3rd)
USA – Hannah Adler                 6:45 (3rd)
TRI – Shaunalee Govia             1:58 (3rd) – Batmani
Lineups:
USA:12-Melissa Lowder, 4-Vanessa Valentine, 7-Lauren Leslie, 9-Kilee Quigley, 10-Ali Hall (Captain)
Substitutes: 1-Gabriella Batmani, 2-Danielle Kovacevic, 3-Hannah Adler, 5-Makenzie Chronopoulos, 6-Jeane Sunseri-Warp, 8-Kelly Garzon, 11-Rachel Hunter
Did not Play: None
Head coach: Morgan Church
TRI:1-Tenesha Palmer, 2-Shaunalee Govia, 5-Tsai-Anne Fernandez, 7-Alexcia Ali, 9-Summer Arjoon
Substitutes: 16-Chrystal-Anne Taylor-Lewis, 4-Tisha Belfon, 6-Ketara Annale Jessica Munreo, 8-Selina Isaac, 10-Adanya Phillip, 11-Aliyah Prince, 12-Daniella Findley
Head coach: Chad Appoo
Misconduct Summary:
USA – Makenzie Chronopoulos (caution)            8:24 (2nd Period)
Officials:
1st Referee: Raul Antonio Moral (SLV)
2nd Referee: Fernando Calvillo (GUA)
3rd Referee: Diego Javier Najer (GUA)
Timekeeper: Jair Robles (MEX)
================================
APRIL 8: USA 4-5 EL SALVADOR (MATCH 3)
Scoring Summary:   1          2          3          F
USA                             2          1          1          4
SLV                              1          2          2          5
SLV – Yahara Maravilla            9:17 (1st Period) – Lowder
USA – Hannah Adler                 2:06 (1st)
USA – Melissa Lowder               :31 (1st)
SLV – Cindy Turcios                   :41 (2nd) – Lowder
USA – Jeane Sunseri-Warp      :33 (2nd)
SLV – Fatima Gonzalez              :31 (2nd) – Lowder
USA – Rachel Hunter               8:24 (3rd)
SLV – Yahara Maravilla           5:01 (3rd) – Lowder
SLV – Daniela Rivera               2:55 (3rd) – Lowder
Lineups:
USA:12-Melissa Lowder, 4-Vanessa Valentine, 7-Lauren Leslie, 9-Kilee Quigley, 10-Ali Hall (Captain)
Substitutes: 1-Gabriella Batmani, 2-Danielle Kovacevic, 3-Hannah Adler, 5-Makenzie Chronopoulos, 6-Jeane Sunseri-Warp, 8-Kelly Garzon, 11-Rachel Hunter
Did not Play: 1-Gabriella Batmani
Head coach: Morgan Church
SLV:12-Yahara Maravilla, 2-Daniela Rivera, 3-Vilma Acosta, 4-Rosa Villalobos (Captain), 5-Yaquelin Cuchilla
Substitutes: 1-Erika Tobar, 6-Cindy Turcios, 7-Marisa Gonzales, 8-Dalia Portillo, 9-Irma Cordero, 10-Fatima Gonzalez, 11-Fatima Herrera
Head coach: Elias Martinez
Misconduct Summary:
USA – Rachel Hunter (caution)                 6:28 (3rd Period)