U.S. U-16 Women's Youth National Team earns 3-0 clean sheet win over France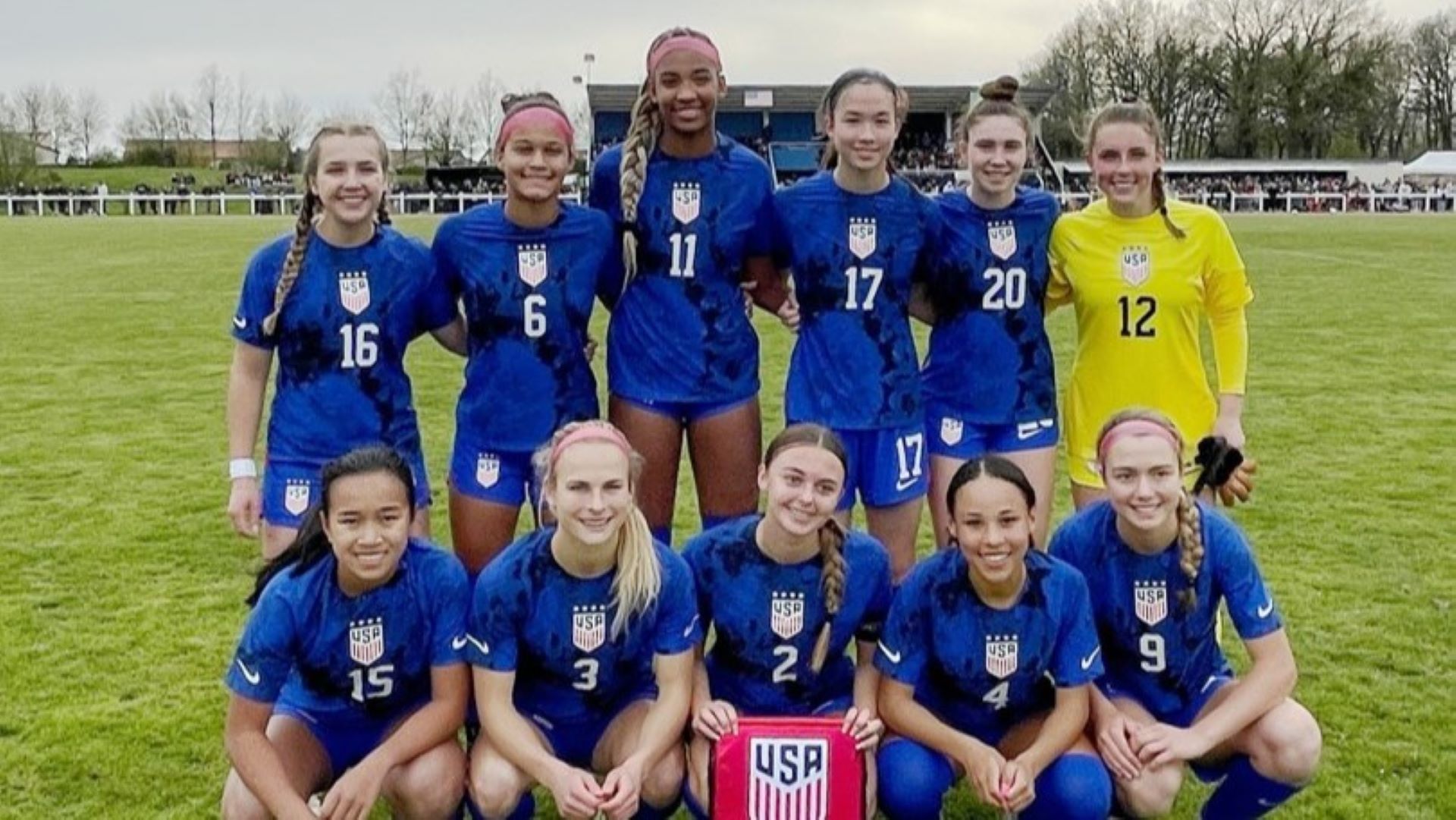 MORTAGNE-SUR-SÈVRE, FRANCE – The U.S. Under-16 Women's Youth National Team defeated host France, 3-0, in the second of four matches at the Mondial Montaigu Football Tournament.
In the six-team competition, the USA is in Group F with Portugal and Norway while Group E features host France, Japan and Mexico. This match against France was a cross-over game that did not count in the tournament standings.
Each team is playing the other teams in its group once, plus one game against a team in the other group, which is just a friendly match. The group winners will play for the championship, the two second-place finishers will play for third and the two third-place finishers will play for fifth.
[+READ: U.S. U-16 Women's Youth National Team routs Portugal 4-1]
The USA will face Norway on April 7 with a place in the championship game on the line. The USA beat Portugal, 4-1, in its first Group F match while Norway lost to Portugal, 3-0, in its first Group F match. The placement matches are on April 9.
In the Group E matches, France downed Mexico, 6-0 and Japan defeated Mexico, 1-0. France and Japan meet on April 7 for a place in the championship game.
While each team fired 10 shots, the USA had a slight edge in attacking presence over the French and surely was the better finisher.
The first goal came in the 22nd minute as defender Katie Scott sent a corner kick into the middle and forward Trinity Armstrong headed home for the 1-0 lead.
Forward Madeline Padelski added the second goal in the 38th minute and the USA sealed the deal on another corner kick in the 71st minute, as Scott passed to team captain Alexis Coughlin, who played it to Zoe Matthews, and she finished for the final scoreline.
All the players on the U.S. roster were born in 2007, which is the birth year that will form the primary age group working to earn a berth to the 2024 FIFA U-17 Women's World Cup.
— U.S. UNDER-16 YOUTH WOMEN'S NATIONAL TEAM MATCH REPORT —
Match: United States U-16 Women's Youth National Team vs. France U-16 Women's National Team
Date: April 5, 2023
Competition: Mondial Montaigu Women's Tournament
Venue: Complexe Sportif Stephane Traineau; Mortagne-sur-Sèvre, France
Weather: 62 degrees, partly cloudy
Scoring Summary:   1          2          F
USA                              2          1          3
FRA                             0          0          0
USA – Trinity Armstrong (Katie Scott)            22nd minute
USA – Madeline Padelski                                     38
USA – Zoe Matthews (Alexis Coughlin)            71
Lineups:
USA:12-Kennedy Zorn, 4-Mya Brandon (8-Daya King, 60); 2-Alexis Coughlin (Capt.), 17-Kiara Gilmore, 3-Katherine Scott, 6-Trinity Armstrong (13-Ainsley McCammon, 76) 15-Y-Lang Nguyen, 9-Tessa Knapp, 11-Zoe Matthews (7-Ayva Jordan, 67), 20-Caroline Helfrich (14-Mya Townes, 60); 16-Madeline Padelski
Subs not used: 1-Molly Vapensky, 5-Jordyn Hardeman, 10-Kennedy Fuller, ,18-Alexandra Pfeiffer, 19-Kai Price
Head Coach: Patricia Toledo
POR:3-Ornella Graziani; 4-Melia Bourdoncle, 5-Sarah Compaore, 8-Messina Fouda, 9- Louna Lemort (10-Lina Gay, 41); 11-Lina Greve (23-Auryane Abdourahim, 41); 13-Olivia Romiti (20-Meline Rubio, 77); 16- Louise Demarest (GK), 17-Ambre Ouazar (Capt.); 19-Justine Rouquet (7-Celia Chabod, 41); 22-Djenna Tene.
Subs not used:  1-Ceylin Yilmaz, 2-Alaia Peltier, 6-Kenza Dufour, 12-Maelle Richelandet, 14-Leane Lescop, 15-Valentine Sellenet, 18-Lea Syljmani, 21-Kentissia Bacoul
Head Coach: Cecil Locateli
Stats Summary: USA / FRA                        
Shots: 10 / 10
Shots on Goal: 6 / 3
Saves: 3 / 3
Corner Kicks: 4 / 1
Fouls: 5 / 4
Offside: 0 / 1
Misconduct Summary:
USA – Kennedy Zorn (Caution)          77th minute