U.S. U-23 Women's National Team drops 3-1 result to NWSL's Racing Louisville FC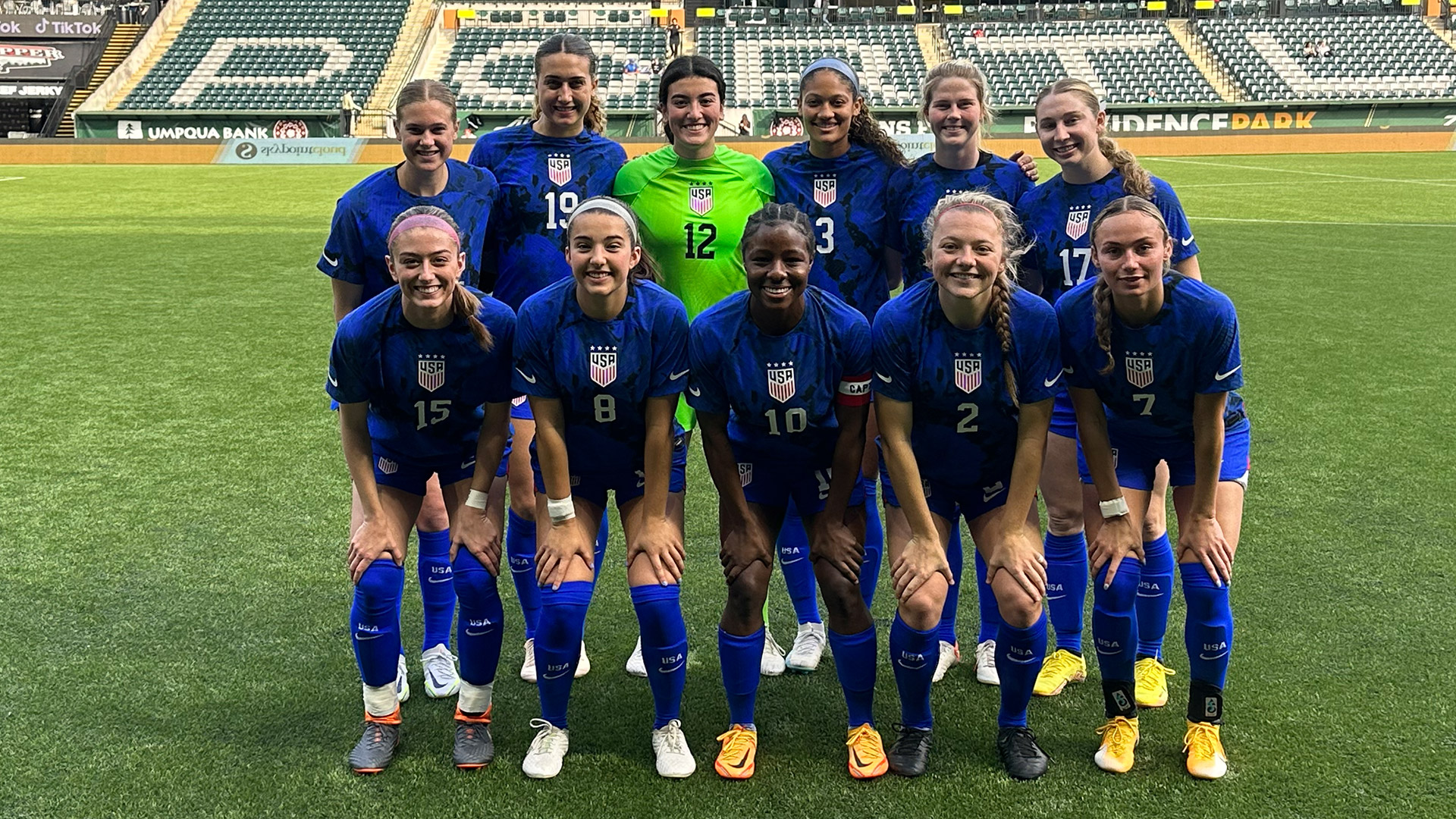 PORTLAND, Oregon – The U.S. Under-23 Women's National Team dropped a 3-1 result to Racing Louisville FC to finish its three-game run against National Women's Soccer League teams at the Thorns Preseason Tournament.
The U.S. team, playing with a roster made up entirely of collegiate players, faced off against Racing side made up mostly of starting players, and gave up the first goal in the 14th minute as midfielder Lauren Milliet played a cross from the left side over the U.S. backline to midfielder Elli Pikkujamsa at the back post and she headed the ball home.
The USA tied the game in the 24th minute as outside back Ellie Wheeler played a pass down the left flank to forward Reilyn Turner. She beat a defender and dribbled into the penalty area before finishing well past the Racing goalkeeper.
Racing took the lead again 11 minutes later as midfielder Savannah DeMelo sent a pass into the slot inside the penalty area for Nigerian international Uchenna Kanu to finish first-time from close range.
Three minutes before halftime, two other internationals combined for the third goal, as China's Wang Shuang played a cross to Brazilian Ary Borges deep inside the penalty area and she headed into the net to make it 3-1. The USA did manage to fire 16 total shots in the match but could not add to its goal total in the second half.
-U.S. UNDER-23 WOMEN'S YOUTH NATIONAL TEAM MATCH REPORT-
Match: United States U-23 Women's National Team vs. Racing Louisville FC
Date: March 18, 2023
Competition: Thorns Preseason Tournament
Venue: Providence Park; Portland, Oregon
Attendance: N/A
Kickoff: 5 p.m. PT
Weather: 64 degrees, partly cloudy
Scoring Summary:   1          2          F
USA                             1          0          1
LOU                             3          0          3
LOU – Elli Pikkujamsa (Lauren Milliet)                       14th minute
USA – Reilyn Turner (Ellie Wheeler)                           24
LOU – Uchenna Kanu (Savannah DeMelo)                 35
LOU – Ary Borges (Wang Shuang)                              42
Lineups:
USA U-23:12-Neeku Purcell; 7-Ellie Wheeler (6-Kate Wiesner, 46), 8-Lauren Flynn (20-Talia Staude, 46), 19-Eva Gaetino, 10-Ayo Oke (Capt.) (9-Quincy McMahon, 56), 16-Lexi Missimo (11-Jillian Shimkin, 46), 17-Sarah Weber (18-Felicia Knox, 46), 22-Annie Karich (21-Sunshine Fontes, 46), 2-Avery Patterson (14-Simone Jackson, 68), 3-Reilyn Turner (24-Brittany Raphino, 56), 15-Payton Linnehan (13-Taylor Huff, 46)
Subs not used: 1-Ryan Campbell
Head Coach: Margueritte Aosaza                                                     
Racing Louisville:31-Kelsey Daugherty (24-Jordyn Bloomer, 46); 16-Carson Pickett (23-Trinity Watson, 76), 20-Abby Erceg (Capt.) (44- Satara Murray, 66), 25-Rebecca Holloway, 2-Lauren Milliet, 4 Elli Pikkujamsa (5-Paige Monaghan, 46), 8-Ary Borges (3-Zaneta Wyne, 46), 7-Savannah DeMelo (9-Kayla Fischer, 66), 14-Jess McDonald (21-Parker Goins, 66), 29-Uchenna Kanu (22-Kirsten Davis, 46), 77-Wang Shuang (27-Alex Chidiac, 82)
Subs not used: 1-Katie Lund, 6-Jaelin Howell
Head Coach: Kim Bjorkegren
Stats Summary: USA / LOU           
Shots: 16 / 15
Shots on Goal: 7 / 3
Saves: 0 / 6
Corner Kicks: 4 / 6
Fouls: 5 / 6
Offside: 0 / 4
Misconduct Summary:
LOU – Wang Shuang (Caution)                     70th minute
Officials:
Referee:                         Dion Coxe (USA)
Assistant Referee 1:   Aaron Scott (USA)
Assistant Referee 2:   Bryan Juarez (USA)
4th Official:                   Lucas Brooks (USA)