Full TV and streaming schedule released for 2023 NWSL season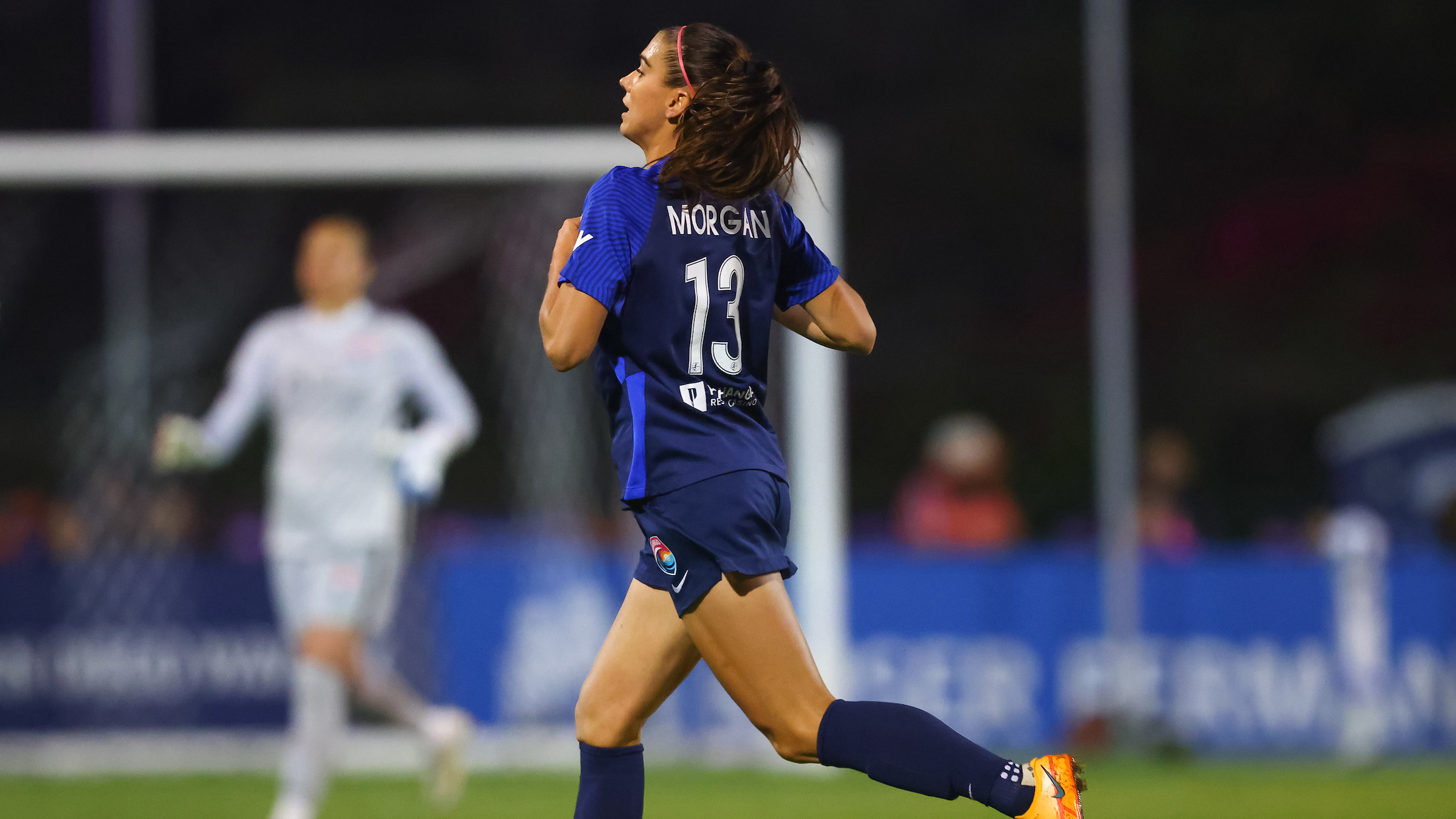 NEW YORK – The National Women's Soccer League announced the full television and streaming schedule for the 2023 season, set to kick off Saturday, March 25 in Cary, North Carolina and culminating with the 2023 NWSL Championship in primetime at 8 p.m. ET on Saturday, November 11.
CBS Sports' multiplatform coverage will include all 176 NWSL matches this season. The CBS Television Network will air six matches, including both the broadcast of the 2023 UKG NWSL Challenge Cup Final and the 2023 NWSL Championship. Paramount+, Paramount Global's subscription streaming service, will also stream those six matches live. CBS Sports Network will air 23 matches across the regular season, playoffs and the Challenge Cup. Paramount+ will exclusively stream all additional NWSL matches live in the U.S, with a select number of those matches also streaming live on the CBS Sports Golazo Network, which launches on Tuesday, April 11.
CBS coverage of the 2023 season kicks off March 25 as the North Carolina Courage host the Kansas City Current live on Paramount+. Coverage continues with San Diego Wave FC's home opener against the visiting Chicago Red Stars on CBS Sports Network, pitting 2022 NWSL Golden Boot winner and FIFPRO World XI honoree Alex Morgan against rising U.S. Women's National Team star Mallory Swanson, who recently became the SheBelieves Cup's all-time leading scorer.
Other notable matches to air on CBS Sports Network include another star-studded rivalry meeting between OL Reign and Portland Thorns FC on June 3, where reigning league and championship MVP Sophia Smith and the Thorns look to even their Cascadia Rivalry record against a veteran OL Reign team led by Lauren Barnes, Jess Fishlock and Megan Rapinoe. OL Reign currently hold a 14-12-8 advantage over the Thorns in 34 meetings.
The league's newest rivalry will also feature on CBS Sports Network when Angel City FC and San Diego square off on June 28, highlighting Alyssa Thompson, the No. 1 overall pick from the 2023 NWSL Draft, as she leads Angel City's attack against 2022 NWSL Defender and Rookie of the Year Naomi Girma and Wave FC.
Coverage on the CBS Television Network begins with a rematch of the 2022 NWSL Championship as runner-up Kansas City hosts the reigning champion Thorns for a Saturday matinee at Children's Mercy Park on April 1. The network will host an additional three regular season matches before airing the Challenge Cup final on September 9 and the NWSL Championship on November 11. A record 915,000 viewers tuned into last season's NWSL Championship on the CBS Television Network.
As part of its exclusive coverage this season, Paramount+ will stream all six matches on the final day of the regular season as part of the league's first-ever Decision Day.
All 2023 regular season and Challenge Cup matches will be streamed live internationally for free on NWSLSoccer.com. Match replays, highlights and additional NWSL produced content will also be available on NWSLSoccer.com. Additional international distribution information will be released prior to season kickoff.
Last week, the NWSL announced a partnership with Canadian sports broadcaster TSN to distribute NWSL matches, including the 2023 NWSL Championship, across its network in Canada this season. Live match coverage will air [in English] across TSN and TSN+. TSN coverage in Canada kicks off Sunday, March 26 with a pair of opening weekend contests on TSN+, including the Thorns' home opener against the Orlando Pride, featuring Canadian stars Janine Beckie, Jordyn Listro and Christine Sinclair. Following the conclusion of Thorns-Pride, the streaming platform will air Angel City FC's season-opening match against Newmarket, Ontario product Victoria Pickett and NJ/NY Gotham FC.
In total, TSN and TSN+ will stream over 70 matches throughout the 2023 season including games featuring Canadian talents Jordyn Huitema, Nichelle Prince, Quinn, Kailen Sheridan, Sophie Schmidt and more. TSN will also air both semifinal matches of the 2023 NWSL playoffs as well as the 2023 NWSL Championship.
The full 2023 regular season and 2023 UKG NWSL Challenge Cup schedules can be seen below or on NWSLSoccer.com.
2023 NWSL Season Schedule
**2023 UKG NWSL Challenge Cup matches in bold**
All times subject to change
(If viewing the table below on your phone, turn it horizontal for best user experience.)
| | | | | |
| --- | --- | --- | --- | --- |
| DATE | HOME | AWAY | TIME (ET) | PLATFORM |
| Saturday, March 25 | North Carolina Courage | Kansas City Current | 2:00 p.m. | Paramount+ |
| Saturday, March 25 | San Diego Wave FC | Chicago Red Stars | 10:00 p.m. | CBSSN |
| Sunday, March 26 | Washington Spirit | OL Reign | 4:00 p.m. | Paramount+ |
| Sunday, March 26 | Portland Thorns FC | Orlando Pride | 5:00 p.m. | |
| Sunday, March 26 | Houston Dash | Racing Louisville FC | 7:00 p.m. | Paramount+ |
| Sunday, March 26 | Angel City FC | NJ/NY Gotham FC | 9:00 p.m. | |
| Saturday, April 1 | Kansas City Current | Portland Thorns FC | 12:30 p.m. | CBS, TSN+ |
| Saturday, April 1 | Chicago Red Stars | Houston Dash | 2:00 p.m. | Paramount+ |
| Saturday, April 1 | Racing Louisville FC | Washington Spirit | 3:00 p.m. | Paramount+ |
| Saturday, April 1 | NJ/NY Gotham FC | OL Reign | 7:30 p.m. | Paramount+ |
| Saturday, April 1 | San Diego Wave FC | North Carolina Courage | 10:00 p.m. | Paramount+ |
| Sunday, April 2 | Orlando Pride | Angel City FC | 5:30 p.m. | |
| Friday, April 14 | Portland Thorns FC | Houston Dash | 10:30 p.m. | CBSSN, TSN+ |
| Saturday, April 15 | North Carolina Courage | Washington Spirit | 7:00 p.m. | Paramount+ |
| Saturday, April 15 | Orlando Pride | NJ/NY Gotham FC | 7:00 p.m. | Paramount+ |
| Saturday, April 15 | Chicago Red Stars | Kansas City Current | 8:00 p.m. | Paramount+ |
| Saturday, April 15 | Angel City FC | Racing Louisville FC | 10:00 p.m. | CBSSN |
| Saturday, April 15 | OL Reign | San Diego Wave FC | 10:00 p.m. | |
| Wednesday, April 19 | Orlando Pride | North Carolina Courage | 7:00 p.m. | Paramount+ |
| Wednesday, April 19 | NJ/NY Gotham FC | Washington Spirit | 7:30 p.m. | Paramount+ |
| Wednesday, April 19 | Houston Dash | Kansas City Current | 7:30 p.m. | CBSSN, TSN+ |
| Wednesday, April 19 | Angel City FC | OL Reign | 10:00 p.m. | CBSSN |
| Wednesday, April 19 | San Diego Wave FC | Portland Thorns FC | 10:00 p.m. | |
| Saturday, April 22 | Kansas City Current | Orlando Pride | 3:00 p.m. | Paramount+ |
| Saturday, April 22 | OL Reign | Chicago Red Stars | 3:30 p.m. | |
| Saturday, April 22 | Washington Spirit | Houston Dash | 7:00 p.m. | Paramount+ |
| Saturday, April 22 | NJ/NY Gotham FC | North Carolina Courage | 7:30 p.m. | Paramount+ |
| Saturday, April 22 | Portland Thorns FC | Racing Louisville FC | 10:30 p.m. | Paramount+ |
| Sunday, April 23 | Angel City FC | San Diego Wave FC | 8:00 p.m. | |
| Friday, April 28 | Houston Dash | North Carolina Courage | 8:30 p.m. | |
| Saturday, April 29 | Racing Louisville FC | OL Reign | 7:30 p.m. | |
| Saturday, April 29 | Chicago Red Stars | Washington Spirit | 8:00 p.m. | Paramount+ |
| Saturday, April 29 | San Diego Wave FC | Orlando Pride | 10:00 p.m. | CBSSN |
| Saturday, April 29 | Portland Thorns FC | Angel City FC | 10:30 p.m. | |
| Sunday, April 30 | Kansas City Current | NJ/NY Gotham FC | 6:00 p.m. | Paramount+ |
| Wednesday, May 3 | North Carolina Courage | NJ/NY Gotham FC | 7:00 p.m. | Paramount+ |
| Wednesday, May 3 | Houston Dash | Chicago Red Stars | 8:00 p.m. | |
| Wednesday, May 3 | OL Reign | Angel City FC | 10:00 p.m. | |
| Saturday, May 6 | Washington Spirit | San Diego Wave FC | 1:00 p.m. | CBS |
| Saturday, May 6 | Orlando Pride | Racing Louisville FC | 7:00 p.m. | Paramount+ |
| Saturday, May 6 | North Carolina Courage | Portland Thorns FC | 7:00 p.m. | |
| Saturday, May 6 | OL Reign | Houston Dash | 10:00 p.m. | |
| Sunday, May 7 | Chicago Red Stars | NJ/NY Gotham FC | 6:00 p.m. | Paramount+ |
| Sunday, May 7 | Angel City FC | Kansas City Current | 8:00 p.m. | |
| Wednesday, May 10 | Washington Spirit | Orlando Pride | 7:30 p.m. | CBSSN |
| Friday, May 12 | Racing Louisville FC | Chicago Red Stars | 7:30 p.m. | Paramount+ |
| Friday, May 12 | Houston Dash | Portland Thorns FC | 8:30 p.m. | |
| Saturday, May 13 | Angel City FC | Washington Spirit | 10:00 p.m. | Paramount+ |
| Sunday, May 14 | NJ/NY Gotham FC | Orlando Pride | 5:30 p.m. | Paramount+ |
| Sunday, May 14 | North Carolina Courage | OL Reign | 3:00 p.m. | |
| Sunday, May 14 | Kansas City Current | San Diego Wave FC | 6:00 p.m. | |
| Wednesday, May 17 | Racing Louisville FC | Kansas City Current | 7:30 p.m. | Paramount+ |
| Saturday, May 20 | North Carolina Courage | Angel City FC | 7:00 p.m. | Paramount+ |
| Saturday, May 20 | Orlando Pride | Washington Spirit | 7:00 p.m. | Paramount+ |
| Saturday, May 20 | Kansas City Current | Racing Louisville FC | 8:00 p.m. | Paramount+ |
| Saturday, May 20 | Houston Dash | San Diego Wave FC | 8:30 p.m. | |
| Sunday, May 21 | Portland Thorns FC | Chicago Red Stars | 5:00 p.m. | |
| Sunday, May 21 | OL Reign | NJ/NY Gotham FC | 6:00 p.m. | Paramount+ |
| Friday, May 26 | Kansas City Current | Houston Dash | 8:00 p.m. | |
| Friday, May 26 | San Diego Wave FC | Portland Thorns FC | 10:00 p.m. | Paramount+ |
| Saturday, May 27 | OL Reign | Angel City FC | 3:30 p.m. | |
| Saturday, May 27 | Racing Louisville FC | North Carolina Courage | 8:00 p.m. | CBSSN |
| Saturday, May 27 | Chicago Red Stars | Orlando Pride | 8:00 p.m. | Paramount+ |
| Sunday, May 28 | Washington Spirit | NJ/NY Gotham FC | 5:00 p.m. | Paramount+ |
| Wednesday, May 31 | Chicago Red Stars | Racing Louisville FC | 8:00 p.m. | Paramount+ |
| Wednesday, May 31 | San Diego Wave FC | OL Reign | 10:00 p.m. | Paramount+ |
| Wednesday, May 31 | Portland Thorns FC | Angel City FC | 10:30 p.m. | |
| Saturday, June 3 | OL Reign | Portland Thorns FC | 8:00 p.m. | CBSSN, TSN+ |
| Saturday, June 3 | Houston Dash | Orlando Pride | 8:30 p.m. | Paramount+ |
| Saturday, June 3 | Kansas City Current | North Carolina Courage | 8:30 p.m. | Paramount+ |
| Saturday, June 3 | Washington Spirit | Racing Louisville FC | 8:00 p.m. | Paramount+ |
| Sunday, June 4 | NJ/NY Gotham FC | San Diego Wave FC | 5:30 p.m. | |
| Sunday, June 4 | Angel City FC | Chicago Red Stars | 8:00 p.m. | Paramount+ |
| Wednesday, June 7 | NJ/NY Gotham FC | Orlando Pride | 7:30 p.m. | CBSSN, TSN+ |
| Friday, June 9 | Racing Louisville FC | San Diego Wave FC | 8:00 p.m. | Paramount+ |
| Saturday, June 10 | Washington Spirit | Angel City FC | 7:00 p.m. | Paramount+ |
| Saturday, June 10 | Chicago Red Stars | North Carolina Courage | TBA | Paramount+ |
| Saturday, June 10 | OL Reign | Kansas City Current | 10:00 p.m. | |
| Sunday, June 11 | Houston Dash | NJ/NY Gotham FC | 7:00 p.m. | |
| Sunday, June 11 | Orlando Pride | Portland Thorns FC | 7:00 p.m. | CBSSN, TSN+ |
| Wednesday, June 14 | Washington Spirit | North Carolina Courage | 7:30 p.m. | Paramount+ |
| Wednesday, June 14 | Racing Louisville FC | Houston Dash | 8:00 p.m. | Paramount+ |
| Wednesday, June 14 | Kansas City Current | Chicago Red Stars | 8:00 p.m. | |
| Saturday, June 17 | San Diego Wave FC | Angel City FC | 4:00 p.m. | CBS |
| Saturday, June 17 | North Carolina Courage | Orlando Pride | 7:00 p.m. | Paramount+ |
| Saturday, June 17 | Houston Dash | OL Reign | 8:30 p.m. | |
| Sunday, June 18 | Racing Louisville FC | NJ/NY Gotham FC | 4:00 p.m. | CBS |
| Sunday, June 18 | Chicago Red Stars | Portland Thorns FC | 6:00 p.m. | |
| Sunday, June 18 | Kansas City Current | Washington Spirit | 7:00 p.m. | Paramount+ |
| Friday, June 23 | Portland Thorns FC | Washington Spirit | 10:30 p.m. | |
| Saturday, June 24 | Orlando Pride | Kansas City Current | 7:00 p.m. | |
| Saturday, June 24 | North Carolina Courage | Racing Louisville FC | 7:00 p.m. | Paramount+ |
| Saturday, June 24 | San Diego Wave FC | OL Reign | 10:00 p.m. | Paramount+ |
| Sunday, June 25 | NJ/NY Gotham FC | Chicago Red Stars | 5:30 p.m. | Paramount+ |
| Sunday, June 25 | Angel City FC | Houston Dash | 8:00 p.m. | |
| Wednesday, June 28 | Orlando Pride | NJ/NY Gotham FC | 7:00 p.m. | |
| Wednesday, June 28 | Angel City FC | San Diego Wave FC | 10:30 p.m. | CBSSN |
| Wednesday, June 28 | Portland Thorns FC | OL Reign | 10:30 p.m. | |
| Saturday, July 1 | OL Reign | Racing Louisville FC | 3:30 p.m. | |
| Saturday, July 1 | Washington Spirit | Orlando Pride | 7:00 p.m. | Paramount+ |
| Saturday, July 1 | North Carolina Courage | Houston Dash | 7:30 p.m. | |
| Saturday, July 1 | Chicago Red Stars | San Diego Wave FC | 8:00 p.m. | Paramount+ |
| Saturday, July 1 | Portland Thorns FC | Kansas City Current | 10:00 p.m. | CBSSN, TSN |
| Sunday, July 2 | NJ/NY Gotham FC | Angel City FC | 5:30 p.m. | Paramount+ |
| Friday, July 7 | Orlando Pride | OL Reign | 7:00 p.m. | Paramount+ |
| Friday, July 7 | Racing Louisville FC | Kansas City Current | 8:00 p.m. | Paramount+ |
| Friday, July 7 | Houston Dash | Chicago Red Stars | 8:30 p.m. | |
| Saturday, July 8 | San Diego Wave FC | Washington Spirit | 10:00 p.m. | Paramount+ |
| Sunday, July 9 | NJ/NY Gotham FC | Portland Thorns FC | 5:30 p.m. | Paramount+ |
| Sunday, July 9 | Angel City FC | North Carolina Courage | 8:00 p.m. | |
| Friday, July 21 | Racing Louisville FC | Chicago Red Stars | 7:00 p.m. | Paramount+ |
| Friday, July 21 | Portland Thorns FC | San Diego Wave FC | 10:30 p.m. | |
| Saturday, July 22 | North Carolina Courage | Washington Spirit | 7:00 p.m. | Paramount+ |
| Saturday, July 22 | Kansas City Current | Houston Dash | 8:00 p.m. | |
| Friday, July 28 | Washington Spirit | NJ/NY Gotham FC | 7:00 p.m. | Paramount+ |
| Friday, July 28 | OL Reign | San Diego Wave FC | 10:00 p.m. | |
| Saturday, July 29 | North Carolina Courage | Orlando Pride | 7:00 p.m. | Paramount+ |
| Saturday, July 29 | Chicago Red Stars | Kansas City Current | 8:00 p.m. | Paramount+ |
| Saturday, July 29 | Houston Dash | Racing Louisville FC | 8:30 p.m. | Paramount+ |
| Saturday, July 29 | Angel City FC | Portland Thorns FC | 10:00 p.m. | |
| Friday, August 4 | Orlando Pride | Washington Spirit | 7:00 p.m. | Paramount+ |
| Friday, August 4 | Kansas City Current | Racing Louisville FC | 8:00 p.m. | |
| Saturday, August 5 | NJ/NY Gotham FC | North Carolina Courage | 7:30 p.m. | Paramount+ |
| Saturday, August 5 | Chicago Red Stars | Houston Dash | 8:00 p.m. | Paramount+ |
| Saturday, August 5 | San Diego Wave FC | Angel City FC | 7:30 p.m. | Paramount+ |
| Sunday, August 6 | OL Reign | Portland Thorns FC | 6:00 p.m. | |
| Friday, August 18 | Kansas City Current | OL Reign | 8:00 p.m. | Paramount+ |
| Saturday, August 19 | Racing Louisville FC | Angel City FC | 7:30 p.m. | Paramount+ |
| Saturday, August 19 | Houston Dash | Washington Spirit | 8:30 p.m. | |
| Saturday, August 19 | San Diego Wave FC | NJ/NY Gotham FC | 10:00 p.m. | Paramount+ |
| Sunday, August 20 | Orlando Pride | Chicago Red Stars | 7:00 p.m. | |
| Sunday, August 20 | Portland Thorns FC | North Carolina Courage | 10:30 p.m. | Paramount+ |
| Friday, August 25 | Orlando Pride | San Diego Wave FC | 7:00 p.m. | Paramount+ |
| Saturday, August 26 | Houston Dash | Kansas City Current | 8:30 p.m. | |
| Sunday, August 27 | North Carolina Courage | Chicago Red Stars | 2:00 p.m. | Paramount+ |
| Sunday, August 27 | Washington Spirit | Portland Thorns FC | 5:00 p.m. | Paramount+ |
| Sunday, August 27 | NJ/NY Gotham FC | Racing Louisville FC | 5:30 p.m. | Paramount+ |
| Sunday, August 27 | Angel City FC | OL Reign | 8:00 p.m. | |
| Friday, September 1 | Kansas City Current | Angel City FC | 8:00 p.m. | |
| Saturday, September 2 | North Carolina Courage | NJ/NY Gotham FC | 7:00 p.m. | Paramount+ |
| Saturday, September 2 | Racing Louisville FC | Portland Thorns FC | 7:30 p.m. | Paramount+ |
| Sunday, September 3 | Washington Spirit | Chicago Red Stars | 5:00 p.m. | CBSSN |
| Sunday, September 3 | OL Reign | Orlando Pride | 6:00 p.m. | Paramount+ |
| Sunday, September 3 | San Diego Wave FC | Houston Dash | 8:00 p.m. | |
| Wednesday, September 6 | TBD | TBD | 7:30 p.m. | CBSSN |
| Wednesday, September 6 | TBD | TBD | 10:00 p.m. | CBSSN |
| Saturday, September 9 | TBD | TBD | 12:30 p.m. | |
| Friday, September 15 | Racing Louisville FC | Houston Dash | 7:30 p.m. | |
| Saturday, September 16 | NJ/NY Gotham FC | Washington Spirit | 7:30 p.m. | Paramount+ |
| Saturday, September 16 | San Diego Wave FC | Kansas City Current | 10:00 p.m. | |
| Saturday, September 16 | Portland Thorns FC | OL Reign | 10:30 p.m. | |
| Sunday, September 17 | Chicago Red Stars | Angel City FC | 6:00 p.m. | CBSSN, TSN |
| Sunday, September 17 | Orlando Pride | North Carolina Courage | 7:00 p.m. | Paramount+ |
| Thursday, September 21 | Angel City FC | Orlando Pride | 10:00 p.m. | CBSSN |
| Saturday, September 30 | Washington Spirit | Kansas City Current | 7:00 p.m. | Paramount+ |
| Saturday, September 30 | Chicago Red Stars | Racing Louisville FC | 8:00 p.m. | Paramount+ |
| Saturday, September 30 | Portland Thorns FC | San Diego Wave FC | 10:30 p.m. | Paramount+ |
| Sunday, October 1 | NJ/NY Gotham FC | Houston Dash | 6:30 p.m. | CBSSN, TSN+ |
| Sunday, October 1 | OL Reign | North Carolina Courage | 8:00 p.m. | |
| Friday, October 6 | Racing Louisville FC | Orlando Pride | 7:30 p.m. | Paramount+ |
| Friday, October 6 | OL Reign | Washington Spirit | 10:00 p.m. | |
| Saturday, October 7 | Portland Thorns FC | NJ/NY Gotham FC | 5:00 p.m. | |
| Saturday, October 7 | North Carolina Courage | San Diego Wave FC | 7:00 p.m. | Paramount+ |
| Saturday, October 7 | Kansas City Current | Chicago Red Stars | 8:00 p.m. | |
| Sunday, October 8 | Houston Dash | Angel City FC | 7:00 p.m. | CBSSN |
| Sunday, October 15 | Washington Spirit | North Carolina Courage | 5:00 p.m. | Paramount+ |
| Sunday, October 15 | NJ/NY Gotham FC | Kansas City Current | 5:00 p.m. | |
| Sunday, October 15 | Orlando Pride | Houston Dash | 5:00 p.m. | Paramount+ |
| Sunday, October 15 | Chicago Red Stars | OL Reign | 5:00 p.m. | Paramount+ |
| Sunday, October 15 | Angel City FC | Portland Thorns FC | 5:00 p.m. | |
| Sunday, October 15 | San Diego Wave FC | Racing Louisville FC | 5:00 p.m. | Paramount+ |
| Sunday, October 22 | TBD | TBD | 5:00 p.m. | CBSSN |
| Sunday, October 22 | TBD | TBD | TBD | Paramount+ |
| Sunday, November 5 | TBD | TBD | 7:00 p.m. | CBSSN, TSN |
| Sunday, November 5 | TBD | TBD | 9:30 p.m. | CBSSN, TSN |
| Saturday, November 11 | TBD | TBD | 8:00 p.m. | |