US Youth Soccer National League Playoffs 2021 | Sunday Recap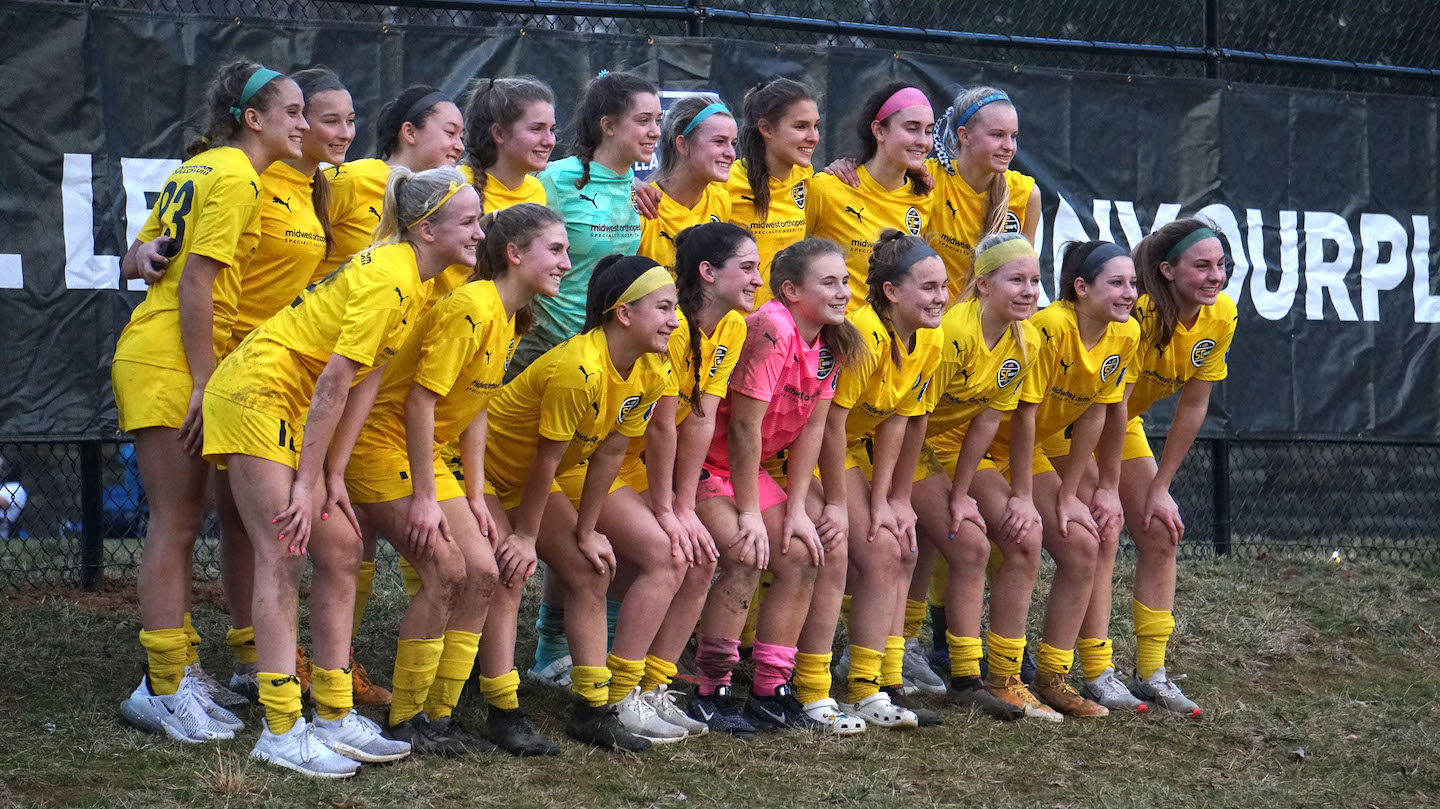 GREENSBORO, N.C. — Group standings are taking shape at the US Youth Soccer National League Playoffs as teams completed their second games of the event on Sunday.
Playoff teams have one more day of action at National League North Carolina, hosted by BB&T Soccer Complex at Bryan Park in Greensboro, N.C. Playoff games on Monday will determine which sides advance to the 2021 USYS National Championships.
In addition to the Playoffs, Sunday's action in Greensboro also saw teams wrap up games in the National League Showcase Series.
National League North Carolina Playoffs feature teams in the 15U-19U Girls age groups and 17U-19U Boys age groups. Playoff teams that finish in first place following the three-game group-play event will advance to the National Championships. Sunday's action saw four teams secure first-place finishes in the Playoffs, but many more group titles are still up for grabs entering Monday's action.
Every goal is magnified in the pursuit of group titles in the Playoffs, and CFC Red Star 04 Elite (GA) experienced that fact firsthand en route to winning 17U Girls Group B. The Georgia side picked up six points in the standings by securing a pair of 3-2 wins, which included a last-minute winner by Ashlyn Fernandez.
"This event has its own intensity. There's nothing else we play that is like it. There's no showcase you can go to that can recreate this.," CFC Red Star coach Eric Steinhauser said. "We've been to all the big tournaments throughout the country, and nothing compares to actually having these Playoffs on the line and the National Championship on the line and being one of those four teams to come out of the National League and make the National Championships. For us, it's everything."
With a ticket to the National Championships secured, Steinhauser said the team has completed one of its goals for the season. However, they know there is work still to be done to fulfill the aspirations of the team and individual players.
All teams — whether competing as part of the Showcase Series or Playoffs — have enjoyed the opportunity to play in front of college coaches during the weekend in North Carolina. With many of the players aiming to continue their playing careers at the next level, the competition level has been high. With that in mind, CFC Red Star has enjoyed the challenge of playing against opponents with fellow future college players.
"We have six commitments — all Division I so far, and we have probably three or four more Division I commits that are coming," Steinhauser said. "We have to come out and compete against this level of teams. For us to have those athletes and players, we feel like we can compete against anyone."
VIDEO: Sunday at NL North Carolina saw the Showcase Series wrap up, while Playoff teams took another step toward earning a berth to Nationals. pic.twitter.com/uxP0R7iUxr

— National League (@NationalLeague) March 1, 2021
A look back at Sunday's action in the National League Playoffs…
15U GIRLS
Sporting STL 2006 Academy (MO) has a narrow lead atop Group A thanks to a goal differential advantage, but three teams are within one point of the top entering the final day of play. Things are even tighter in Group B, where all four teams have picked up a win and sit level on three points in the standings — leaving everyone in play for the group title entering Monday.
Legends Temecula Valley FC G06 (CA-S) and CUP 06 Gold (OH-S) tied, 1-1, on Sunday to give each four points in Group C. Legends has a one-goal advantage in goal differential entering the final day of play. In Group D, TFA G06 Elite (OH-S), Collierville SA 06 Lady Lobos Rush Premier (TN) and Real Jersey FC 2006 (NJ) are all still in contention for first place.
16U GIRLS
Broomfield Blast SC 2005 Girls Prestige (CO) recorded its second consecutive clean sheet to win Group A and book its spot in the National Championships. In Group B, Philadelphia SC Coppa 05 Rage (PA-E) earned a 2-0 win on Sunday to win the group and punch its ticket to Nationals.
17U GIRLS
The Group A title will come down to Sunday's matchup between SC Wave Juniors 04 (WI) and Galaxy SC 2004 Blue (IL). Galaxy will need to defeat SC Wave, which currently sits on top of the group, while the Wisconsin side finishes in first with a win or tie.
CFC Red Star 04G Elite (GA) won Group B by scoring a dramatic game-winner in the final minute on Sunday to secure its second straight 3-2 victory.
18U GIRLS
Nationals Union 03 Girls Black (MI) clinched first place in Group A with a 1-0 shutout victory against Legends FC East Corona G03 (CA-S).
Meanwhile, in Group B, All-In FC 03G NL Elite leads a tight group thanks to a significant goal differential advantage. However, Indy Premier SC 03G Elite I (IN) and CUP 03 NL (OH-S) are each still in contention.
19U GIRLS
In Group A, FC Dallas Youth 02G Red (TX-N) and Savannah United 02 Girls Premier (GA) each have six points and will meet on Monday in a game that will decide which side earns the berth to Nationals. Sparta FC 02 Elite (TX-N) has yet to concede a goal in Group B action through two games, but it still has work to do on Monday to clinch first place.
17U BOYS
SLSG 2004 Elite (MO) moved into first place in Group A with a 3-0 win on Sunday. Its game with PDA Hibernian Modric (NJ) on Monday will decide who takes the group title.
18U BOYS
Kingdom SC 03 Red (MI) and Solar 03B De Leon (TX-N) each won on Sunday after they played to a scoreless draw in their first match against one another — leaving the group winner in question heading into Monday.
19U BOYS
Solar 02B Castro (TX-N) and Galaxy 2002 Boys Blue (IL) each have four points in Group A, and a winner in their matchup on Monday would secure first place. Meanwhile, SLSG 2002 Elite (MO) and PFA 2002B (MD) have each won their two games in Group B action — setting up a winner-take-all game on Monday.
For more information on the National League and each of its competitions, including the National League Playoffs, click here.