SYA and CYA combine travel soccer programs to form Virginia Valor FC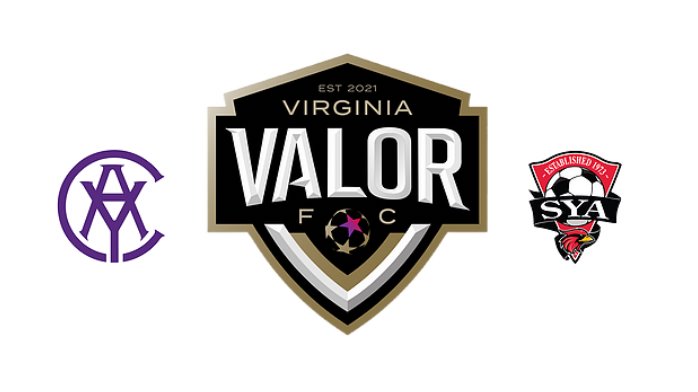 Southwestern Youth Association (SYA) and Chantilly Youth Association (CYA) have announced a partnership which will combine their travel soccer programs. The new collaboration will field teams which will compete under the banner of Virginia Valor FC (VAVFC).
The creation of VAVFC has been an ongoing project between CYA and SYA, and brings together a group of administrators and coaches who will aim to build one of the Northern Virginia's most competitive travel programs.
"Player development has always been the primary focus for both clubs and this partnership will expand those possibilities," said Paul Ellis,  SYA Technical Director. We are excited about the opportunities, resources and quality of coaching that we will be able to provide our players under the Virginia Valor FC banner."
Dylan Sutherland, CYA Soccer Program Director, stated: "Creating this new partnership is going to grow our soccer community in a meaningful way, it also makes a powerful statement that after decades of our clubs operating separately, we are coming together to provide the best possible soccer experience for the players, staff and families."
Jeff Stein, SYA President, stated the following: "The possibilities with this partnership are endless. I am extremely pleased that our organizations share such an exciting vision and I can't wait to see how things start to shape up in the coming weeks."
VAVFC teams will compete in the Club Champions League (CCL) which is one of the most highly-acclaimed competitive platforms in the region.
"The recognition by SYA and CYA leadership that they are stronger together is inspiring," said Brian Kuk, Club Champions League CEO. "This will create a player development program second to none and combined with the competitive excellence of the CCL, will offer families the perfect balance of competition and travel that elevates players, coaches, and teams to new levels. Being able to come to this decision during a pandemic to help families is quite amazing."
CYA and SYA have been administering a host of youth sports programs since the early 1970s.
CYA President Chris Saben stated: "I am so excited to share our team of professionals with the entire soccer community. The Virginia Valor FC will rapidly become the most acclaimed youth soccer program in Fairfax County and beyond. We all have a front row seat to history being made!"
The recreational programs in both CYA and SYA will continue to operate individually. They will be enhanced by support from the professional staff at VAVFC in the form of coaches training, camps, clinics, tournaments, futsal and inter-league play within the programs.