New Jersey Youth Soccer announces Referees of the Year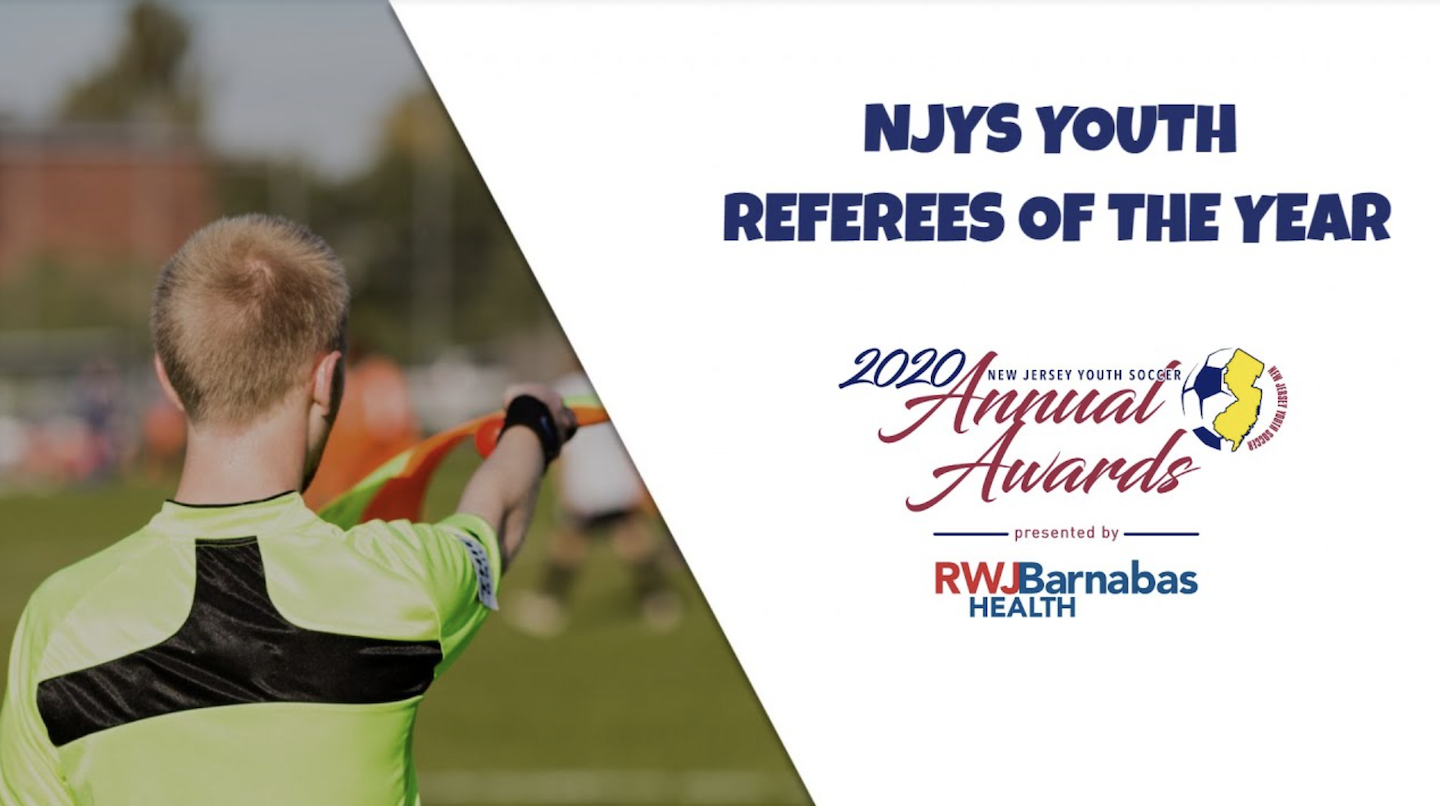 East Windsor, N.J. ― New Jersey Youth Soccer continues its virtual celebration of the 33rd Annual NJYS Awards Presented by RWJBarnabas Health today, officially announcing Marisa Brandon and Kyle Trombetta as the 2020 NJYS Youth Referees of the Year.
As part of their acknowledgement, Brandon and Trombetta received plaques and also participated in an exclusive interview by Mark Geiger, a veteran FIFA World Cup referee and currently the Senior Director of Match Officials at the Professional Referee Organization (PRO).
Each year, NJ Youth Soccer works with the NJ State Referee Committee to select and honor the NJYS Youth Referees of the Year for their outstanding overall officiating performance, strong individual work ethic and dedication to the promotion of fair play and good sportsmanship by players, coaches and fans.
Since the age of four, Brandon has been involved with the game of soccer. In addition to refereeing, she played competitively until her senior year of high school and also spent time coaching young athletes with disabilities. While she enjoys playing and coaching, her unmatched passion for refereeing comes from her love of teaching others the laws of the game. Similarly to her efforts in the soccer community, Brandon's involvement in her local community is unrivaled, having contributed hundreds of community service hours through her involvement with Howell Police Explorers, Navy Junior Reserve Officers Training Corps (NJROTC), Howell Police Athletic League and Girl Scouts of America.
As a result of her enthusiasm for enforcing the laws of the game and helping others, Brandon will be pursuing a career in law enforcement. This fall, she will begin studying at Norwich University and plans to continue refereeing whenever she can.
"Getting the email that I was not only nominated for but also awarded this honor was so exciting, and I was so surprised to receive it," said Brandon. "I am so thankful and appreciative of the guidance and positive mentorship I have received from both of the assignors I have been lucky enough to have. I look forward to many more seasons on the field."
Coming from a soccer family, Trombetta played competitive soccer until his senior year of college, where he served as the club captain for three years. However, his love for refereeing is somewhat predisposed due to his brother and father's involvement with the sport. His father is the varsity coach at Princeton Day School, while his brother serves as a regional soccer official. Trombetta believes his love for the game will keep him refereeing until the day he physically cannot do so anymore.
Despite his young age, Trombetta is celebrating his 10-year anniversary as a referee in 2021. Up to this point, he regards his proudest moment to be officiating a U-23 match without any conflicts or controversy.
"Refereeing soccer has been a passion of mine since I first started in 2011, as I believe the way soccer brings together people from different cultures, backgrounds and ethnicities is what makes it a beautiful sport," said Trombetta. "My dedication and enjoyment towards soccer will never diminish, and I look forward to continue learning, growing and sharing my love towards this sport for as long as possible."
For a list of past NJYS Youth Referees of the Year honorees, please click here.