Nicole Petras Honored as NJYS Soccer Parent of the Year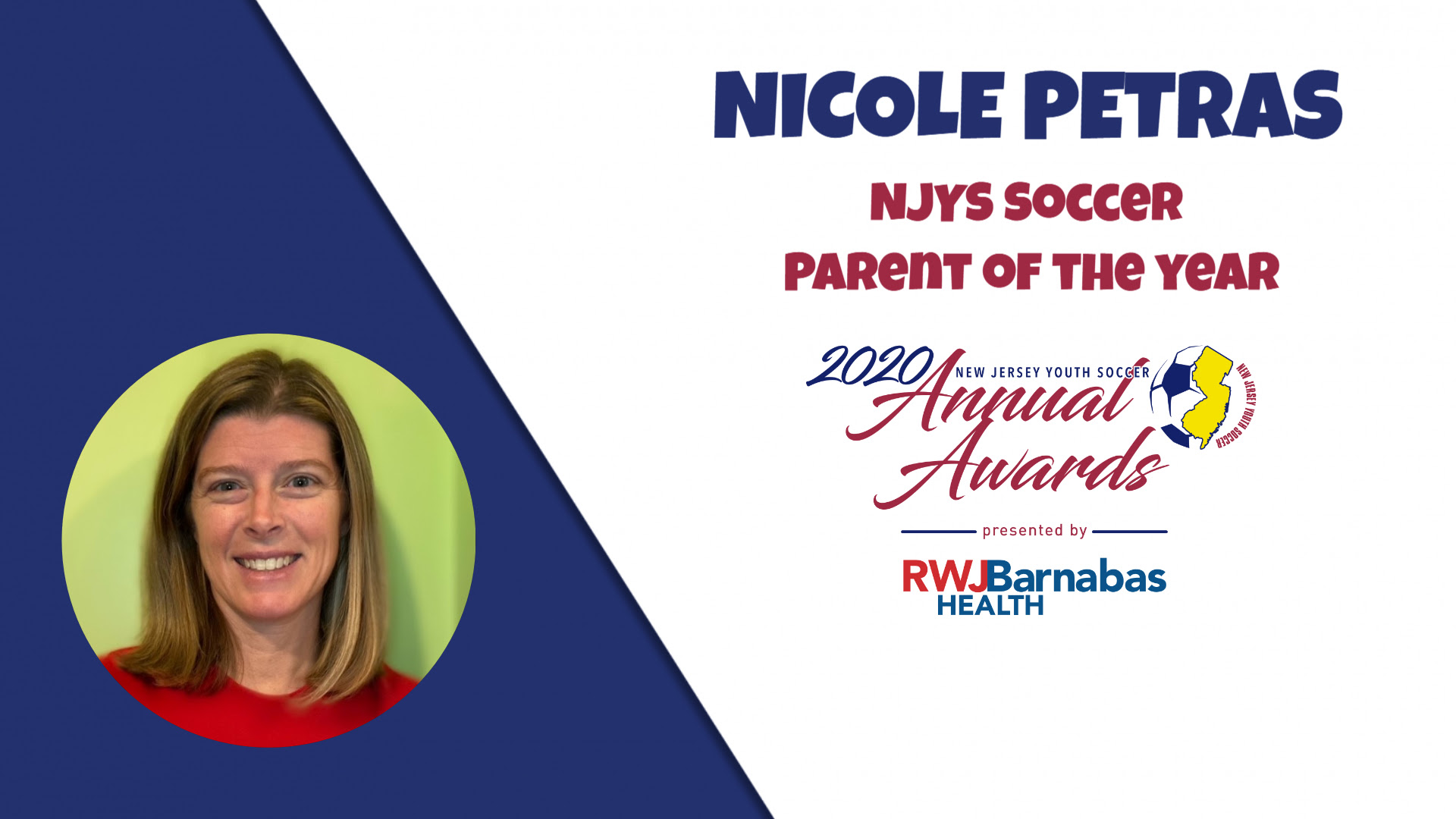 New Jersey Youth Soccer has officially kicked off the virtual celebration of its 33rd Annual NJYS Awards Presented by RWJBarnabas Health, with many players, coaches and members of the soccer community being honored.
NJ Youth Soccer announced that Nicole Petras has been selected as the 2020 NJYS Soccer Parent of the Year, marking the inaugural year of an award that is being presented by the Soccer Parenting Association.
The Soccer Parent of the Year Award was created to highlight the pivotal role that parents play in the soccer experience. The vision of NJ Youth Soccer is to provide fun and safe experiences at all ages and abilities for the youth soccer community, and this award is one way to support that focus.
"Nicole Petras is the epitome of a parent volunteer," said Joe Arone, President of Rancocas Valley Soccer Club. "The team would not and could not run without her dedication and efficiency."
Petras exemplifies what it means to be a supportive soccer parent, living by the motto of "anything for the kids!" Whether it be serving as the team manager for her own children's teams or running the Rancocas Valley Recreational Program, she puts in countless hours to ensure that every parent and child has the best soccer experience possible. Petras understands the importance of parent volunteers and how they help to sustain a club.
"Supportive parents are crucial to the success of a club and team, and while soccer teams cannot form unless you have players to play and coaches to coach, these programs also need the support of parents, too," said Petras. "Parents who volunteer their time allow the club to continue to grow."
Parents help to positively shape the soccer culture on and off the field, and for the first year of this award, there could not be a more fitting recipient than Petras. On top of being a full-time mother, her dedication and countless volunteer hours to youth soccer and the Rancocas Valley Soccer Club should be used as an example for all.
The Soccer Parenting Association has a mission to inspire players by empowering parents. The organization also operates the SoccerParentResourceCenter.com, which is a website dedicated to educating youth soccer parents and coaches. NJYS member clubs in good standing are provided access to the full suite of Soccer Parenting Association resources, with the state association covering 80% of the costs (i.e. $100 annual commitment from the club).
The virtual celebration of the NJYS Awards Presented by RWJBarnabas Health will continue over the coming weeks, with award winners being announced and featured in special video interviews.