New Jersey Youth Soccer names Molly Jendryka as TOPSoccer Volunteer of the Year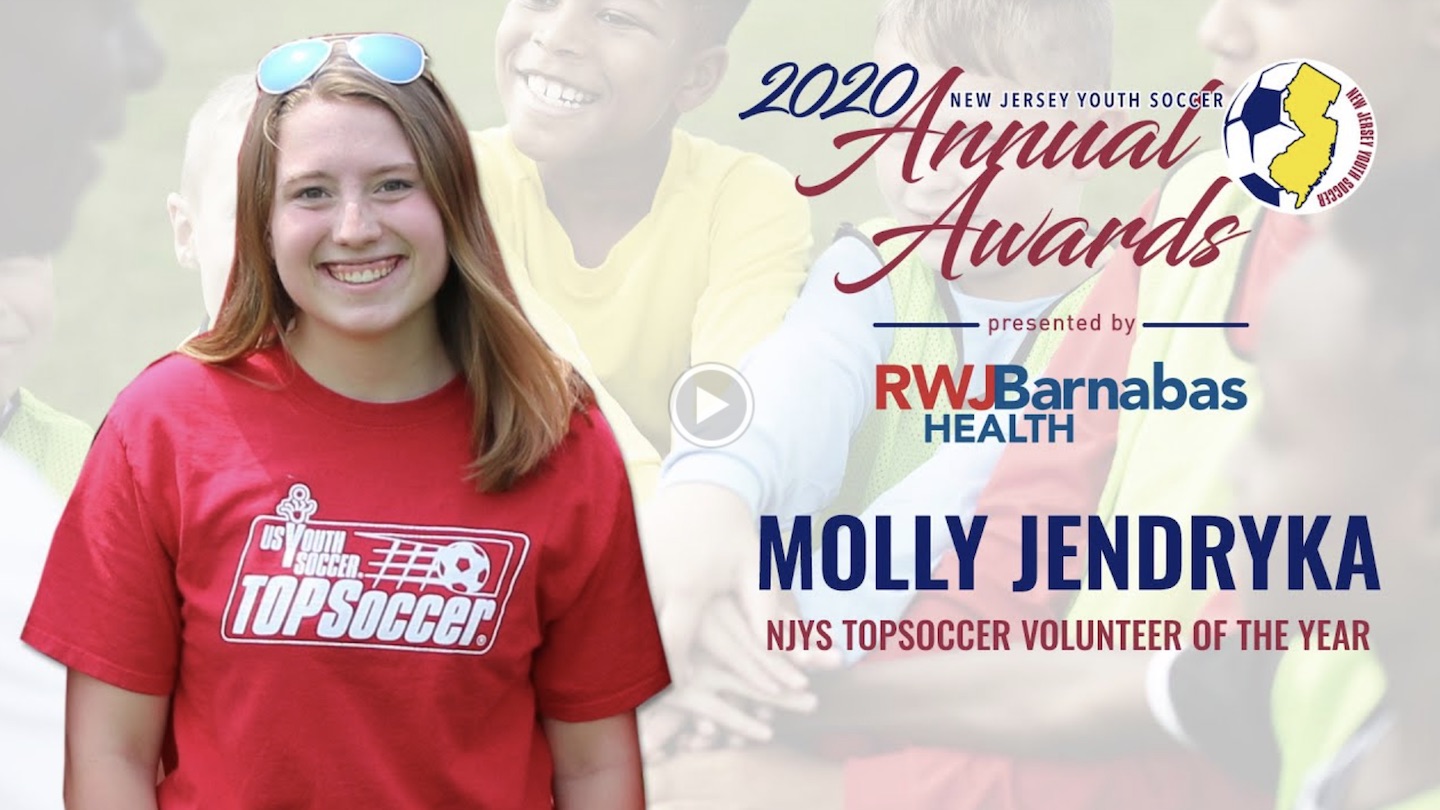 East Windsor, N.J. ― New Jersey Youth Soccer continues its virtual celebration of the 33rd Annual NJYS Awards Presented by RWJBarnabas Health today, officially announcing Molly Jendryka as the 2020 NJYS TOPSoccer Volunteer of the Year.
As part of her acknowledgement, Jendryka received a plaque and also participated in an exclusive interview by New Jersey native Carli Lloyd, who is an NJYS Ambassador and a two-time FIFA World Player of the Year.
"I am honored to have been nominated for and selected as this year's TOPSoccer Volunteer of the Year," said Jendryka. "As grateful as I am to have been selected, no award will equate to the value of being a part of such an amazing TOPSoccer program. I have learned so much from our players and my fellow volunteers in the past four years, and TOPSoccer is easily the highlight of every Saturday for me."
Currently a high school senior, Jendryka is a varsity swimmer, school ambassador and Executive Director for Relay for Life at West Morris Mendham High School. This is in addition to being a Girl Scouts of America Gold Award Recipient, member of the Mendham Library and St. Joseph's Church Young Adult Leadership Councils, and a volunteer at the Kopila Valley Children's Home in Nepal. Even with her numerous commitments, she still finds time to volunteer with the West Morris SC TOPSoccer Program.
Jendryka began her TOPSoccer journey in 2017 as a volunteer with West Morris SC. A high school freshman at the time, she quickly became a member of the leadership team at West Morris SC TOPSoccer.
Among her many notable contributions are the development and execution of TOPZoom and Camp BuddEConnect, which were remote alternatives to traditional in-person TOPSoccer programming. Her involvement and leadership in the TOPSoccer, TOPZoom and Camp BuddEConnect programs speaks to her unwavering commitment to offer unique opportunities to all members of the youth soccer community.
TOPSoccer is a community-based training and team placement initiative for young players with special needs. The program also provides a curriculum to train coaches on how to provide fun and engaging soccer for those young players. The program, designed by US Youth Soccer, emphasizes player-specific development, training and meaningful participation rather than competition and results.
To learn more about NJYS TOPSoccer or to find out how you can get involved, visit the program online.