SoccerWire Top 100 Girls Soccer Clubs – February 2021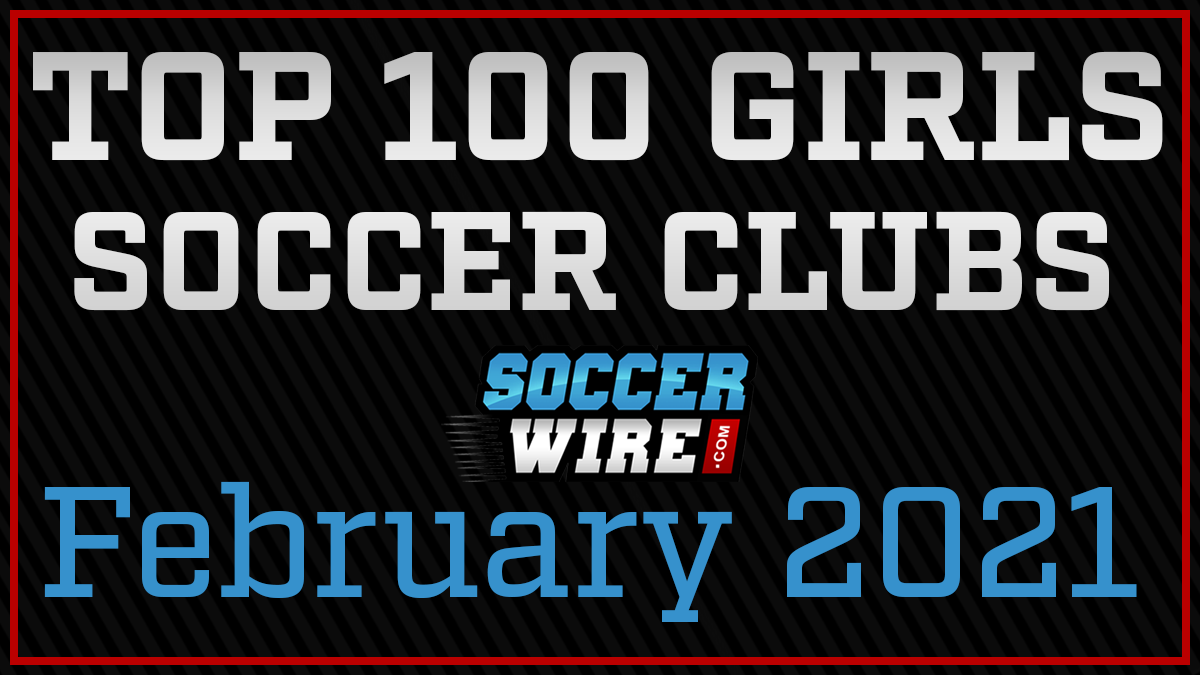 Sterling, Va. – SoccerWire has revealed a new edition of its series highlighting the top youth soccer clubs in the United States. Today's installment features the SoccerWire Top 100 Girls Soccer Clubs as of February 2021.
This month's rankings are the first edition since June 2020, as the youth soccer world has largely returned to action following the long hiatus caused by the pandemic.
With a primary focus on the American soccer player development landscape, SoccerWire's monthly Top 100 lists are based on an algorithm which measures the competitiveness of U14-U19 teams, along with other key factors including recent U.S. Youth National Team call-ups and postseason success in the nation's top leagues. Team results are aggregated from YouthSoccerRankings.US, the most comprehensive database in the youth soccer industry.
If you want to make sure your club maximizes its chances of making the Top 100, please ensure that your teams' results are up-to-date in YouthSoccerRankings.US.
See below for the full list of SoccerWire's Top 100 Girls Soccer Clubs for February 2021.
| | | |
| --- | --- | --- |
| 1 | | Solar SC |
| 2 | | Tophat |
| 3 | | FC Bay Area |
| 4 | | San Diego Surf |
| 5 | | Legends FC |
| 6 | | So Cal Blues |
| 7 | | Real Colorado |
| 8 | | FC Dallas Youth |
| 9 | | Beach Futbol Club |
| 10 | | LAFC Slammers |
| 11 | | NC Courage Academy |
| 12 | | MVLA |
| 13 | | Eclipse Select SC |
| 14 | | PDA |
| 15 | | Crossfire Premier |
| 16 | | SLSG (MO) |
| 17 | | Michigan Hawks |
| 18 | | Lonestar SC |
| 19 | | Cincinnati United Premier |
| 20 | | Colorado Rapids Youth |
| 21 | | Dallas Sting |
| 22 | | Concorde Fire |
| 23 | | Mustang Soccer |
| 24 | | NEFC |
| 25 | | Challenge SC |
| 26 | | World Class FC |
| 27 | | Real So Cal |
| 28 | | Sporting Blue Valley |
| 29 | | Ohio Premier |
| 30 | | Minnesota Thunder |
| 31 | | OL Reign Academy |
| 32 | | SUSA Academy |
| 33 | | D'Feeters Kicks SC |
| 34 | | The St. James FC Virginia |
| 35 | | Albion Hurricanes FC |
| 36 | | FC Stars |
| 37 | | Slammers FC |
| 38 | | Nationals |
| 39 | | McLean Youth Soccer |
| 40 | | GSA |
| 41 | | Charlotte Soccer Academy |
| 42 | | San Juan SC |
| 43 | | Heat FC |
| 44 | | South Shore Select |
| 45 | | Davis Legacy SC |
| 46 | | Weston FC |
| 47 | | Oakwood SC |
| 48 | | Colorado Rush |
| 49 | | SC del Sol |
| 50 | | East Meadow SC |
| 51 | | CESA |
| 52 | | STA |
| 53 | | Riverhounds Development Academy |
| 54 | | Richmond United |
| 55 | | Classics Elite |
| 56 | | NC Fusion |
| 57 | | Michigan Jaguars |
| 58 | | La Roca FC |
| 59 | | Sockers FC |
| 60 | | PacNW SC |
| 61 | | Internationals SC |
| 62 | | United Soccer Alliance |
| 63 | | Placer United |
| 64 | | Lamorinda SC |
| 65 | | IMG Academy |
| 66 | | FC Pride (IN) |
| 67 | | Midwest United FC |
| 68 | | Baltimore Armour |
| 69 | | Phoenix Rising FC |
| 70 | | Houston Dash Academy |
| 71 | | Albion SC (CA) |
| 72 | | Sunrise Prime FC |
| 73 | | Tennessee SC |
| 74 | | Match Fit Academy |
| 75 | | Ohio Elite |
| 76 | | Utah Avalanche |
| 77 | | Indiana Fire Juniors |
| 78 | | Crossfire United |
| 79 | | Lou Fusz Athletic |
| 80 | | KC Athletics |
| 81 | | Maryland United FC |
| 82 | | LA Breakers |
| 83 | | Washington Premier FC |
| 84 | | SC Wave |
| 85 | | Tulsa SC |
| 86 | | Las Vegas SA |
| 87 | | New York SC |
| 88 | | Rebels SC |
| 89 | | Wilmington Hammerheads |
| 90 | | Clovis Crossfire |
| 91 | | Dallas Texans |
| 92 | | Lobos Rush |
| 93 | | California Thorns FC |
| 94 | | VDA |
| 95 | | Connecticut FC |
| 96 | | Eagles SC |
| 97 | | Penn Fusion |
| 98 | | Bethesda SC |
| 99 | | Oklahoma Energy FC |
| 100 | | Florida Elite SA |