US Youth Soccer National League Playoffs 2021 | Saturday Recap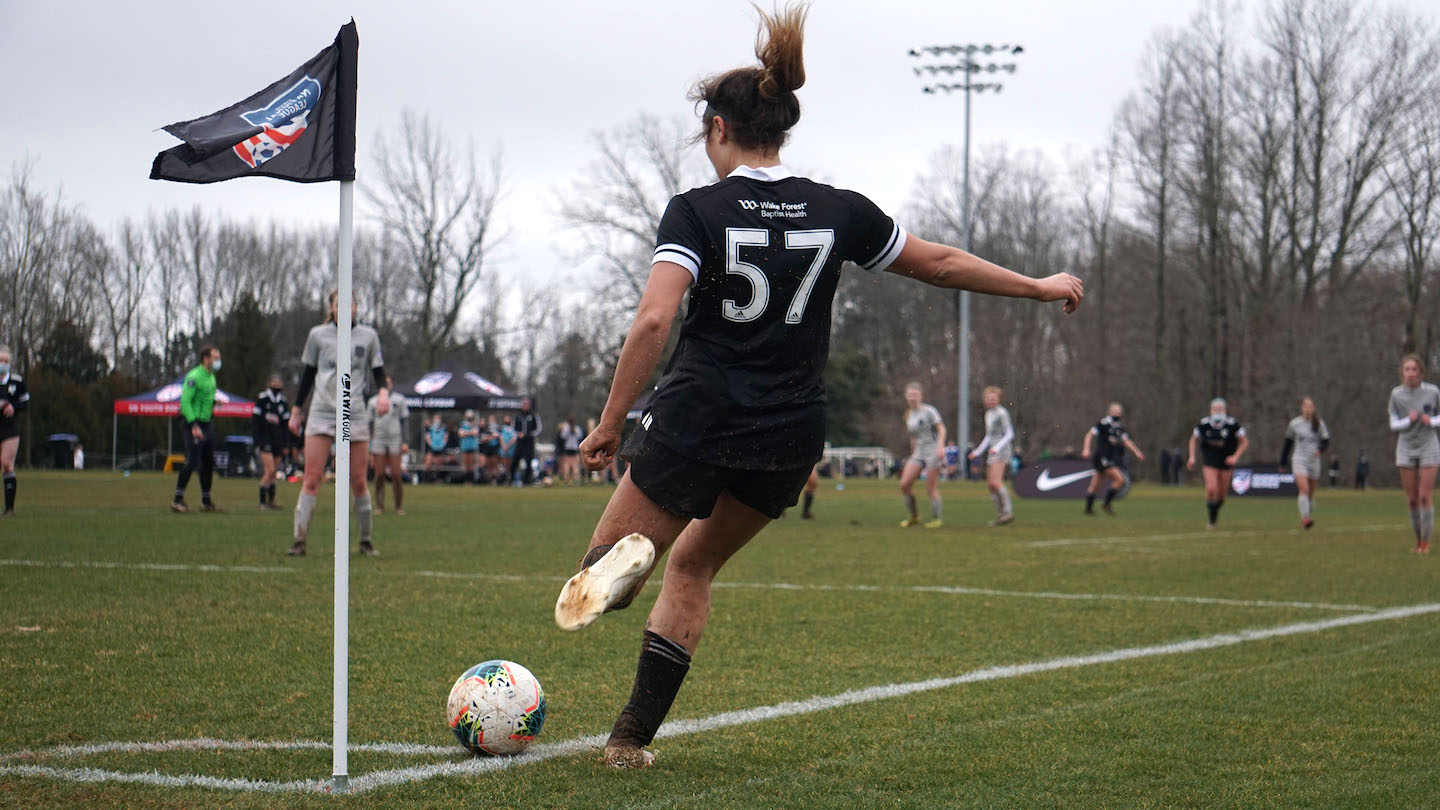 Schedule & Results | Photos | Video
GREENSBORO, N.C. — The US Youth Soccer National League Playoffs are underway, as teams took the field Saturday for the first time in pursuit of a berth in the 2021 US Youth Soccer National Championships.
National League North Carolina games are taking place at BB&T Soccer Complex at Bryan Park in Greensboro, N.C.
The Playoffs will continue through Monday, as teams in the 15U-19U Girls age groups and 17U-19U Boys age groups compete in a three-game group-play format that will see the first-place finishers advance to the National Championships. The Playoffs are taking place alongside USYS National League Showcase Series games, which kicked off on Friday and will conclude with the final showcase matches on Sunday.
National League North Carolina will see 12 girls teams and four boys teams punch their ticket to this summer's USYS National Championships by winning their respective Playoff groups. With just three games to decide the group winners, the teams wasted little time on Saturday in ratcheting up the intensity.
In the 15U Girls age group, Legends Temecula Valley FC 06 (CA-S) grabbed an early place at the top of Group C with a 3-1 win over Wake FC 06 Blue (NC). After a scoreless opening half, Legends took a two-goal lead before answering a late Wake FC strike with an insurance goal with the game's final kick. That helped Legends to a slight edge in goal differential over fellow Group C winner CUP 06 Gold (OH-S).
"Having an opportunity to play in the National League Playoffs is big-time for these girls," Legends coach Jenny Lawlor said. "They've gone through the years watching older teams do it, and finally it's their shot. To come away with a win right out of the gates is really good."
Both Playoff and Showcase Series teams are gaining valuable experience this weekend. In addition to the on-field competition and development opportunities, Lawlor said she talked to her team's parents about the benefits that come with the environments like they're seeing at National League North Carolina.
"The fact they're getting this experience — they travel as a team, they eat together, they prepare together — it gets them that much more ready and experienced as they grow up and play collegiate soccer and hopefully beyond," Lawlor said. "I'm really happy with how they responded to the nerves and uneasiness of a big event."
A look back at Saturday's action in the National League Playoffs…
15U GIRLS
All 15U Girls games on Saturday were decided by two goals or less, as little separated the teams. Sporting STL 2006 Academy (MO), Chicago Inter 2006 Red (IL) and Legends Temecula Valley FC 06 (CA-S) each secured wins by two-goal margins and lead their respective groups.
16U GIRLS
Broomfield Blast SC 2005 Girls Prestige (CO) took early control of Group A with a decisive 4-0 victory, while Philadelphia SC Coppa 05 Rage (PA-E) earned a hard-fought 3-1 win to move to first place in Group B after one day of action.
17U GIRLS
A potent attack helped SC Wave Juniors 04 Girls (WI) find the back of the net often in a 6-2 victory, which helped it to the top of Group A after the first round of games. Meanwhile, Group B is very tight after one day of action. CFC Red Star 04G Elite (GA) secured a 3-2 win against Sporting STL Rangers (MO), while Collierville 04 Lady Lobos Rush Premier (TN) and Libertyville FC 1974 Elite-04 Girls (IL) tied, 1-1, to earn one point each in the standings.
18U GIRLS
A balance of attack and strong defense helped Legends FC East Corona G03 (CA-S) take early control of Group A, as it was the lone team in the group to keep a clean sheet in a 3-0 victory. Nationals Union 03 Girls Black (MI) also picked up a win and will face Legends in a key game on Sunday. In Group B, All-In FC 03G NL Elite (GA) kept a clean sheet in a dominant win that gives it a big boost in goal differential heading into the final two days of Playoff action.
19U GIRLS
Savannah United 02 Girls Premier (GA) declared itself as an early favorite in Group A following a 5-0 victory to open its weekend. Meanwhile, little separated the Group B teams, as a pair of one-goal margins saw Sparta FC 02 Elite (TX-N) and North Shore United 2002 Girls Blue (WI) pick up three points apiece ahead of a key day of play on Sunday.
17U BOYS
With a decisive 5-0 win on Saturday, PDA Hibernian Modric (NJ) took initial command of Group A. SLSG 2004 Elite earned a tight 2-1 win in the other Group A game, and it will look to build on that opening victory as it tries to overtake PDA in the group standings.
18U BOYS
There is no separating the teams in Group A after one day of play, as both matches ended in ties. Solar 03B De Leon (TX-N) and Kingdom SC 03 Red (MI) played to a scoreless draw, while Midwest United FC 03 Academy (MI) and KCSG Academy 03 (KS) tied, 1-1.
19U BOYS
In Group A, Galaxy 2002 Boys Blue (IL) used a 1-0 victory to move to the top of the standings. With the other match ending in a draw, each of the teams are still very much alive for the spot to Nationals. Meanwhile, SLSG 2002 Elite (MO) and PFA 2002B (MD) each won their opening matches in Group B, with SLSG's clean sheet helping it create an early goal differential advantage.
The National League operates its primary league play across 13 Conferences that operate at a multi-state tier and provide high-level competition at a targeted local level, as well as a pathway for advancement into the regional and national stages of the USYS National Championship Series. The new National League Showcase Series and National League Playoffs represent the national tier of the National League, providing a platform for teams to compete in unique matches against uncommon opponents.
For more information on the National League and each of its competitions, including the National League Playoffs, click here.