US Youth Soccer National League Girls 13U-14U Tampa Event Recap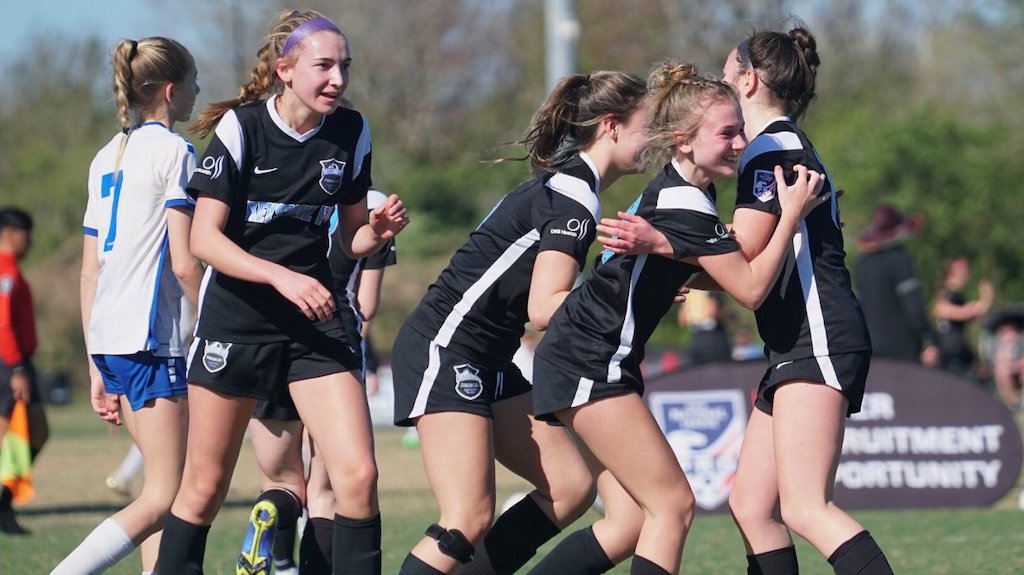 VIDEO: Feb.3 | Feb. 4 | Feb. 5 (E64) | Feb 5 (P.R.O.) | Feb. 6
EVENT PHOTOS
TAMPA, Fla. — Many of the top 13U and 14U Girls teams and players in the US Youth Soccer National League competed Feb. 3-6 in Tampa, Fla. The event featured teams from both National League P.R.O. and Elite 64.
The Elite 64 matches allowed players from US Youth Soccer's top club-based league to compete against each other in unique matchups. Meanwhile, National League P.R.O. — the top team-based league in US Youth Soccer — featured games that saw league standings near their final form and teams begin to secure berths to the 2023 US Youth Soccer National Championships.
During the action in Tampa, 10 teams in the 14U Girls age group secured their place in the National Championships via National League P.R.O., including defending National Champion KCL Academy Red 2009 NL (KS).
KCL was one of two teams to win their National League P.R.O. 14U Girls group title, along with Wasatch SC 09G PO (UT), while in Tampa. The Utah side went 5-0-2 over the course of the season en route to the Group A title, with five of its seven matches decided by one goal or less.
"We knew coming in that this was going to be very tough competition," Wasatch coach Patrick Otte said. "Every team we've played against has been amazing. It was our goal [to win National League P.R.O.], but to actually do it is a phenomenal feeling. The girls were so excited, and I'm immensely proud of all of them."
2023 USYS National Championships | 14U Qualifiers via National League P.R.O. (Girls)
*National League P.R.O. Group Champion
14U Girls – Group A
Wasatch SC 09G PO (UT)*
Lonestar 09G FDL (TX-S)
Solar 09G FDL Grado/Colvin (TX-N)
14U Girls – Group B
BC United 09G (NY-W)
Legends IE G09 (CA-S)
PA Dominion 09 Girls (PA-E)
14U Girls – Group C
KCL Academy Red 2009 NL (KS)*
Brandon FC RSC 09G Premier (MS)
14U Girls – Group D
Keystone FC Premier 09G (PA-E)
Club Ohio Dayton 09G Elite (OH)
LOOK BACK: NATIONAL LEAGUE P.R.O.
14U Group A:
Solar 09G FDL Grado/Colvin (TX-N) and Coppermine SC Girls 2009 Elite 64 (MD) faced off on Sunday in a NL P.R.O. 14U Group A clash with a potential spot in the National Championships on the line.
Knowing a win would secure a trip to Nationals, the teams wasted little time in ramping up the action. Coppermine went in front in the 3rd minute behind a Catherine Ruopp strike, but Solar quickly replied to level the score at 1-1.
Coppermine had periods of sustained time in the attacking third during the second half as it looked for a go-ahead goal. Christina Mitchell nearly provided the vital goal in the 48th minute, but Solar keeper Cinnamon Hurst lunged to push the ball wide.
Solar managed to hold on to force the 1-1 tie. With other results in the group, the point was enough to help the North Texas side lock up third place and a spot in Nationals. Wasatch SC 09G PO (UT) won the group with a 5-0-2 record on the season, while Lonestar 09G FDL (TX-S) finished second.
14U Group B:
A back-and-forth game saw Legends IE G09 (CA-S) hold 14U Group B leader BC United 09G (NY-W) to a 2-2 draw on Sunday. Both sides — along with third-place PA Dominion 09 Girls (PA-E) — clinched spots to Nationals during play in Tampa, but Sunday's draw means the group title is still undecided.
Legends took a lead into the second half on Sunday, as Aliyah Casillas provided the lone goal in the first 35 minutes. However, a great individual effort by BC United's Shannon Kingsbury in the 41st minute saw her hold off a defender and finesse her shot into the far corner. Kingsbury netted her second goal five minutes later to put BC United in front, 2-1.
After BC United went down a player, Legends equalized in the 62nd minute on a Sophia Garcia goal that forced the 2-2 tie. Both sides have a game to play, with BC United ahead by two points in the standings.
14U Group C:
Brandon FC RSC 09G Premier (MS) secured its fourth consecutive win with a 2-1 victory against NLSA 2009 Girls Elite (NJ) on Friday. This win kept Brandon in the running for the top spot in Group C.
Brandon FC grabbed a goal in the 30th minute of action by Destinee Bridges. NLSA quickly responded with an equalizer by Amelia Berent from a free kick just before the half. Brandon FC came back strong in the second half, with a Kinsley Yearick goal in the 38th minute to put them in lead. With the wind at their back Brandon FC's defensive line held strong to clinch the 2-1 win.
KCL Academy Red 2009 NL (KS) later edged Brandon, 2-1, in a Sunday matchup that helped the Kansas side clinch the group title. Meanwhile, Brandon won its game on Monday to secure a berth to Nationals.
14U Group D:
Keystone FC Premier 09G (PA-E) maintained its lead atop NL P.R.O. 14U Group D and clinched its spot at the National Championships with a hard fought 3-1 win against Alliance FC 09 Academy Girls (MO) on Sunday.
The Eastern PA side went in front in the 9th minute when Madison Walker made a run into the box and directed a squared ball with a first-touch finish. However, Alliance — which is also in position to advance to Nationals — responded well and equalized through a Delani Edling goal.
Keystone regained its lead with a 48th-minute goal from Alyssa Valentine, and it worked hard to fend off some late sustained pressure from Alliance. The group leaders sealed their win when Cecilia Battisti slipped a pass to Mackenzie Seiber for the final goal in Keystone's 3-1 win.
Club Ohio Dayton 09G Elite (OH) won its game to remain in contention for the group title with 7th games remaining for all Group D sides.
To view all of the standings and results from the National League P.R.O. season, click here.
LOOK BACK: ELITE 64
Saturday:
Legends FC Elite 64 10G (CA) walked away with a 2-0 victory after their coastal clash with United Futbol Academy Elite 64 10G (GA).
United FA, currently sitting second in the Southeast group, looked to continue its undefeated streak in its first Tampa matchup against third-ranked Pacific foe Legends FC. Despite each side creating scoring opportunities, both teams were locked in a defensive stalemate keeping the score to 0-0 at the half.
The second half began with the California side bringing the heat with a goal off a header from Kelly Wieckowski from a cross by Alexandra De la Vega. Legends FC's unwavering defensive line kept Georgia's advances at bay, while Georgina Herrera grabbed a second goal in the 70th minute, securing Legends FC's 2-0 win.
Sunday:
Rockford Raptors FC Elite 64 09G and Utah Avalanche Elite 64 09G were ready to rumble for Day 2 of Elite 64 action in Tampa, as both teams looked to get their second win of the weekend.
The opening half traded chances with both groups coming close to pulling ahead, but neither side was able to convert. Part way through the second half, Utah Avalanche struck first with a goal from Savannah Bates.
Rockford generated multiple opportunities during play but Utah's keeper and the defensive line held firm, disrupting all incoming chances. The Raptors continued to apply high pressure, accumulating much of the possession late in the second half. With just seconds left in stoppage time, Aubrianna Magana launched a cross deep into the box, which snuck into the net to force the 1-1 tie.
Monday:
Two Elite 64 group leaders squared off Monday in Tampa, as Las Vegas Surf SC Elite 64 09G defeated Chicago Inter Elite 64 09G, 3-1.
LV Surf (6-0-0, Pacific) used quick transitions from defense to attack to open up the Chicago Inter defense and create several first-half opportunities. Evelyn Contreras' speed helped her track down a ball at the end line in the 14th minute, and her cut back pass found Madalynn Smith for the opening goal.
Chicago Inter (10-0-0, Midwest) replied immediately off the restart and leveled the game through Meara Moehlenkamp's strike. However, Contreras fired a 28th-minute shot off the inside of the far post to regain the lead for Vegas.
Chicago limited the Surf counter opportunities in the second half, but Alexa Sandoval added a late insurance goal to help Las Vegas to the 3-1 win.
To view all of the results from the Elite 64 action in Tampa, click here.