Roster selected for U.S. U-17 Women's Youth National Team's trip to England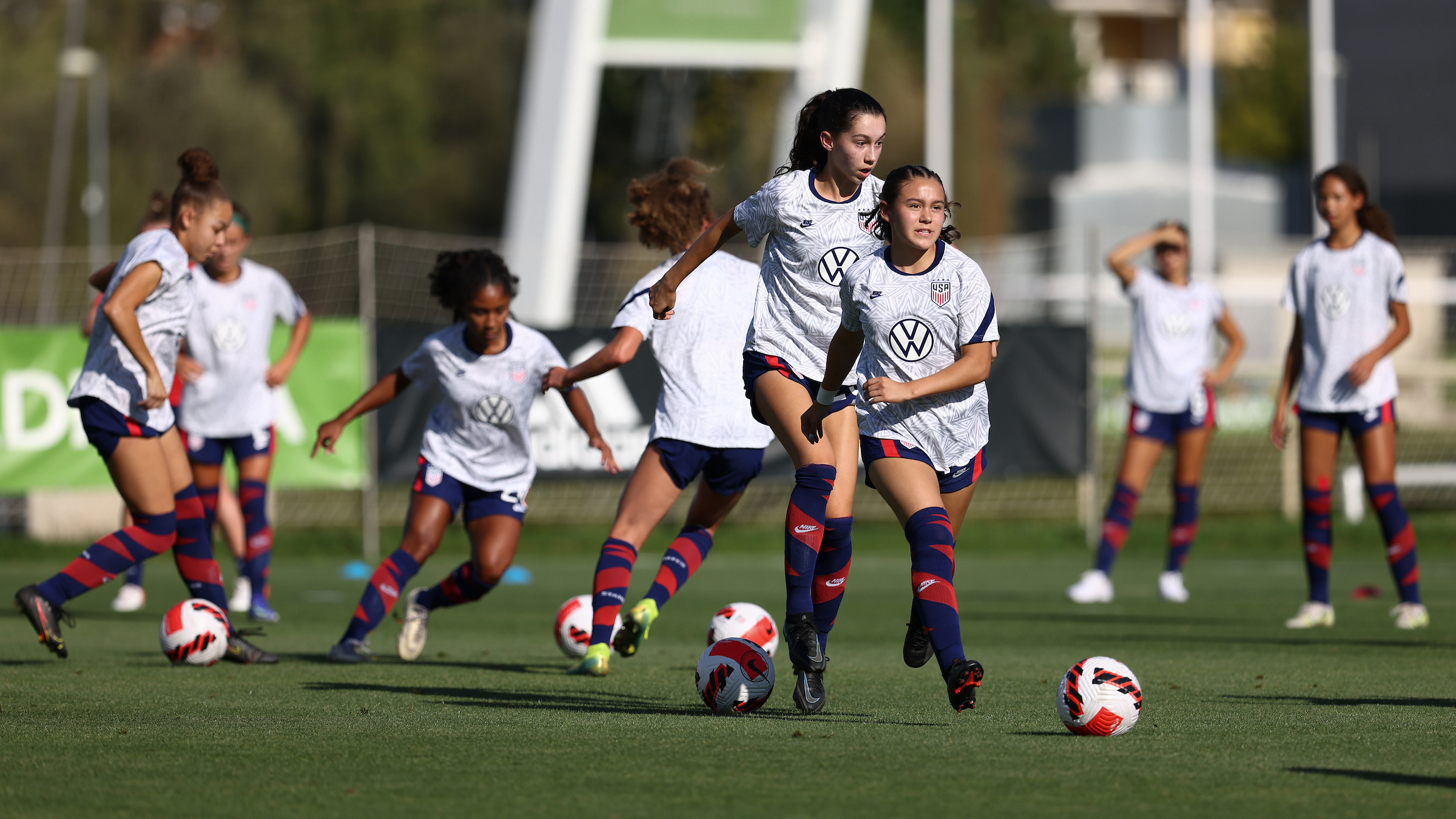 CHICAGO – The U.S. Under-17 Women's Youth National Team will travel to England from Feb. 10-19 to play two matches against England's U-17 WYNT at St. George's Park in Burton upon Trent, England. The games will take place on February 15 and 18.
Twenty players have been called up for the first action of the year for this age group, five of whom represented the USA at the 2022 FIFA Under-17 Women's World Cup in India. Nineteen of the players were born in 2006 and one, midfielder Melanie Barcenas, was born in 2007.
Each of the five players who were in India saw significant action. Forward Emeri Adames played in all four games and had one assist. Defenders Jordyn Bugg and Nicola "Nikki" Fraser each saw action in three games. Forward Onyeka Gamero, who was one of the top players at the World Cup, played every minute of three matches and had a goal and an assist while forward Amalia Villareal played in three matches and had one goal and two assists.
Several other players on the roster including Barcenas, midfielder Claire Hutton (who was a part of the USA's 2022 Concacaf U-17 Championship and scored six goals in the tournament) and midfielderEleanor Klinger saw training time with the U-17s last year.
This group of players is age-eligible for the 2024 FIFA Under-20 Women's World Cup, which has an age cutoff of players born on or after January 1, 2004.
The 20 players on the roster come from 12 different states and 18 different youth clubs with three players from the San Diego Surf. Defender Carla Small, who attends IMG Academy in Florida, hails from Waipahu, Hawaii.
U.S. U-17 WOMEN'S YOUTH NATIONAL TEAM (CLUB; HOMETOWN) – FEBRUARY TRAINING CAMP
GOALKEEPERS (2): Sonoma Kasica (Florida Premier FC; St. Petersburg, Fla.), Kealey Titmuss (Nationals; Grand Blanc, Mich.)
DEFENDERS (7): Aven Alvarez (North Carolina Courage; New Hill, N.C.), Jordyn Bugg (San Diego Surf SC; El Cajon, Calif.), Nicola Fraser (Real Colorado National; Highlands Ranch, Color.), Tanna Schornstein (San Diego Surf SC; San Diego, Calif.), Tabitha Sine (Dallas Texans; Coppell, Tex.), Carla Small (IMG Academy; Waipahu, Hawaii), Kamryn Winger (Virginia Development Academy; Woodbridge, Va.)
MIDFIELDERS (6): Melanie Barcenas (San Diego Surf SC; San Diego, Calif.), Kendall Bodak (New England Premier SC; Monson, Mass.), Claire Hutton (World Class FC; Bethlehem, N.Y.), Eleanor Klinger (Internationals SC; Cleveland, Ohio), Grace Restovich (St. Louis Scott Gallagher; St. Louis, Mo.), Avery Robinson (Florida Elite Soccer Academy; St. Johns, Fla.)
FORWARDS (5): Emeri Adames (Solar SC; Red Oak, Tex.), Onyeka Gamero (Beach FC; Cerritos, Calif.), Miri O'Donnell (FC Bay Area Surf; San Ramon, Calif.), Jaden Thomas (FC Dallas; Dallas, Texas), Amalia Villarreal (Michigan Jaguars; Lansing, Mich.)
SoccerWire Featured Players Mentioned