US Youth Soccer National League 15U-19U Girls Arizona 2023 Event Recap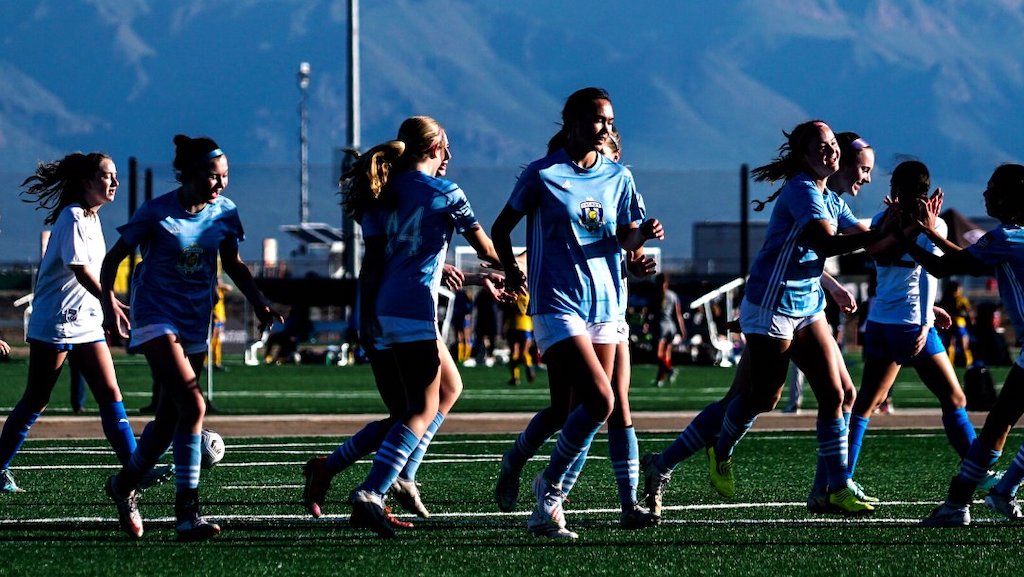 MESA, Ariz. — A wide collection of 15U-19U Girls teams in the US Youth Soccer National League competed Jan. 19-21 in Mesa, Ariz. The event featured teams from both National League P.R.O. and Elite 64, and all games took place at Bell Bank Park, Powered by Legacy Sports USA.
The Elite 64 matches allowed players from US Youth Soccer's top club-based league to compete against each other in unique matchups. Meanwhile, National League P.R.O. — the top team-based league in US Youth Soccer — featured games that saw league standings near their final form and teams begin to secure berths to the 2023 US Youth Soccer National Championships.
During the action in Mesa, 31 girls teams secured their place in the National Championships via National League P.R.O., including defending champion Galaxy 08G Blue (IL).
"It feels amazing. We worked really hard for this. It feels good to come here and play all these amazing teams and know we can compete here," said Galaxy midfielder Elizabeth Burfeind after her team won its National League P.R.O. group. "Every team here is extremely talented. There were tight margins. I know before coming to Arizona, there were three teams in the running for the top.
"We're extremely excited. Nationals is a great event and we're looking forward to being able to go back there."
2023 USYS National Championships | Qualifiers via National League P.R.O. (Girls)
*National League P.R.O. Group Champion
15U Girls – Group A
Galaxy 2008 Girls Blue (IL)*
KC Fusion Academy 08 (KS)
FC Somers Lady Hammers (NY-E)
15U Girls – Group B
Solar South 08G FDL Adames (TX-N)*
Germantown Lady Legends 08 Black (TN)
16U Girls – Group A
Ginga FC 07G Elite PRO NL (CT)
16U Girls – Group B
Utah Surf 07 BH (UT)*
SFFA 2007 Girls Elite (FL)
16U Girls – Group C
Solar South 07G FDL Adames (TX-N)*
Nationals Union 07 Girls Black (MI)
17U Girls – Group A
MI Rangers FC 06G Elite (MI)*
NUSA 06G Maroon (TN)
17U Girls – Group B
Keystone FC Premier 06G (PA-E)
Yankee United FC Attack (CT)
17U Girls – Group C
Lonestar 06G FDL (TX-S)
Club Ohio 06G National (OH)
18U Girls – Group A
LFA Tottleben 2005G (MO)*
DKSC 05G Weir (TX-N)
FC Dayton G05 (OH)
18U Girls – Group B
North Shore United 05G Blue (WI)
Penn FC Youth 05G Black (PA-E)
Chicago FC United 05G Pre-Academy Red (IL)
Barca Academy CLB Premier 05G (OH)
19U Girls – Group A
STLDA 2004G Rangers (MO)*
Galaxy SC 04/05 Blue (IL)
KCSG Elite 04G (KS)
UCSC FC Leonas (UT)
19U Girls – Group B
Team Chicago SC 2004 Elite (IL)*
Nationals Union 04 Girls Black (MI)
Liverpool FCIA Central MD 04 Girls (MD)
Iron Valley United Thorns 04 (PA-E)
"Once again, we got to see the best girls teams in Elite 64 and National League P.R.O. competing at the same event," National League Commissioner Simon Collins said. "While the Arizona temperatures were cold, the on-field competition provided plenty of heat — seeing our top teams from across the country fighting hard to either earn their place at Nationals through NL P.R.O. or to prove their status in the club-based Elite 64 — making it an amazing event.
"We can't wait to see the girls in the younger age groups continue the great performances when they take the field Feb. 3-6 in Tampa."
MESA LOOK BACK: NATIONAL LEAGUE P.R.O.
Recap some of the NL P.R.O. matchups and performances from Mesa…
15U Girls
The top four teams in NL P.R.O. 15U Group A faced off on Friday, including a matchup between 4-0-0 sides FC Somers Lady Hammers (NY-E) and KC Fusion Academy 08 (KS).
The Eastern New York side came out on the front foot and generated a couple of attempts on goal in the first five minutes of the game. However, KC Fusion goalkeeper Jamie Ricker gathered in both shots to prevent an early breakthrough.
FC Somers continued its sharp play while controlling the flow of the game for a majority of the first half. KC Fusion grew into the game, and each side generated some attacking pressure in the final 40 minutes. However, neither team managed to create a game-winner, and they split the points in a scoreless draw.
Saturday's results allowed Galaxy 2008 Girls Blue (IL) to clinch the group title, while both FC Somers and KC Fusion clinched top-three finishes and berths to Nationals.
16U Girls
Ginga FC 07G Elite PRO NL (CT) won a battle of NL P.R.O. 16U Group A co-leaders on Saturday, as it defeated Keystone Athletic 07G Black (PA-E), 2-0.
The Connecticut side opened the scoring in the 22nd minute thanks to an Isabella Millburn goal. Keystone threatened the Ginga net as it looked for an equalizer, but Ginga managed to carry its lead into the second half.
Bianca Maciel doubled the Ginga lead off of a 44th-minute corner kick, as she jumped on a loose ball at the near post and hammered it into the roof of the goal — helping Ginga to the 2-0 win.
A Galaxy SC 2007 CvC (IL) win prevented Ginga from clinching the title, as that will come down to remaining 7th games.
17U Girls
NUSA 06G Maroon (TN) clinched a top-two finish in 17U Group A with a hard fought 1-0 win against third-place La Roca Bravo 06 Girls (UT) on Saturday.
After NUSA generated some early chances, it managed to break through and grab a crucial lead shortly before halftime. Hayley Zehnder got around the defense on the right wing and hit a perfectly weighted chip from a tight angle over the rushing keeper and into the back of the net — putting NUSA up, 1-0, in the 40th minute.
That proved to the be difference, as NUSA held on to secure the clean sheet and berth to the National Championships. MI Rangers FC 06G Elite (MI) won on Saturday to win the Group A title via goal differential over NUSA.
18U Girls
DKSC 05G Weir (TX-N) picked up a key 3-0 win against Eastern Elite 2005 Girls (KY) on Friday to keep pace at the top of the 18U Group A standings. The North Texas side was tied with LFA Tottleben 2005G (MO) on 13 points after five games.
Eastern Elite proved difficult to break down, but DKSC's Ava Little managed to put her side in front in the 10th minute when she held off a defender and smashed a shot high and to the near post. That goal held up until the 64th minute, when Cierra Castillo doubled the DKSC advantage. Arianna Darquea added a late insurance goal to help clinch the 3-0 victory for DKSC.
DKSC qualified for the National Championships with Friday's win, while Saturday's results allowed LFA to clinch the Group A title.
19U Girls
Thursday's matchup between defending National Champion Galaxy SC 04/05 Blue (IL) and KCSG Elite 04G (KS) held big implications in 19U Group A, as both teams entered the game as part of a three-way tie for second place.
Anna Johnson helped put Galaxy in front with a pair of first-half goals. Following a 14th-minute save by KCSG keeper Madison Sibbing, Johnson chipped in the rebound to put Galaxy in front. She later made a well-timed near-post run to finish her second goal of the half, putting Galaxy ahead, 2-0, after 31 minutes.
KCSG fought back and pulled within a goal in the 65th minute, as Eleanor Stafford drilled a free kick from distance that flew off the underside of the crossbar and into the net. KCSG generated some half-chances while looking for an equalizer, but Galaxy managed to hold on for the key 2-1 win — improving it to 3-1-0 on the season.
STLDA 2004G Rangers (MO) completed a 7-0-0 season in Mesa to win the group, while Galaxy and KCSG each picked up enough points to secure their spots at Nationals.
To view all of the standings and results from the National League P.R.O. season, click here.
MESA LOOK BACK: ELITE 64
15U Girls
During the third and final day of Elite 64 showcase action in Mesa, Lobos Rush E64 08G and Real Colorado E64 08G's contest was yet another evenly played match.
Despite the chill in the air, the two sides provided a match that was full of entertainment. Lobos Rush struck first, as Hayden Moneymaker converted her team's best chance of the game in the 29th minute. Real Colorado wasted no time answering, though. Reece Mervin's goal just two minutes later brought the sides level once more.
Lobos Rush came close to going ahead multiple times, accumulating much of the possession and finding themselves in Real Colorado's defensive half for long stretches of play. It proved a tough task to break down the opposition's defense, however, and both sides left with a draw to finish out the weekend in Mesa.
16U Girls
JB Marine Soccer Club Elite 64 07G and Valor Soccer Elite 64 07G got off to a flying start in their first matchup of National League Mesa. Following a surge of early goal-scoring, JB Marine managed to hold off Valor to secure a 2-1 win to begin the week in Arizona.
Valor grabbed the early advantage, as it needed less than two minutes to generate the opening goal, which Tatiana Stephenson placed into the back of the net. It didn't take long for JB Marine to respond, as Edia O'Basuyi pulled her side even with a 9th-minute strike.
The deadlock lasted less than 10 minutes, as JB Marine grabbed its first lead of the game with a 17th-minute tally from Katherine Ferris. The Ferris goal proved to be the difference, as JB Marine held on for the narrow win.
In its league season, JB Marine has seen six of its 10 games decided by a goal or less.
17U Girls
Following two impressive shutout victories to start off the weekend in Mesa, Utah Avalanche Elite 64 06G added one more to its total during its last game on Saturday. In a tough showdown against GTFC Impact Elite 64 06G, the side from Utah prevailed 2-0.
The Avalanche's cohesion was on full display early, with constant communication aiding an impressive display of teamwork and passing. Early shots on goal put GTFC under pressure, but they were able to hold on for most of the first half.
It took until the 37th minute for Utah Avalanche, but Jade Mirable's goal put her side in front after a deserving stretch of play. Ruth Larsen was able to double her team's lead in the 76th minute, securing the win and solidifying a dominant weekend out west.
18/19U Girls
Utah Avalanche Elite 64 04/05G picked up its second showcase win in as many days, holding off a tough Lobos Rush Elite 64 04/05G team Friday afternoon.
Rylie Beck's early goal, which came in the sixth minute, was enough to ultimately separate the two teams — but not before a nervy finish. Lobos Rush' push to find an equalizer saw them come close multiple times, garnering multiple dangerous free kicks and corners in the second half but narrowly missing.
Even though they faced more pressure as the minutes went on, Utah Avalanche maintained composure throughout the match to earn a second shutout win in Mesa.
To view all of the results from the Elite 64 action in Mesa, click here.