US Youth Soccer National League 15U-19U Girls resume play Friday in N.C.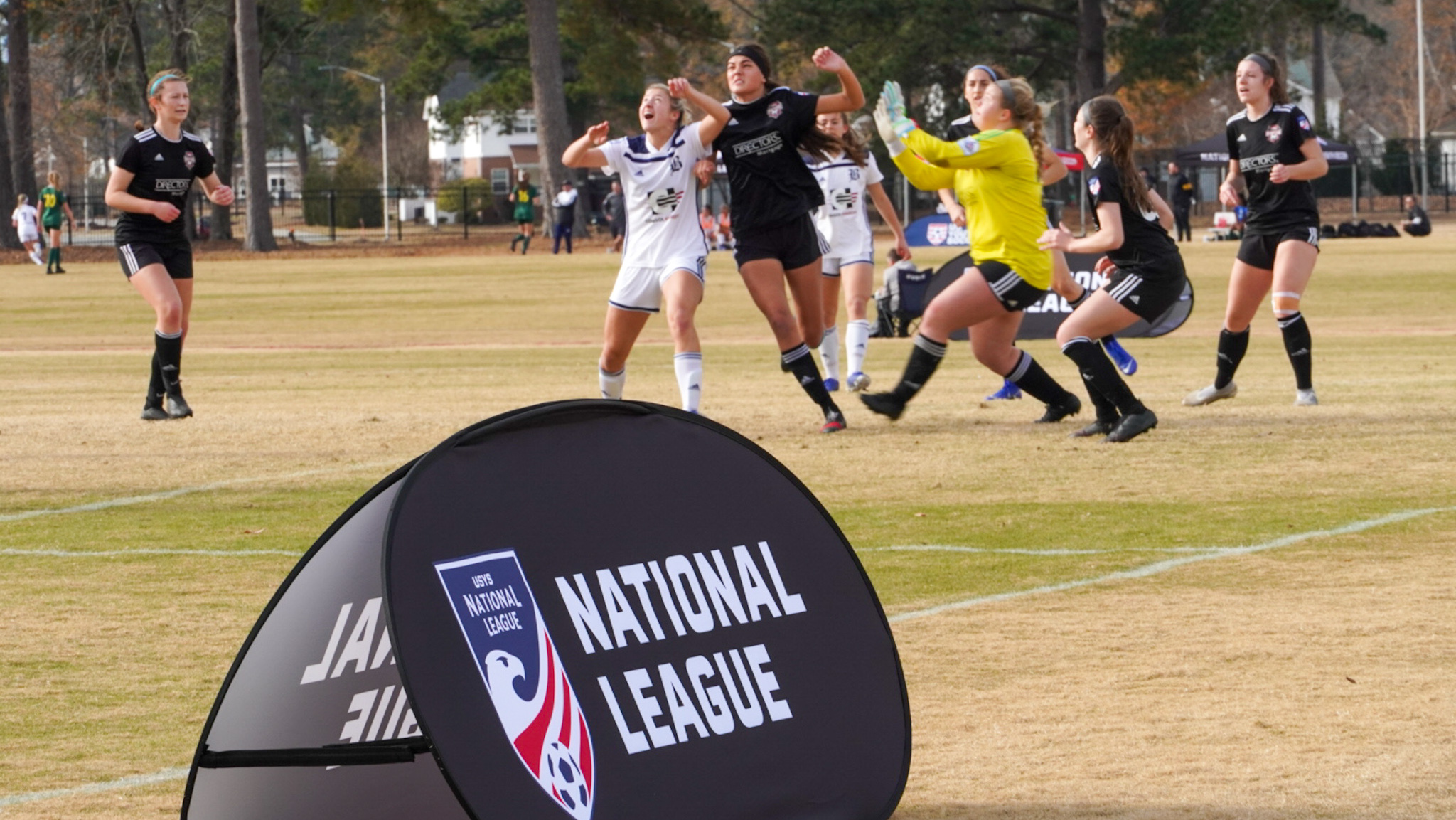 Day 2 of 4 complete
FRIDAY PHOTOS
Follow the National League Season…
Scores and Schedule | National League Home | Video
Twitter | Facebook | Instagram | #EarnYourPlace
WILSON, N.C. — The 2019-20 US Youth Soccer National League Girls season continued Friday with a second day of 15U-19U games at the Wilson Gillette Soccer Complex and the Bryan Multi-Sport Complex in North Carolina.
The season is shaping up to be a long fight for the divisional titles and automatic entries to the US Youth Soccer National Championships, and Saturday's games should play a big role in separating some teams in the standings.
After two days of play, just two of the nine teams who competed in their respective 2019 National Championship finals have come away unscathed with two wins.
The National League features many teams who have experience playing against each other in meaningful games on the national stage. Friday featured a matchup between two such sides — Utah Celtic FC 01 (UT) and 1776 United FC 01 Xtreme (PA-E) — who finished first and second, respectively, in their National League division last season. After also dropping a close match to Utah Celtic at Nationals, 1776 United coach Sam Griggs said his team had Friday's matchup "earmarked as big clash."
The Eastern Pennsylvania side managed to hold on for a 3-2 win for its second win in as many games to start its 19U Blue Division campaign.
"Today was a huge challenge for us, and it was good for those girls to face them again today," Griggs said. "One of the things about playing teams like Utah Celtic is it's the very best in the country. They lost some seniors from last year who are now making names for themselves at Division I schools. It's competition you need to be ready to play in college… It's just the best preparation that these girls can have."
While the high level of play provides players with an example of the competition they will face at the next level, it also gives college coaches an opportunity to evaluate players in a setting that is similar to a college environment.
"The coaches I've spoken to have signaled they feel strongly that this competitive environment is what makes transition from club ball into college ball easier for the girls," Griggs said. "The girls who do well for them at college typically have played in this competitive environment."
The National League provides an avenue for teams to play in meaningful matches against top competition from across the country for continued development. In addition to recruiting opportunities, National League teams compete for the National League title and one of four slots from each gender age group to the annual US Youth Soccer National Championships. Teams in the 14U-18U age groups are also competing for a chance to re-qualify for the National League's 2020-21 season.
Following this National League Girls Fall Showcase event in North Carolina, the 15U-19U Boys teams will kick off their National League seasons with games Dec. 11-15 in Panama City Beach, Fla. The 14U Girls teams previously played their first four games of the season in Boca Raton, Fla., and the 14U Boys teams will play their first games Dec. 27-30 in Tampa, Fla.
National League action will continue Saturday, Dec. 7, as the 15U-19U Girls teams each play their third game of the season. Complete standings, scores and schedules, including goal scorers and match information, can be found at the results page here. Click on the score of each game for more information.
Some notes from Friday's matches…
15U Girls
Strong defensive efforts led to 11 teams holding their opponent to zero goals during Friday's games.
In the Black Division, PSC Coppa Rage (PA-E) stands alone in first place after going undefeated in their first two games.
The Blue Division saw Broomfield Blast SC 05 Girls Prestige (CO) edging out Beadling 2005 Girls Showcase (PA-W), 2-1, to get their second win of the season and first place spot in the standings.
TFA Elite (OH-S) and Sunrise Prime 2005×1 (FL) have each posted two shutout wins after two days of play — putting them at the top of the White Division with six points.
16U Girls
Nine of the 16 games in the 16U age group were decided by one goal or less on Friday.
Pacesetter 04 Girls Red (OH-N) is the lone team in the 16U Black Division to win its first two games, as it picked up two tight 2-1 victories.
Just three points separate all the teams in the 16U Blue Division, where each side has picked up at least one point after two days of play. Legends FC Riverside (CA-S) and CFC Redstar (GA) lead the way with four points each.
Meghan Mrowicki scored twice on Friday and currently leads the age group with five goals.
17U Girls
Seven of the 16 games in the 17U Girls age group were decided by one goal or less.
Just three teams in the age group — PSA National 03 (NJ), San Diego Soccer Club Academy Navy (CA-S) and Keystone FC Premier 03 (PA-E) — have not conceded a goal yet through two games.
Samantha Sophonia scored a hat trick on Friday to help Impact MN (UT) to win. She is third in the age group in scoring, behind Jenna Lang of Indy Premier 03G Elite I (IN) and Chloe Netzel of Lou Fusz 03 Blue McKee/McVey (MO).
18U Girls
Eleven games were decided by one goal or less in the 18U age group.
No team in the Black Division has two wins, as the lone Day 1 winner — New Jersey Rush 02 Grey (NJ) — saw its Friday match with Alleycats 02 NL (NY-E) end in a draw.
The Blue Division saw two matchups with teams who won their opening games. Sparta FC 02 Elite (TX-N) and Legends FC 02 Academy II (CA-S) both won today to lead the division with six points each.
North Shore United 2002 Blue (WI) leads the age group with 11 goals through two games, and it has yet to concede one.
19U Girls
Nationals Union 01 Black (MI) and Kentucky Fire Juniors G01 Premier Red (KY) are the only two 19U sides that have not yet conceded a goal. Along with 1776 United FC 01 Xtreme (PA-E), they lead the group with six points.
TFA Elite 01 (OH-S) is the lone National League division winner from last season to have started its 2019-20 campaign with two wins.
The 19U Girls teams used strong defensive efforts to secure wins on Friday, as five of seven winners posted shutouts.
Hailey Autenrieb was the lone player in the age group to score multiple goals on Friday, as she netted two.