University of North Texas women's soccer adds three to 2021 roster, including Sarah Fuller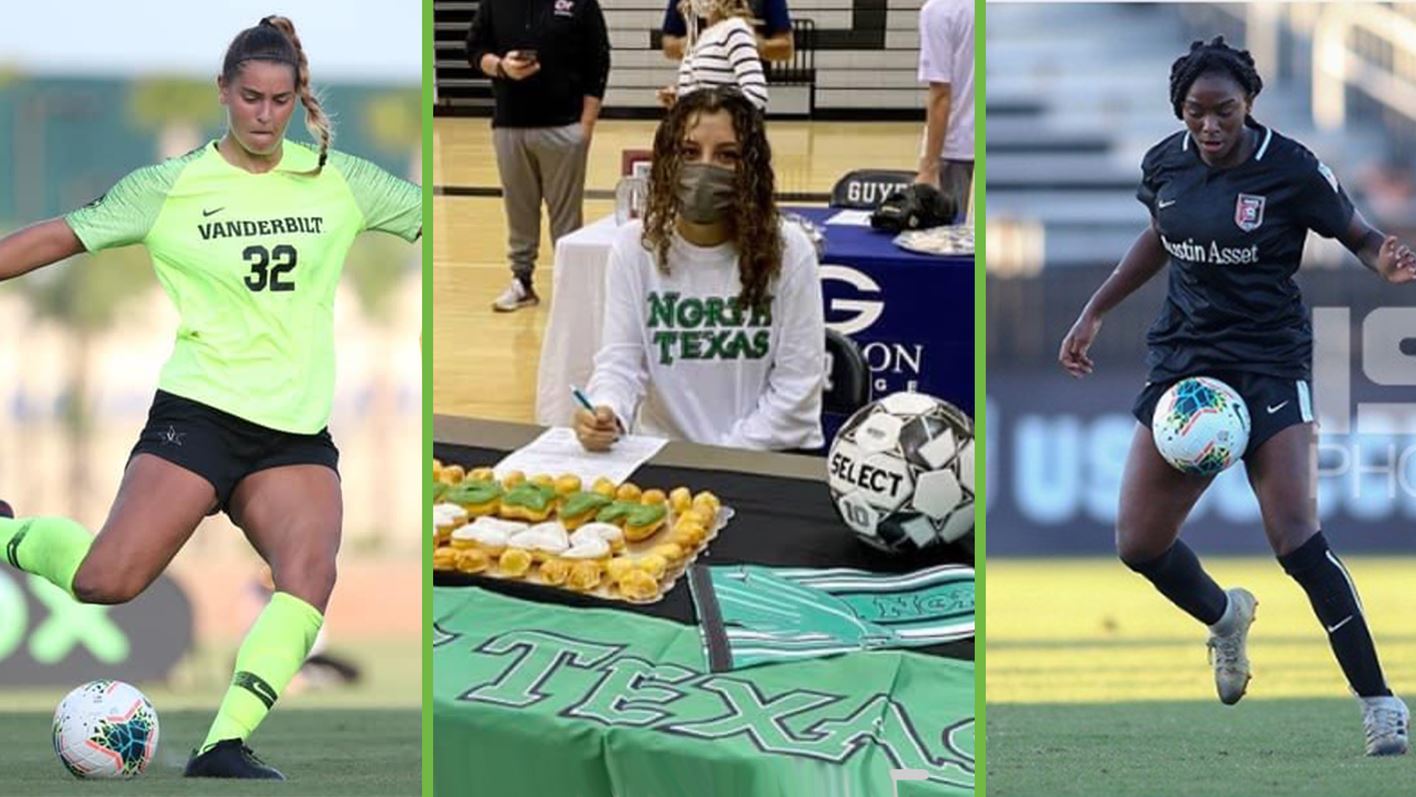 DENTON — The 16-time conference champion University of North Texas soccer team, which has won a Conference USA record eight league trophies in the last six years, announced the signing of three incoming student-athletes.
The Mean Green next season will add starting Vanderbilt goalkeeper Sarah Fuller (Wylie, Texas) as a graduate transfer, Central Texas defensive prep standout Jori Foote (Pflugerville, Texas) and FC Dallas academy goal-scorer Marina Vera (Denton, Texas).
In addition to the three signees, UNT will return next season current seniors Brooke Lampe, Berklee Peters and Elle Marie DeFrain for a fifth year.

SARAH FULLER
The senior has been a stud in goal for the Commodores who earlier this month were nationally ranked in the United Soccer Coaches Poll. Earlier this season, Fuller kept a clean sheet in a 1-0 victory over No. 15 Georgia. She was later named the National Goalkeeper of the Week by TopDrawerSoccer. She also helped lead Vandy to a 2-1 overtime victory at Florida, a shutout victory at LSU and didn't allow a goal in over 300 minutes of playing time all against SEC opponents.
Along with her success on the soccer field, Fuller made history this fall as the first female to play NCAA Power 5 football, as a replacement kicker for Vanderbilt.
Fuller has been a named SEC Academic Honor Roll three times and has been recognized for her work in the community. She will graduate in the spring from Vanderbilt with a degree in Medicine, Health and Society. She graduated from Wylie High School in 2017 and played club soccer with the D'Feeters ECNL for Hugh Bradford.
"A big part of our championship success at UNT has always been having a great keeper in goal for us throughout my time here," said head coach John Hedlund who is entering his 26th season and is the only head coach the Mean Green have ever had. "Sarah brings that presence with her experience as the starter for Vanderbilt this season and playing in the SEC. At 6-foot-1 she has the size, athletic ability and obviously the experience to dominate in goal and add to our eight championships in C-USA. We're excited to have Sarah for the next two years working on her master's degree here at UNT. Welcome home!"
JORI FOOTE
One of the most athletic center back recruits in all of Central Texas, incoming freshman Jori Foote helps the Mean Green firm up its stout backline. Hedlund, a former defender himself has always prided his championship teams on defense. Many of UNT's greatest soccer players have been defenders. Along with her athleticism, Foote has played for the highly competitive Lonstar Soccer Club. She's played in some of the biggest tournament's in the nation against some of the top competition.
Foote committed to the Mean Green early in the recruiting process. She chose UNT over UCLA, Texas and Oklahoma among several other programs.
"We're excited to have Jori a part of the Mean Green Family," Hedlund said. "Jori who was heavily recruited has tremendous speed and is an outstanding athlete that reads the game extremely well at the center back position. Her experience playing with the highly successful Lonestar Club out of Austin over the years will be immeasurable especially with her team consistently doing well at Nationals each year."

MARINA VERA
Another Denton product to play for the Mean Green, Marina Vera is an attacking forward and a goal scoring machine. Vera, who was born in Elko, Nevada, has vast experience playing at the club level for FC Dallas who are constantly ranked in the top 10 in the nation for every age group. She's also learned under the guidance of Mean Green soccer alum Mandy Hall at Guyer High School. Vera will join a Mean Green squad that is already one of the best in the region at scoring and returns all its forwards next season.
"Marina will give us that hard working blue collar mentality up front which our UNT teams are known for," Hedlund said. " She is a very technical player that presses the opposing back line and keepers extremely well and has a strong passion for the game. Marina's experience over the years with local top club FC Dallas should be very beneficial along with playing for Denton Guyer High School under former UNT alum Mandy Hall. We're excited to have Marina apart of the Mean Green Family!"