Colorado College signs four student-athletes to National Letters of Intent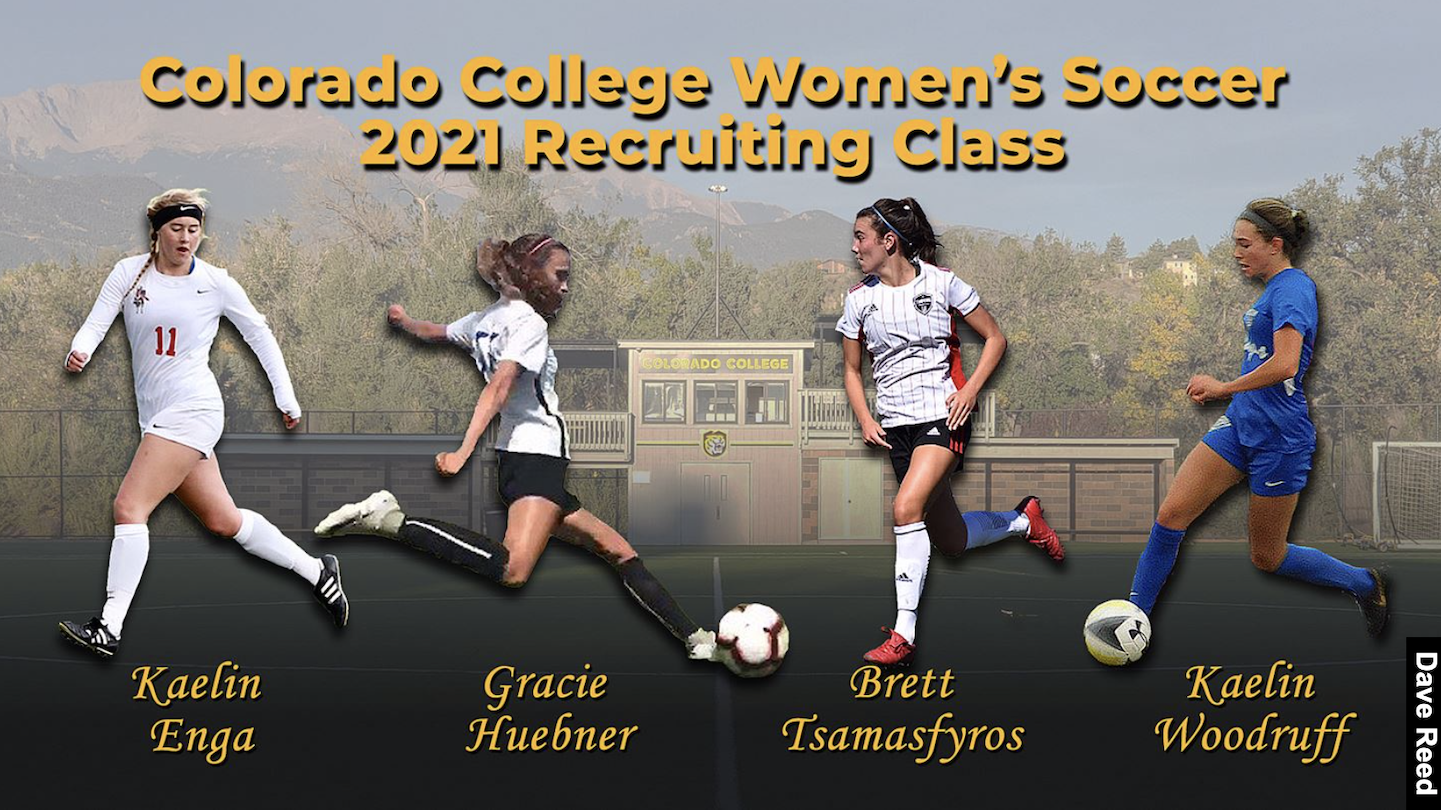 The Colorado College women's soccer program received commitments from four recruits who chose to continue their academic and athletic careers as Tigers, head coach Geoff Bennett announced.
CC's 2021 recruiting class consists of Kaelin Enga (Colorado Springs, Colo.), Gracie Huebner (Carlsbad, Calif.), Brett Tsamasfyros (San Mateo, Calif.) and Kaelin Woodruff (Truckee, Calif.).
Enga brings two seasons of experience competing in the Elite Clubs National League with the Pride Soccer Club. Prior to that, her Pride team competed in the U.S. Youth Soccer's Desert Premier League and advanced to the quarterfinals of the 2019 Far West Regional. The year before, Enga was named the Tournament MVP after leading Pride to the Colorado State Cup.
Enga earned four varsity letters as a defensive midfielder at Liberty High School, where she served as a team captain her final two seasons. In 2019, Enga helped the Lancers earn a spot in the Colorado state playoffs
"Kaelin is a very technical, composed six role that uses her intelligence to read the game," Bennett said. "She can keep rhythm in the attack by playing quick and simple, and can help us defensively by reading the game and breaking problems up before they occur. We look forward to watching Kaelin compete at this level."
Huebner played club soccer for the San Diego Surf of the U.S. Soccer Development Academy. Her U17 team was ranked No. 8 in the country and advanced to the quarterfinals of the 2019 Winter Cup. She also trained with Toresen Okinawa, Japan's equivalent of an Olympic Development Program.
Huebner played for Carlsbad High School in Carlsbad, Calif., and helped the Lancers win the CIF San Diego Section as a sophomore and advance to the California state playoffs as a senior.
"Gracie is exactly the type of wide player that we look for – she is a player who is crafty and shifty and loves to run at opposing players in a 1v1 fashion," Bennett said. "I have always loved players who look to take players on with confidence for 90 minutes, and we found that with Gracie."
Tsamasfyros, who will join her older sister, Toni, on the CC roster, trained at U.S. Soccer's National Training Center. She also played club for PSV Union FC Development Academy and the California Thorns Development Academy/De Anza Force of the Elite Clubs National League.
"Brett can be an engine for a team – she can play box to box and make an impact on a game," Bennett said. "What we have been really impressed about with Brett is how she has continued to develop these past years and continues to set a high bar for herself. Brett will come in and continue to grow and impress us."
Woodruff trained with the Players North SC's 02G team, which competed in the National Premier Leagues. Her team was ranked No. 7 in the nation and won three San Diego Surf Cup championships and a pair of Surf College Cup titles.
An all-around athlete, Woodruff was ranked in the top 10 nationally for skiers born in 2003. She qualified for the 2019-20 U.S. Nationals and recorded three top-10 finishes in her first year as an FIS athlete.
"Kaelin is a central player who covers a ton of ground, is good on the ball and is super competitive," Bennett said. "She will help our midfield with that competitive mentality by constantly training hard and pushing herself to the limit. Kaelin is what we look for in a two-way player and we are very pleased that she is a Tiger."
The foursome will officially join the team when Colorado College begins training in August.