Mizzou Soccer inks six incoming recruits to National Letters of Intent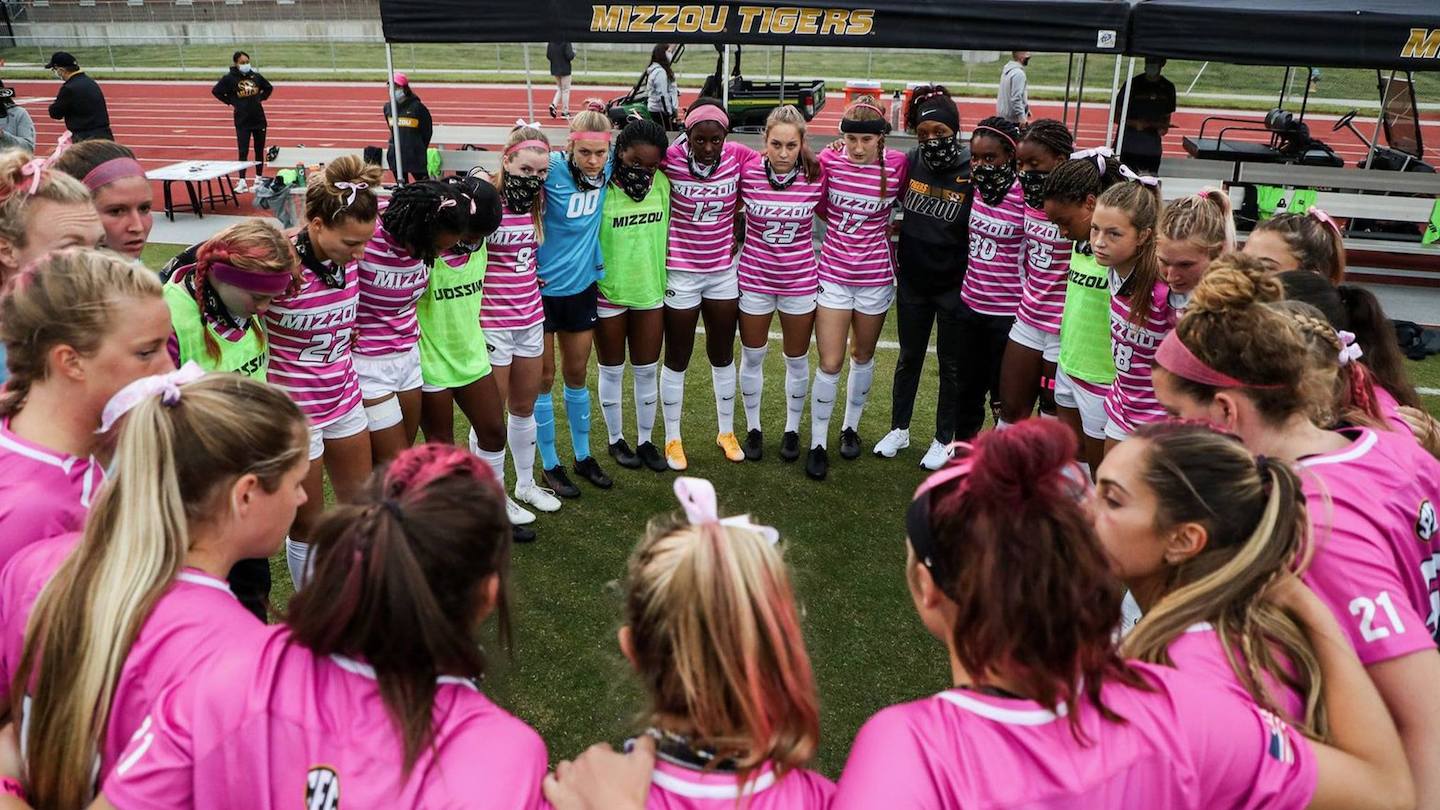 COLUMBIA, Mo. – Mizzou Soccer has signed six prep athletes to National Letters of Intent, head coach Bryan Blitz announced.
The six prep signees hail from four states and will join the program for the 2021 season. The Tigers officially add Avery Brandt (McKinney, Texas), Bella Hollenbach (The Woodlands, Texas), Jenna McCormick (Highlands Ranch, Colo.), Ashlyn Mills (Frisco, Texas), Leah Selm (Manchester, Mo.), and Gia Woodfolk (Keswick, Va.).
"We're excited about this class, as we were able to address our needs," Blitz said. "The players come with not only great abilities on the field, but are outstanding students and people who will make a positive impact on our program and the Mizzou community."
McKinney, Texas | Solar Soccer Club | Independence HS
Forward/Defender | 5-7
A versatile player, Brandt comes to Mizzou with the ability to play on the backline or as a forward in the attack. On the club scene, Brandt currently plays for Solar Soccer Club at the ECNL level, having previously played on the FDL and DA levels in 2019.
A four-year letter winner for Independence, Brandt was named the District 9-5A Co-Defensive Player of the Year in 2020 after leading the Knights to a 17-1-2 record and district championship. Independence won back-to-back district title in 2019 and 2020, compiling a 39-3-3 record.
As a center back, Brandt scored 19 goals and had six assists over three seasons. She was twice named to the District 9-5A first team, and she was an all-region and all-state honoree – according to TopDrawer Soccer.
Brandt is the daughter of Alison and Allen Brandt.
Brandt: "When I was on my visit, I felt like I was at home. Everyone was so kind and welcoming, and I felt like I fit in with everybody there. I also feel like the type of soccer they play is exactly my style."
The Woodlands, Texas | Houston Dash | The Woodlands HS
Goalkeeper | 5-11
Hollenbach joins Mizzou after a standout career at the club level with the Houston Dash.  A team captain for the Dash, Hollenbach led the club to a top 10 club ranking during the 2018-19 season. In addition, the Dash finished third in the DA Cup during that season.
Hollenbach has been named a DA Player of the Week on multiple occasions during her club career.
The daughter of Maggie and Rudy Hollenbach, she is of German descent and has attended the World Cup in 2006 and 2014, as well as the Women's World Cup in 2015. Hollenbach chose Mizzou over Auburn, Houston and SMU.
Hollenbach: "When I visited Mizzou for the first time, I got the feeling of home. I could tell that the team and coaches were a family, and that was important to me. Mizzou offered everything I was looking for: academics, family feeling and a good soccer team."
Highlands Ranch, Colo. | Real Colorado | Thunder Ridge HS
Midfielder | 5-6
McCormick continues a tradition of Mizzou tapping into the Colorado pipeline, as she joins a program that currently has five players who hail from the Centennial State.
Competing for Real Colorado, McCormick has consistently been named a Weekly Standout, according to TopDrawer Soccer, and is ranked in the outlet's top 200. Since 2017-18, McCormick has scored 39 goals for Real Colorado.
She also received an invitation to a U.S. Soccer training camp.
The daughter of Kristi, who played volleyball at Ole Miss, and Mike McCormick, she has a brother, Mike, and sister, Karli. Her grandfather, John, played quarterback at UMass, and later played for the Minnesota Vikings and Denver Broncos.
McCormick chose Mizzou over Denver and Montana.
McCormick: "I loved everything about (Mizzou), and as soon as I stepped on campus during my official visit I felt at home. The entire coaching staff is amazing, as well as the team atmosphere. I have always wanted to follow in my mom's footsteps of playing a Division I sport in the SEC."
Frisco, Texas | FC Dallas | Heritage HS
Defender | 5-9
A three-year captain for FC Dallas, Mills is currently ranked 141st in the IMG rankings. Competing in the North Texas ODP pool, she has compiled plenty of accomplishments in her career.
A five-time weekly standout according to TopDrawer Soccer, Mills led FC Dallas to a 50-15-13 record from 2017-19, including a U-15 US Soccer National Championship as a center back. FC Dallas also posted a runner-up finish in the state cup during her club career.
Mills is the daughter of Monica and Jim, and she has one sister, Emily. She chose Mizzou over Pittsburgh, Texas and Texas Tech.
Mills: "The moment I stepped on campus, it felt like home. I had seen many other campuses, and I never really knew where I wanted to go, but with Mizzou I knew instantly."
Manchester, Mo. | Lou Fusz Soccer Club | Parkway West HS
Midfielder | 5-5
A True Daughter of Missouri, Selm will head west to attend Mizzou from the St. Louis area. A standout on both the club and prep levels, Selm brings plenty of accolades with her to Mid-Missouri.
On the club level, Lou Fusz Soccer Club posted a record of 59-6-9 since 2018. Selm twice won the State Cup in 2019 and 2020, while the 2019 season culminated in a NPL National Championship and a Midwest National League title. Lou Fusz also reached the semifinals of the State Cup in 2018. With the organization, Selm led the team in goals and assists, and was also a team captain.
On the high school level, Selm led Parkway West to conference championships in 2018 and 2019, while the 2020 season was canceled due to the pandemic. The Longhorns posted a 32-7-1 record during that span. Selm, a team captain, was twice named to the all-conference first team.
The daughter of Patti, a Mizzou grad, and Tom, Selm has two brothers, Blake and Adam. Blake is a distance runner at Purdue. Selm chose Mizzou over Alabama, Purdue and Saint Louis.
Selm: "My mom went to Mizzou, so I grew up a Mizzou fan. When I was a little girl, I always told myself that when I'm older I am going to play soccer at Mizzou. Once I came on my visit, I really fell in love with the school, and I think it is so cool I will be able to play for the state I grew up in."
Keswick, Va. | Richmond United | Saint Annes-Belfield HS
Defender | 5-9
An athletic defender from Virginia, Woodfolk has received recognition on the national level. She has thrice been named to the Region I ODP Team (201-16) and received an invitation to a US Soccer training center in 2017.
In 2019-20 while competing for Richmond United, Woodfolk led her club team to a 19-3-7 record, a second-place finish in the Mid-Atlantic Conference, and a qualifier to the Champions League. Richmond United also reached the Showcase Cup and North American Cup while she competed for the club.
On the high school level, Woodfolk put together a remarkable 2019 season, being named all-league, All-Central Virginia, and all-state. As a sophomore, she led the Saints in scoring with eight goals and four assists, as the team made a run to the state final four.
The daughter of Judith and Michael, she also has two brothers, Christopher and Noah. Michael was one of the first African American students to play lacrosse at Washington College, and was a high school All-American in high school. Her mother is from England. Woodfolk chose Mizzou over Davidson, Brown and UCF.
Woodfolk: "It's always been a dream of mine to play in a top-quality soccer program at a college that offers the best education. The coaching staff was so supportive through the recruitment process, and the team philosophy of family, diversity and inclusiveness really set this program apart."