University of Akron adds Stefanie Karras to women's soccer recruiting class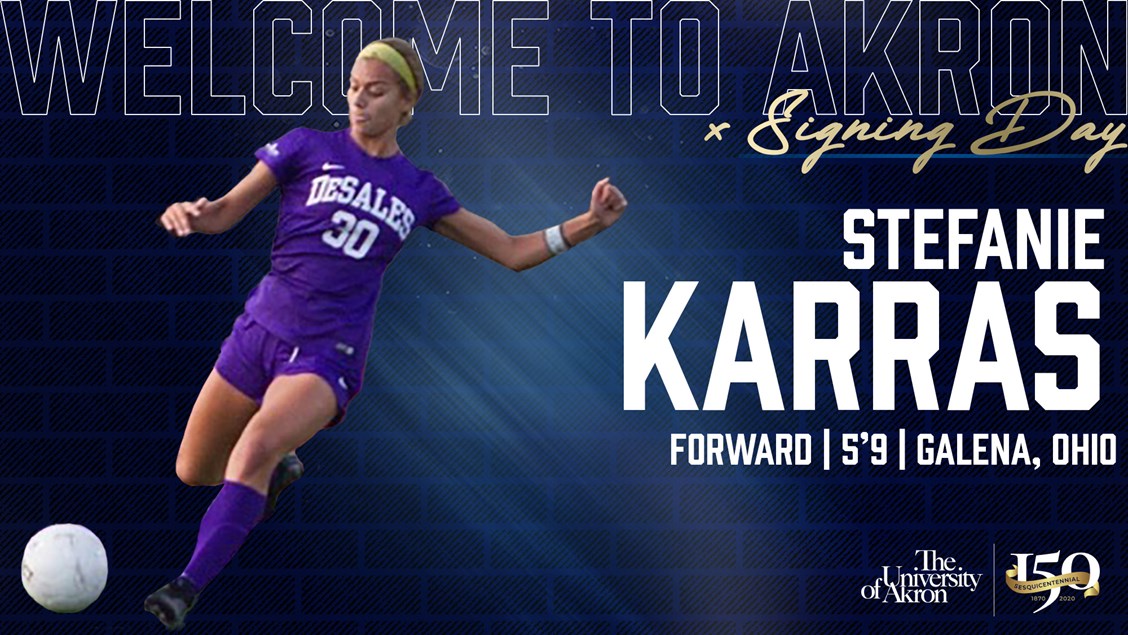 AKRON, Ohio – The University of Akron women's soccer squad under the leadership of sixth-year head coach Noreen Herlihy, has announced the addition of Stefanie Karras (Galena, Ohio/St. Francis DeSales), to the Zips' talented eight-member class for the early-signing period for the class of 2021.
Donning the Akron uniform for the 2021 fall campaign will be Caitlin Bruni (Canal Fulton, Ohio/Massillon Jackson), Quinn Casey (Powell, Ohio/Olentangy Liberty), Ella Hadley (Concord, Ohio/Lake Catholic), Maci Lineman (Butler, Pa./Butler Area), Maya Oduyoye (Cincinnati, Ohio/Sycamore), Morgan Shansky (Oakdale, Pa./West Alleghany) and Calli Swisher (Alliance, Ohio/Marlington).
"We look forward to having this incoming class join the Zips' Women's Soccer Program," Herlihy commented. "They see the progress this program has been making and are eager to become a Zip and contribute to our exciting future. Each is committed to help us achieve our ambitions moving forward and we welcome them."
A forward from Galena, Ohio, Karras is a three-year letterwinner from St. Francis DeSales High School. She garnered second-team All-Conference accolades as a junior and senior en route to scoring 11 goals, while adding seven assists. Additionally, she gained valuable playing experience with Club Ohio where she has netted 23 goals and 11 assists over the past two seasons.
2021 Akron Women's Soccer Signing Class
Caitlin Bruni, Defender, 5-5, Canal Fulton, Ohio/Massillon Jackson
Quinn Casey, Defender, 5-6, Powell, Ohio/Olentangy Liberty
Ella Hadley, Midfielder, 5-5, Concord, Ohio/Lake Catholic
Stefanie Karras, Forward, 5-9, Galena, Ohio/St. Francis DeSales
Maci Lineman, Defender, 5-8, Butler, Pa./Butler Area
Maya Oduyoye, Defender, 5-6, Cincinnati, Ohio/Sycamore
Morgan Shansky, Midfielder, 5-6, Oakdale, Pa./West Alleghany
Calli Swisher, Forward, 5-4, Alliance, Ohio/Marlington