Ball State signs five women's soccer recruits for incoming class of 2021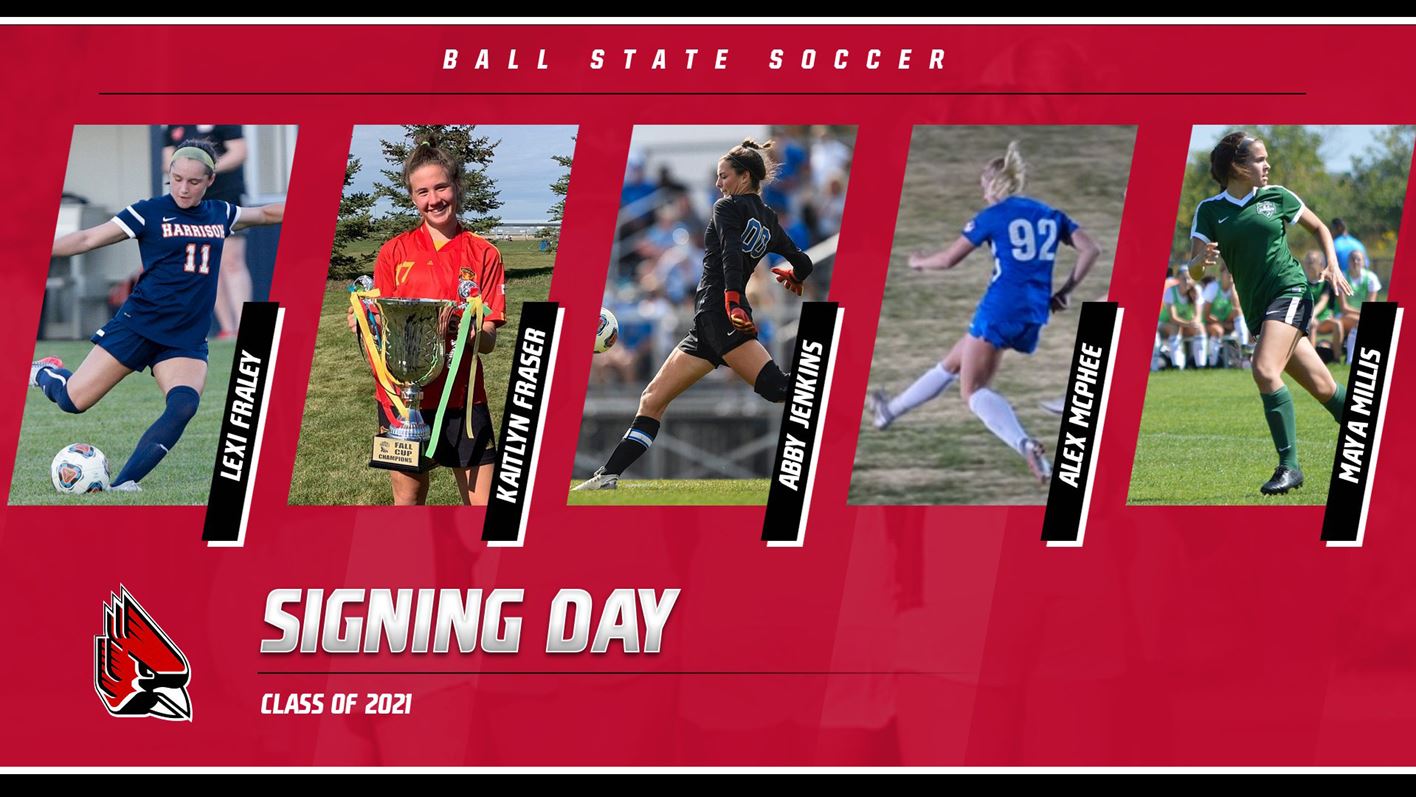 MUNCIE, Ind. – Second-year Ball State soccer head coach Josh Rife and his staff have signed five recruits for the incoming class of 2021.
The Cardinals added talent in all areas of the field, signing a pair of high school seniors from Indiana, one each from Michigan and Illinois, and one from Canada.
"We are really excited about this incoming class of 2021," Rife said. "They are versatile players with high soccer IQ's who can excel at multiple positions. The group has a lot of high level experience behind them which will serve them well at the next level. It's a good group of kids, a fun group, and we're looking forward to working with them."
Here is a closer look at the Cardinals' signing class:
Lexi Fraley, F/M
Hometown: Lafayette, Ind.
High School: Harrison
Club: Indy Premier 02/03 GA and 03 Elite I
[Watch Highlights]
An honorable mention all-state selection and four-time first-team All-North Central Conference choice for head coach Christian Stiverson at Harrison … set school records for goals in a career (110) and a season (43 as a senior) … helped Harrison to two sectional and conference championships … played for coach Kenrick Ramirez with Indy Premier … won a state cup championship in 2019 and qualified to play in US Youth Soccer National League.
Kaitlyn Fraser, M
Hometown: Sherwood Park, Alberta, Canada
High School: Strathcona Christian Academy
Club: Sherwood Park Phoenix
[Watch Highlights]
An attacking midfielder for coach Andreas Shillin with the Sherwood Park Phoenix … four-year team captain … helped the team to five consecutive league championships … attended Canada's 2018 U17 national ID camp in Montreal.
Abby Jenkins, GK
Hometown: Fishers, Ind.
High School: Hamilton Southeastern
Club: FC Pride ECNL
[Watch Highlights]
An all-state goalkeeper for head coach Greg Davidson at Hamilton Southeastern … recorded 18 career shutouts and a 0.87 goals against average … helped the Royals to a 46-15-7 record during her career and a Hoosier Crossroads Conference championship in 2018 … played for FC Pride and coach Jamie Gilbert … Indiana ODP Spirit Award winner in 2015.
Alex McPhee, M/D
Hometown: Oswego, Ill.
High School: Oswego East
Club: Team Chicago
[Watch Highlights]
An all-state selection for head coach Juan Leal at Oswego East … named her team's rookie of the year as a freshman and defensive MVP as a sophomore … her junior season was canceled by COVID-19, and she has her senior season yet to play in the spring … played for coach Marcelo Galvao with Team Chicago … helped that team to a state championship in 2016 and a runner-up finish in 2019.
Maya Millis, D
Hometown: Livonia, Mich.
High School: Stevenson
Club: Michigan Jaguars
[Watch Highlights]
An outside back for coach Dan Dalzochio and the Michigan Jaguars … has registered five goals and 25 assists over the past three years in addition to her work on the back line … helped her team to ECNL division and regional championships and two state cup titles … did not play high school soccer, but did serve as placekicker for Stevenson's football team for three years.