United Soccer Coaches 2022 Girls Youth Player of the Year and All-Americans selected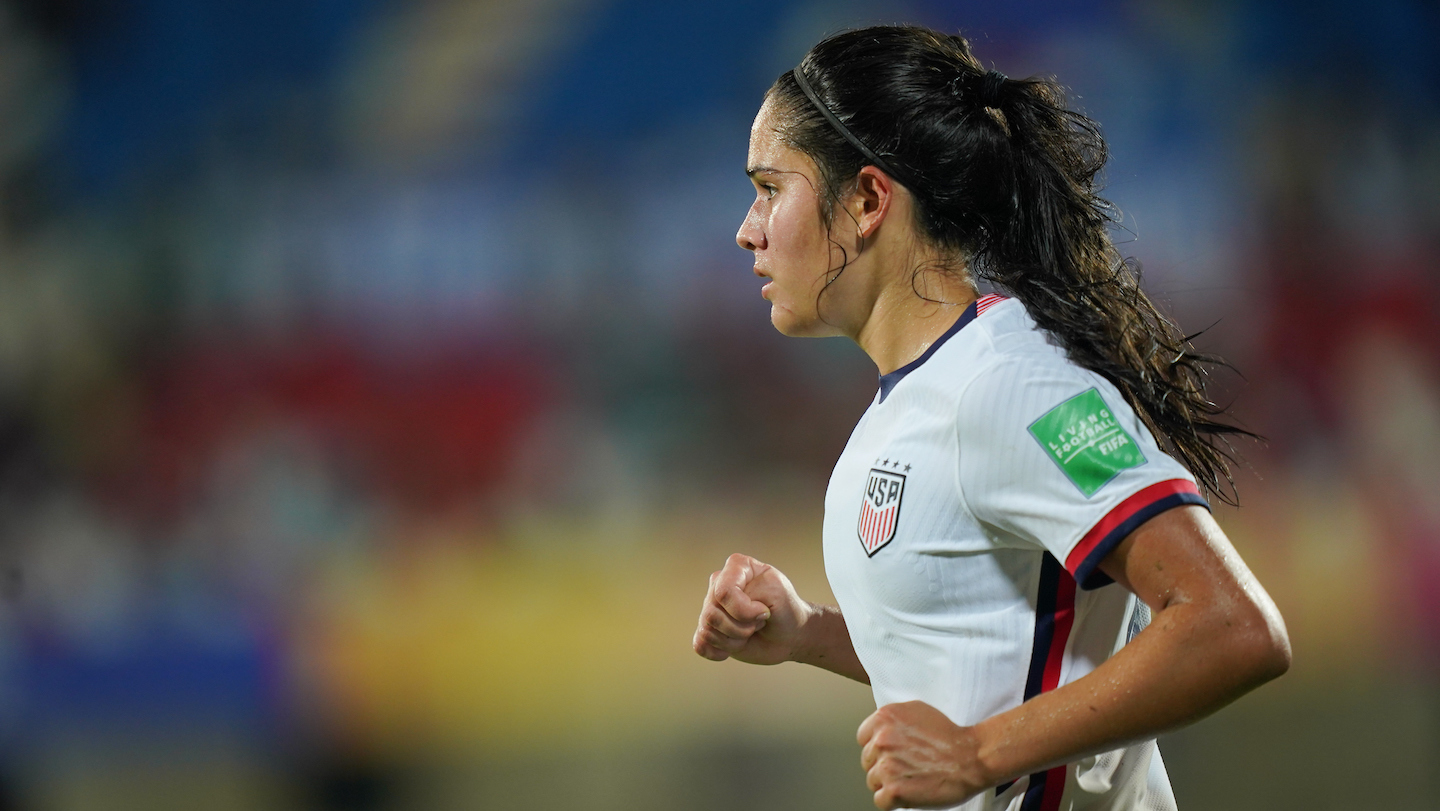 KANSAS CITY, Mo. – United Soccer Coaches announced its 2022 Member Club/Youth Awards for its Coach of the Year and All-America programs.
The awards were selected from online nominations received from members who were a part of the association's Member Club program in 2022 and/or youth coaches who are individual members of the organization.
See below for a look at the girls' awards, including the National Player of the Year and All-American selections. To view the boys' awards, click here.
Youth Girls Player of the YearMia Bhuta, Pittsburgh, Pa.
A midfielder committed to play college soccer at Stanford University, Mia Bhuta (pictured above) is the first player of Indian descent to play for the United States after she was selected to the U.S. Under 17 National Team in 2022. She competed in both the CONCACAF Region Championship in the spring in the Dominican Republic and then the FIFA U-17 World Cup in her father's native India. She grew up in Pittsburgh and played for the International SC in northeast Ohio.
2022 United Soccer Coaches Member Club/Youth Girls All-Americans
| | | |
| --- | --- | --- |
| Name | Club | Hometown |
| Nawreen Ahmad | McLean Youth Soccer/Virginia Union FC | Falls Church, Va. |
| Addison Bailey | Cook Inlet S.C. | Anchorage, Alaska |
| Mia Bhuta* | Internationals Soccer Club | Pittsburgh, Pa. |
| Ella Callanan | Portland Thorns Academy | Portland, Ore. |
| Ella Carter* | TSJ FC Virginia | Centreville, Va. |
| Katie Shea Collins | Tennessee Soccer Club | Gallatin, Tenn. |
| Ellie Felt* | Portland Thorns Academy | Portland, Ore. |
| Kennedy Fletcher | Portland Thorns Academy | Portland, Ore. |
| Lexi Grundler* | Tennessee Soccer Club | Brentwood, Tenn. |
| Hannah Harms | McLean Youth Soccer/Virginia Union FC | Vienna, Va. |
| Carrie Helfrich | McLean Youth Soccer/Virginia Union FC | McLean, Va. |
| Addy Hess* | TSJ FC Virginia | Centreville, Va. |
| Sophie Johnson* | TSJ FC Virginia | Centreville, Va. |
| Nicollette Kiorpes | NEFC | Worcester, Mass. |
| Audrey Kulpa | Oakwood Soccer Club | Glastonbury, Conn. |
| Kylie Marschall* | TSJ FC Virginia | Centreville, Va. |
| Keaton Mitchell | Tennessee Soccer Club | Franklin, Tenn. |
| Ava Nucci | McLean Youth Soccer/Virginia Union FC | Chevy Chase, Md. |
| Melina Rebimbas | PDA | Somerset, N.J. |
| Victoria Safradin* | Internationals Soccer Club | Eastlake, Ohio |
| Keegan Schmeiser | Chicago FC United | Bolingbrook, Ill. |
| Kate Scott* | Internationals Soccer Club | Fairview, Pa. |
| Alyssa Thompson | Total Futbol Academy | Studio City, Calif. |
| Emelia Warta | Portland Thorns Academy | Vancouver, Wash. |
| Allyssa Williams | Southern Minnesota Select | Eyota, Minn. |
*Indicates repeat selectionNational Players of the Year are bolded