ECNL Girls Phoenix Fall 2022 National Event: Day 3 Recap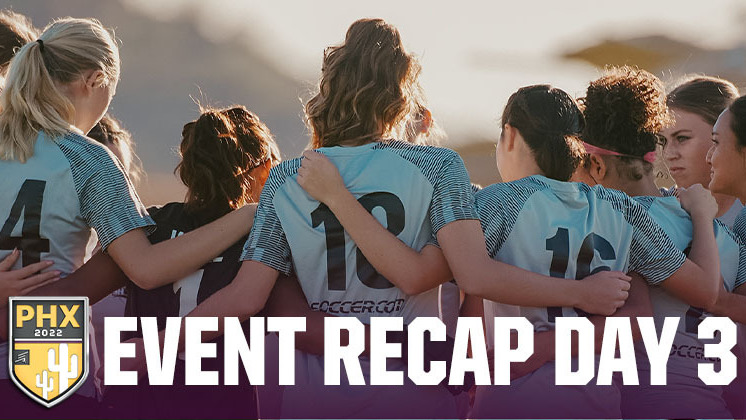 See below for a look back on some of the action from Sunday at the ECNL Phoenix National Event.
Real Colorado National vs. Beach FC (U18/19)
The final day of action at ECNL Phoenix featured a rematch of last season's U17 National Championship Game between Real Colorado National and Beach FC.
From the start the game was highly intense and lived up to expectations.
Early on, Beach was able to grab most of the possession and immediately used it to generate scoring chances. It did not take long for those chances to pay off as Valerie Vargas Arceo found herself with a bit of space inside the box and was able to open the scoring for Beach inside of the opening 10 minutes.
Beach continued to control most of the play throughout the first half and had a number of good chances, including two shots that rang off the crossbar that would have doubled their lead.
Real Colorado had no plans of going down quietly though. After initially starting to generate some more scoring opportunities late in the first half, they really started to control the possession throughout the second half.
As they generated chance after chance and continued to put pressure on the Beach defense it seemed nearly certain a breakthrough goal was coming.
"They're a good team and turned it on," Beach FC Head Coach Jeff Joyner said. "Obviously they were trying to get after us a little bit, and we had to bend but not break."
That bend but don't break mentality ultimately held up throughout the entire 90 minutes of play and helped Beach secure a 1-0 victory, avenging their loss from last season's National Championship Game.
After the game, Joyner compared some of the similarities between the two sides and noted how important it is to face such strong competition at this point in the year.
"I think it's two teams with similar ideas on how the game should be played. Possession oriented, attacking minded, and it was a nice end to the showcase I think for both teams," Joyner said.
"We've been really fortunate with scheduling this year that we've been playing against a lot of good opponents. So, anytime you get a game against one, fantastic. Get any result against one, that's even better."
𝙁𝙪𝙡𝙡-𝙏𝙞𝙢𝙚: Today's moments are tomorrow's memories #ECNLPHX pic.twitter.com/2SDUlDG1Uy

— ECNL Girls (@ECNLgirls) November 14, 2022
Rockford Raptors vs. Utah Royals FC-AZ (U17)
Another club that had a strong weekend was Rockford Raptors.
New to the ECNL this year, Rockford was certainly ready for the challenge as they won all three of their games over the weekend, including a 3-1 victory on Sunday over Utah Royals FC-AZ.
Rockford wasted no time opening the scoring as Laney Stark scored in the third minute to take a 1-0 lead. They then added on two more first half goals from Cortlyn Hefty and Paige Chrustowski to take a 3-1 lead into the break, which they were able to hold onto the rest of the way.
Reflecting on the weekend, Head Coach Mike Rizzo believes the atmosphere and competition were a great experience for his players.
"Our kids were super appreciative to see all the college coaches at the game and we had a great time overall," Rizzo said. "All the games were close and competitive and that's what you want when you come out here. We ended up being on the winning side, but again, it was just about the kids having the ability to go out and play in front of a bunch of the college coaches that are here."