ECNL Girls San Diego National Event provides young players with learning experience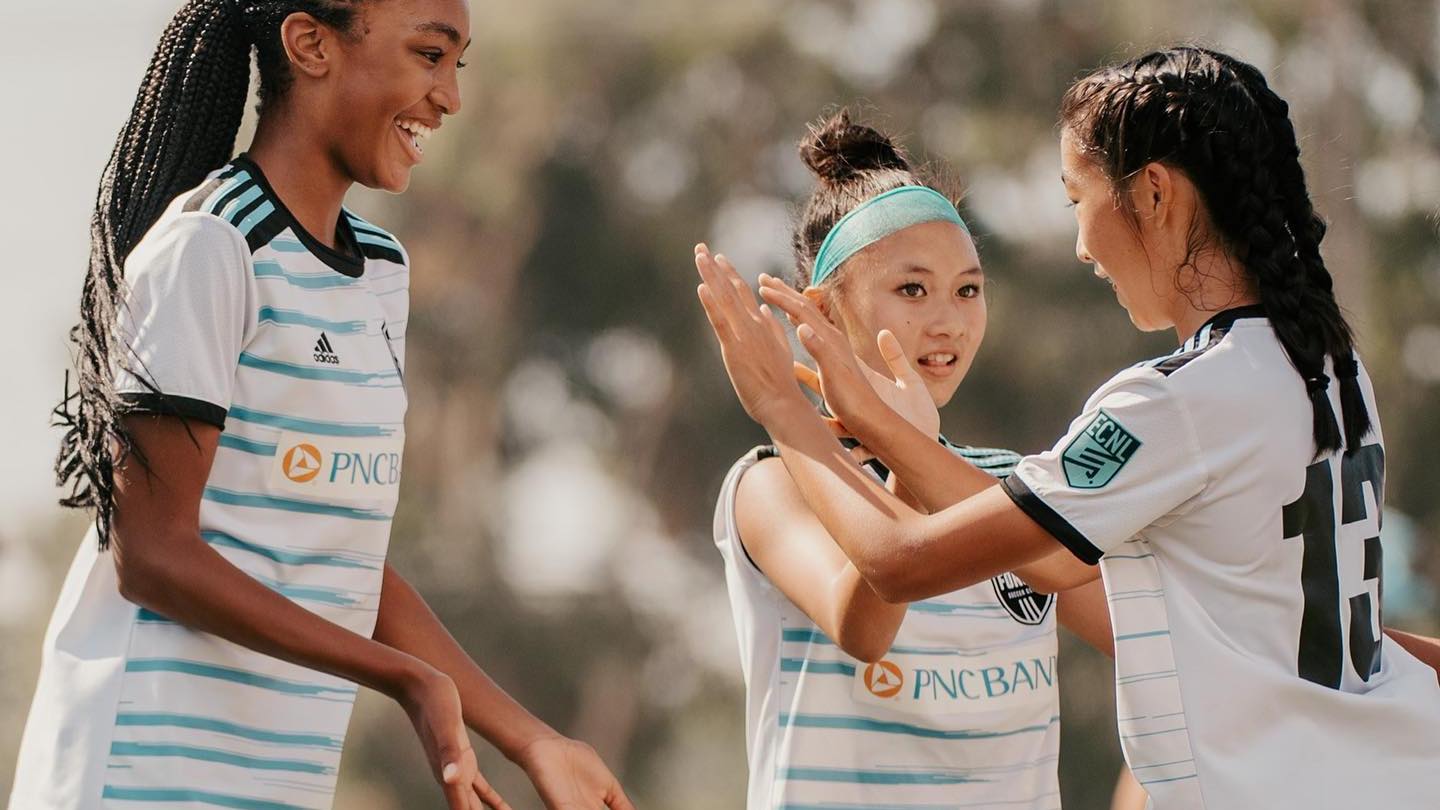 This weekend, the ECNL Girls National Events schedule got underway with ECNL San Diego. For clubs new to the ECNL, it was an opportunity to experience an ECNL event for the first time.
Placer United Girls Director, Ron Benjamin, talked about how incredible the weekend was, and how this new platform will challenge his players and help the club develop them moving forward.
"It's been amazing, great complex, competition is fantastic, we're super happy to be a part of the league," Benjamin said. "Getting accepted into the ECNL, we knew it was going to be a challenge, and we're looking forward to the future and developing players on this amazing platform."
"This was an eye-opening weekend for our younger groups to see what the level looks like at the absolute top," Benjamin said.
𝒯𝒽𝑒 𝒮𝒾𝓈𝓉𝑒𝓇𝒽𝑜𝑜𝒹 #ECNLSD pic.twitter.com/UvnX7oijBw

— ECNL Girls (@ECNLgirls) October 11, 2022
Bay Area Surf Girls Director, Juan Porras, also spoke to the fantastic level of competition over the weekend. "We can definitely see the difference in the competition, how the event is organized, and we love it."
Overall, for his younger players, Porras expressed that it is great for them to participate in an event like this to motivate them as they move forward.
"We travel as a team, we're at the same hotel, all that experience and bonding with the team is great, so when they step on the field and see so many clubs and great competition it's super motivational for them to continue their careers."
Pateadores coaches Betsy Duerksen and Miguel Mendoza both echoed similar sentiments about the great learning experience for their teams.
"I think it's a great experience overall, seeing the level of what ECNL is about, playing against different teams from around the country, and I think they're able to see what the level looks like in other states," Mendoza said.
"All of this is about gaining experience and learning to improve," Duerksen said. So, for the young players to have these experiences earlier, it should lead to them, not only being more confident young women as they do it again when they're older, but also better soccer players."
Pateadores Girls Assistant Director, Jenny Hammond, described how the professionalism behind the event makes it even more fun for her team to go out and compete.
"Seeing all the signage and banners makes it really fun for the players, as well as the walkouts and professionalism of the referees," Hammond said. "Those things that they see on TV weekly, when they get the opportunity to go do that, you can just see that it makes it a more fun environment to want to go compete."
𝙁𝙪𝙡𝙡-𝙏𝙞𝙢𝙚: A trophy carries dust, memories last forever #ECNLSD pic.twitter.com/Rrm6aqHSxS

— ECNL Girls (@ECNLgirls) October 11, 2022
Hammond also said a national event gives her players a good sense of where they stack up with other players from around the country and allows them to see different styles of play from other areas.
When looking back on the weekend, Duerksen believes being part of such a big event is not only fun for her players, but also helps them see the game on a more national stage.
"We've really had a lot of fun playing teams from other conferences. I think it helps the girls realize this is bigger than anything they've ever done before."
The event featured 108 teams from the U13-U15 age groups.
ECNL GIRLS SAN DIEGO
October 8-10, 2022 | TEAM LIST
U13
U14
U15
Albion Hurricanes FC
Albion Hurricanes FC
Albion Hurricanes FC
AZ Arsenal
AZ Arsenal
AZ Arsenal
Bay Area Surf
Bay Area Surf
Bay Area Surf
Beach FC (CA)
Beach FC (CA)
Beach FC (CA)
Boise Thorns FC
Beach FC (CA) RL
Classics Elite
Classics Elite
Boise Thorns FC
Colorado Rapids
Crossfire Premier
Classics Elite
Davis Legacy
Dallas Texans
Crossfire Premier
DeAnza Force
Davis Legacy
Dallas Texans
Del Mar Sharks
Del Mar Sharks
Davis Legacy
FC Dallas
DKSC
DeAnza Force
LA Breakers
Eagles Soccer Club
Del Mar Sharks
LAFC So Cal
Eastside FC
DKSC
Legends FC
FC Dallas
Eagles Soccer Club
Marin FC
Heat FC
Eastside FC
Mustang SC
LA Breakers
FC Dallas
MVLA
LAFC So Cal
Gretna Elite Academy
Pateadores
Legends FC
Heat FC
Phoenix Rising FC
Marin FC
LA Breakers
Placer United
Mustang SC
LAFC So Cal
Pleasanton Rage
MVLA
Legends FC
Pride SC
Northwest Elite FC
Marin FC
Rebels SC
Pateadores
Mustang SC
San Diego Surf
Phoenix Rising
MVLA
San Juan SC
Placer United
Pateadores
Sporting CA Arsenal FC
Pleasanton Rage
Phoenix Rising
Utah Royals FC AZ
Portland Thorns Academy
Placer United
Rebels SC
Pleasanton Rage
San Diego Surf
Portland Thorns Academy
San Juan
Rebels SC
Santa Rosa United
San Diego Surf
Seattle United
San Juan
Slammers FC
Santa Rosa United
Slammers FC HB KØGE
Seattle United
So Cal Blues SC
Slammers FC
Solar SC
Slammers FC HB KØGE
Sporting CA Arsenal FC
So Cal Blues SC
Utah Avalanche
Solar SC
Utah Royals FC AZ
Sporting CA Arsenal FC
Washington Premier
Utah Avalanche
Utah Royals FC AZ
Washington Premier
40
42
26