UNC Charlotte hires High Point's Brandi Fontaine as women's soccer head coach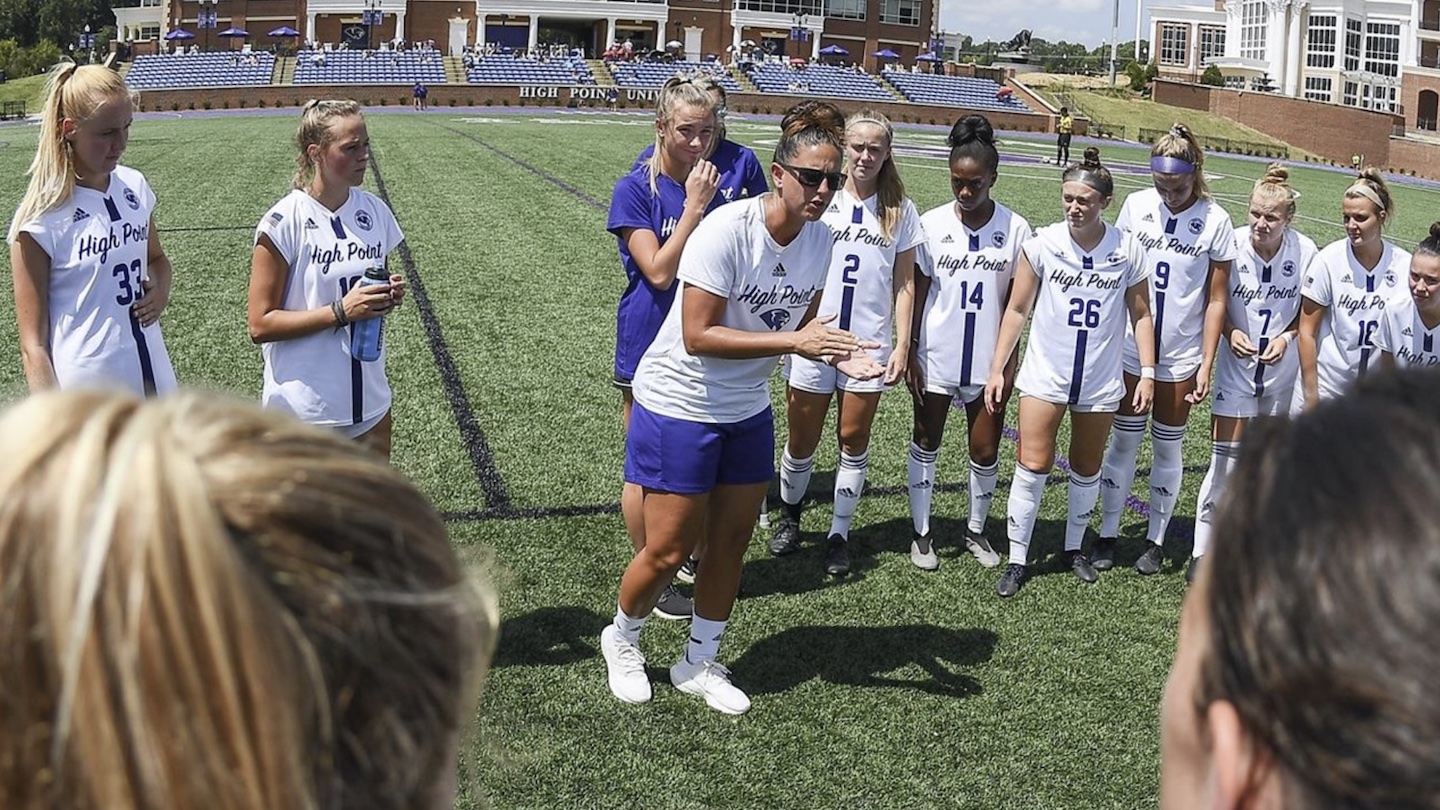 UNC Charlotte 49ers Director of Athletics Mike Hill has announced the hiring of two-time Big South Coach of the Year Brandi Fontaine as the 49ers' women's soccer coach.
Fontaine, who led High Point University to unprecedented heights in four seasons as head coach, becomes the fifth head coach for the 49ers' women's soccer program.
"We are ecstatic to welcome Brandi Fontaine and her family to Charlotte," said Hill. "She has a championship pedigree and a proven track record of success as a head coach. We share a vision of excellence for women's soccer and look forward to seeing our program thrive under her leadership."
Fontaine led the Panthers to a pair of unbeaten Big South regular-season championships, a Big South Conference Tournament title, the 2021 NCAA Tournament and the highest rankings in program history.
Charlotte has reached the Conference USA Championship game in three of the last six years, winning the league title in 2016 and notching runner-up finishes in 2017 and the spring 2021 campaign. The 49ers, who have earned five NCAA Tournament bids in their history, will host the 2022 C-USA Championships.
"It's an exciting time to be at Charlotte, and I am truly grateful, honored, and very excited to be the next head women's soccer coach for the 49ers.  I would like to thank Mike Hill and Ragean Hill for this tremendous opportunity," said Fontaine. "The community and family culture that they have built in this department was evident from my first step onto campus. I'm excited to be a part of the vision they have for this program and believe in the championship culture mindset they possess. We are going to build a high level of competitive excellence that allows our players to become the best version of themselves both on and off the field."
This past season, the Panthers won their first Big South Conference Tournament title since 2017 and earned the league's automatic bid to the NCAA Tournament. The Panthers went 10-8-2 overall with an 8-2 mark in the Big South before claiming the league tournament title with an overtime victory over top-seed and host Campbell University.
In the 2020-21 season, played in the spring due to the pandemic, Fontaine led HPU into the national rankings. The Panthers went 10-1, including an 8-0 record in Big South play and a perfect 9-0 mark in regular-season action. High Point was ranked as high as 24th in both the Top-Drawer Soccer and College Soccer News media polls and received votes in the United Soccer Coaches poll, the highest rankings in program history. The Panthers were ranked as high as number eight in the United Soccer Coaches Southeast Region ranking.
In 2019, the Panthers posted their first unbeaten season in Big South games, going 8-0-2 to claim the league's regular-season crown, quite a turnaround from the 5-10-4 (Big South: 3-4-3) season record in Fontaine's first year at the helm.
Fontaine was named Big South Coach of the Year in both 2019 and 2020-21 following those unbeaten conference seasons and regular-season crowns.
Fontaine spent the last 13 seasons with the Panthers. Before taking over as head coach in 2018, she served as associate head coach from 2013-2017 and was an assistant coach from 2009-12. She has been a part of the coaching staff for five of HPU's seven NCAA Tournament trips and has helped the Panthers to four Big South regular-season titles and five tournament championships. Fontaine was part of a coaching staff that set program records for wins in a season (13, twice), conference wins in a season (8, four times), and longest winning streak (10, 2020-21)
Fontaine started her coaching career as an assistant coach in 2008 for one season at her alma mater, Francis Marion University. A three-year letterwinner for the Patriots, Fontaine (formerly Sutphin) played in 33 career matches with 20 starts, recording three goals and 11 assists. She served as team captain during her senior season and ranked in the top 25 in the nation in assists as a junior.
She began her college career at West Virginia University, playing in five games as a freshman for a Mountaineer squad that went 15-6-0 and advanced to the second round of the NCAA Tournament.
Fontaine earned a bachelor's degree in mass communication from Francis Marion in December 2007 and a Master of Science in Sports Management from American Public University in 2010.
A native of Davidsonville, Maryland, Fontaine is a product of South River High School located in Edgewater, Maryland.
She holds a  premier diploma from the United Soccer Coaches Association and is an assistant director of coaching at the Piedmont Triad Football Club, coaching five North Carolina State Cup Champions.
Fontaine and her husband, Keith, have a son, Kaden. Fontaine's twin sister, Jacque Sutphin, also played at FMU.