Texas Soccer adds Ben Munger and Lee Hughes to coaching staff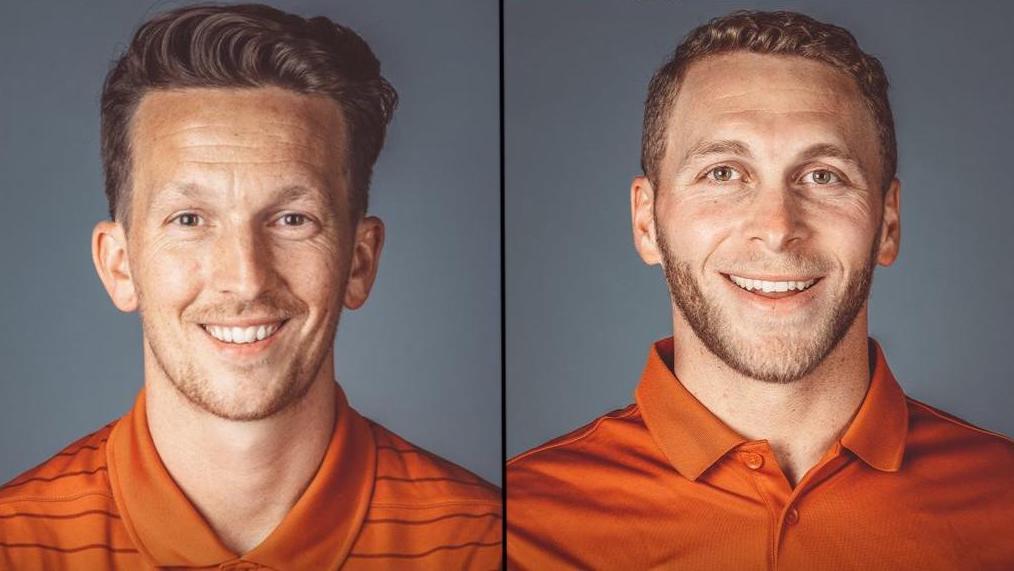 AUSTIN, Texas – University of Texas head soccer coach Angela Kelly announced on Wednesday that Ben Munger and Lee Hughes are heading to the Forty Acres to join her staff as assistant coaches with the Longhorns.
Munger joins the Burnt Orange & White after spending the past season as an assistant at Samford University, while Hughes heads to UT after four years as an assistant at the University of Alabama at Birmingham (2017-2021). The duo previously served together as part of head coach Erica Demers' UAB staff during the 2018 and 2019 campaigns.
"It's an exciting day for our soccer program here on the Forty Acres with our two new assistant coaching hires becoming official," Kelly said. "The goal was to find hard-working individuals that possessed a tremendous passion for the game with the highest level of loyalty, character, integrity and experience. I just happened to find two of them during my search. I could not be more excited to have Ben Munger and Lee Hughes join my coaching staff."
In his lone season at Samford, during the COVID-19 pandemic-affected split 2020-21 campaign, Munger helped guide the Bulldogs to an 8-2-3 overall record. In charge of training goalkeepers, he tutored All-SoCon First Team netminder Morgan McAslan, who finished the regular season with a 0.87 GAA, conceding just four goals while posting seven shutouts to lead the league.
Prior to his stint at Samford, Munger spent two seasons as the goalkeeper coach at UAB (on the same staff as Hughes). With the Blazers, he coached Conference USA Goalkeeper of the Year Kelsey Daugherty, who currently plays for Djurgårdens IF in Sweden, after spending time with Chicago Red Stars of the NWSL and Danish champions league team Fortuna Hjorring. Daugherty, who also reaped C-USA First Team All-Conference and First Team All-South Region honors, finished her career with .783 save percentage, ranking third in UAB history. She completed her stay in Birmingham with 28 career wins and 6,462 minutes played, both of which rank second on the UAB charts.
He also recruited and developed Eve Beyer, who received C-USA All-Freshman Team and Third Team All-Conference honors. Beyer's .823 save percentage was the fifth-best single season mark and her 0.93 goals against average ranked fourth in UAB history.
As an assistant coach at Akron (2016-18) working primarily with the goalkeepers, Munger recruited and coached Mid-American Conference (MAC) All-Freshman Team netminder Amani Jiu. Jiu led the league in saves (101 overall/65 MAC) and saves per game (5.32 overall/5.91 MAC), while tying for sixth in shutouts (4 overall/2 MAC) and eighth in shutouts per game (0.21).
Munger began his coaching odyssey as the men's first assistant coach at Tennessee Wesleyan University in 2015, while also serving as the goalkeeper coach for the women's team.
A four-year standout in goal for Maryville College (2011-15), Munger was named both the 2015 USA South Conference Goalkeeper of the Year and USA South First-Team All-Conference. During his career he rated third nationally in Division III in save percentage (.885) and 26th in goals-against-average (0.66). Off the pitch, Munger was a three-time USA South Academic All-Conference Team selection, was president of Maryville's Fellowship of Christian Athletes and was named to the Dean's List for seven straight semesters on his way to earning a Bachelor's Degree in business with a minor in Spanish.
After completing his career at Maryville College, he served as the goalkeeper coach for both of Maryville (TN) High School's soccer teams, including the 2015 girls' season where the team finished with a 17-1-2 record, including 11 shutouts.
Munger has also worked with goalkeepers at both FC Alliance and the University of Tennessee summer camps.
In addition to coaching, Munger has spent time leading trips to Nicaragua with VISIONS Service Adventures, an organization that works with high school students doing service projects abroad and spent six months studying aboard in Argentina.
A native of Old Colwyn, Wales, Hughes spent the past four seasons helping Demers improve UAB from a four-win team, in the year prior to their arrival in 2016, to 34 victories over a four-year span, including 13 wins during a standout 2017 campaign.
Hughes was instrumental in revamping the Blazers' offensive unit to more than double its goal-scoring production (18 goals in 2016 to 39 goals in 2017) while also helping UAB rate in the top five in the nation for program turnaround. Two of his charges earned 2017 All-Conference USA First Team accolades as midfielder Amy Brewer ranked among the league leaders in points (25), goals (10) and assists (five), while midfielder Rachel Green tallied 17 points on seven goals and three helpers.
In 2018, he helped develop Kamilah Mustafa into one of the league's top scorers with eight goals. Five of her tallies were match-winners to lead Conference USA and rate 18th in NCAA Division I.
He also helped the Blazers defense become one of the stingiest units in the league as the program tied for first in Conference USA in fewest goals allowed in 2017, 2018 & 2019. His 2019 group boasted two All-Conference USA performers as defender Audria Wood and goalkeeper Eve Beyer were tabbed to the third team, while Beyer also secured all-rookie honors.
Prior to his time at UAB, Hughes worked as an assistant coach at Indiana State (2016-17) and as a volunteer assistant coach with Demers at Iowa (2015-16).
During his assistant coaching stint with the Sycamores, five players earned All-Missouri Valley Conference accolades, while two more were named to the MVC All-Tournament Team.
Collegiately, Hughes played at Ashford University, graduating in 2015 with a Bachelor of Arts degree in sports management. During his playing career, he served as a team captain while helping guide the Saints to the 2013 NAIA Final Four and the 2014 NAIA Sweet 16. A standout in the classroom, he was named both a 2014 NAIA Academic All-American as well as the Scholar Athlete of the Year. While in Wales, Hughes played for Llandudno FC and Conwy United of the Cymru Alliance.
Hughes earned a master's in coaching from Indiana State (2017) and a master's degree in kinesiology from UAB (2019). He continues to serve as a lead coach for a Region 3 ODP Girls Team, holds a USSF "B" license and both level one and two NSCAA goalkeeping diplomas. He also owns a one-year mentorship diploma from the world football academy and a "Fit for 90" level 1 diploma.