Standouts from four programs named BIG EAST Players of the Week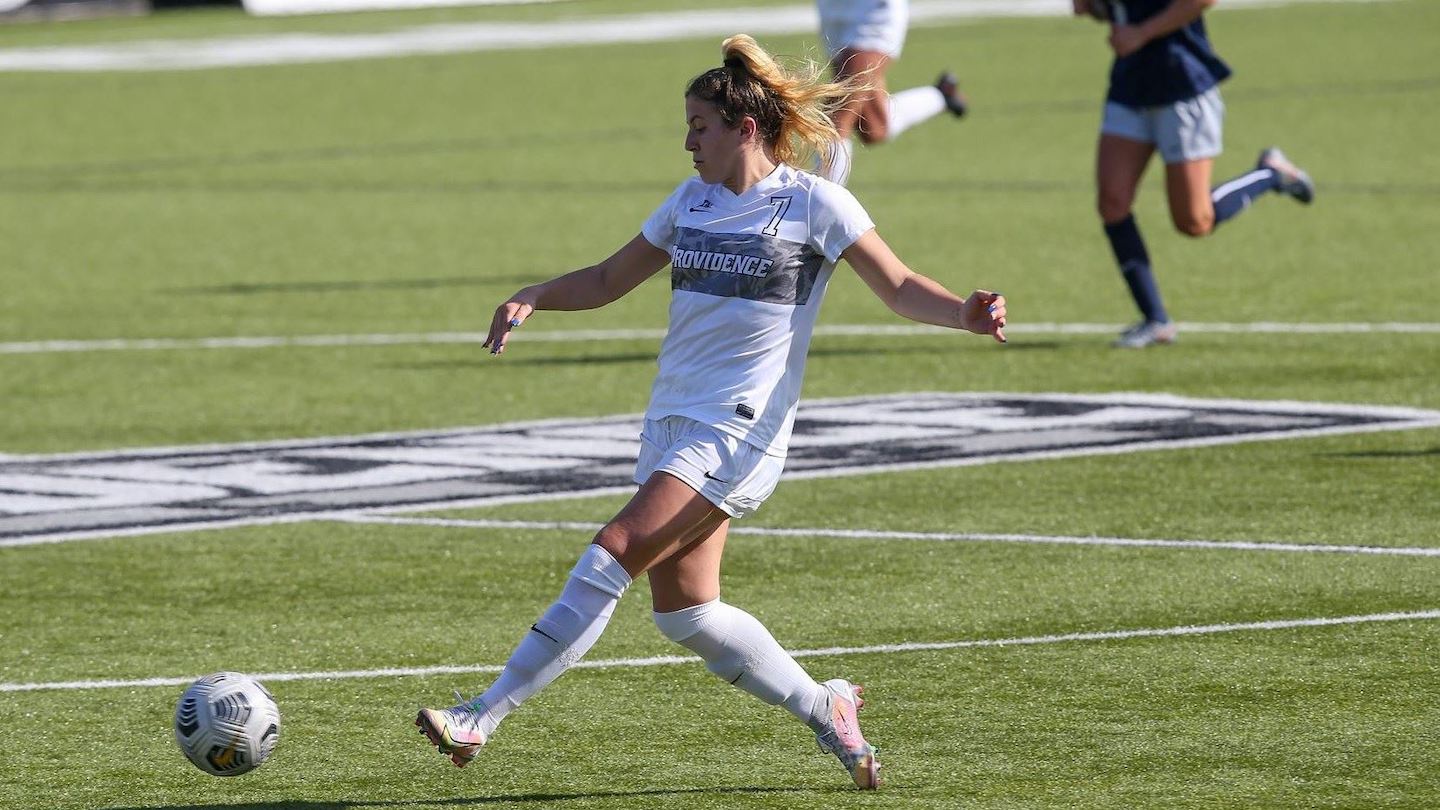 The BIG EAST has announced the conference's latest set of weekly honors for the 2021 women's soccer season.
BIG EAST Offensive Player of the Week
Meg Hughes, Providence, So., F
In a 2-0-0 week for the Friars, Hughes was the BIG EAST's top scorer. The sophomore tallied seven points off three goals and an assist, notching a goal and assist in Thursday's 4-0 home win over Stony Brook before scoring twice in a 3-1 win at Monmouth on Sunday.
BIG EAST Defensive Player of the Week
Jordy Rothwell, Creighton, Jr., D
Creighton's captain guided the Bluejays to an impressive weekend, posting a pair of shutouts and allowing just five shots in two matches. Rothwell and the back line did not allow a shot to South Dakota in a 0-0 draw on Thursday and did not yield a shot to South Dakota State until the 44th minute on Sunday. In all Creighton held its neighbors to the north without a shot for the first 153:49 of action this week.
BIG EAST Goalkeeper of the Week
Kaitlyn Mahoney, UConn, So., GK
Mahoney posted a four-save shutout victory on Sunday in the Huskies' lone game of the week. The sophomore's clean sheet was the first of her career, as UConn blanked Albany 2-0 on the road. Mahoney's four stops were the most by a BIG EAST goalkeeper in a win last week.
BIG EAST Freshman of the Week
Emma Martin, Butler, Fr., GK
Martin went 2-0-0 with a shutout for the Bulldogs last week, earning wins against IUPUI and Utah. The rookie totaled five saves across 180 minutes, surrendering just one goal for an .833 save percentage. She posted two saves on Thursday against IUPUI before stopping three shots on Sunday against Utah. She finished the week with a 0.50 goals against average to rank second among BIG EAST goalies with multiple appearances last week.
BIG EAST Weekly Honor Roll
Abigail Santana, Creighton, So., M – two goals, including the game winner, against South Dakota State on Sunday; seven shots on the week
Emma Bodmer, Providence, So., GK – went 2-0-0 with a shared shutout; three saves in scoreless action against Stony Brook on Thursday and one stop at Monmouth on Sunday
Brooke Boyd, St. John's, Sr., D – scored a goal in each game last week – at home against Lehigh on Thursday and at Harvard on Sunday
Megan McClay, Villanova, Sr., GK – posted a three-save shutout victory against Cornell on Sunday
Chloe Netzel, Xavier, Fr., F – scored the 51st-minute game winner against Illinois on Thursday – her second goal of the season and second of the game-winning variety