Big Ten women's soccer Preseason Poll and Players to Watch unveiled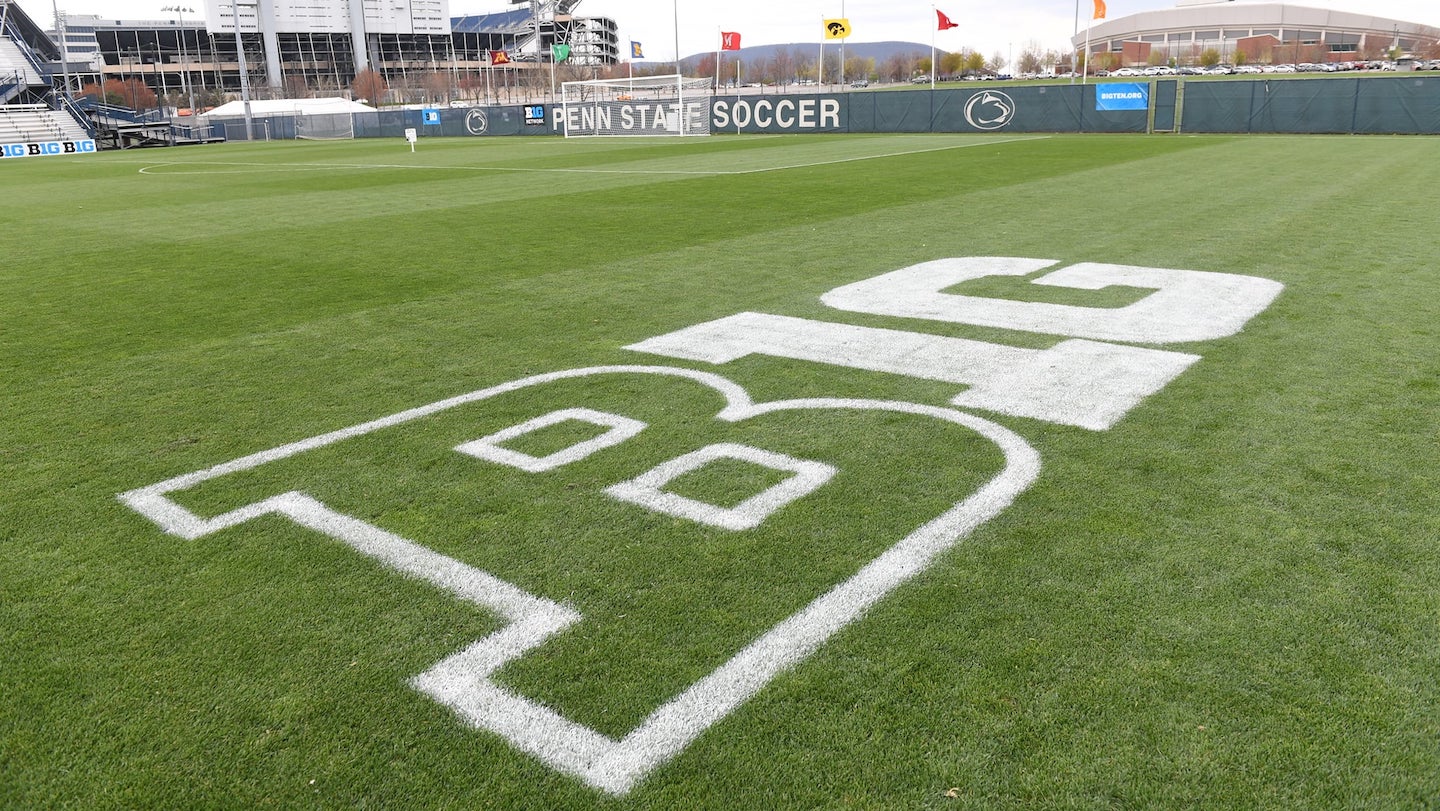 ROSEMONT, Ill. – Penn State has been selected as the favorite to win the 2021 Big Ten Conference women's soccer championship, according to the annual preseason poll of the conference's 14 head coaches released Monday.
The defending Big Ten Champion Nittany Lions, who have won 20 conference titles and advanced to the third round of the 2020 NCAA Tournament, have been chosen first in every Big Ten preseason coaches' poll since 2003. Rutgers, which has advanced to the past nine NCAA Tournaments, finished second in this year's Big Ten preseason poll, while Ohio State, which finished second in the conference standings last season and reached the second round of the NCAA Tournament, was voted third.
Rounding out the top five in the team balloting were Michigan and Wisconsin. The Wolverines reached the Big Ten Tournament championship match and the third round of the NCAA Tournament in 2019, while the Badgers were last year's Big Ten Tournament runners-up and have competed in nine of the past 12 NCAA tournaments, including four in a row from 2016-19.
Five Big Ten schools are ranked or receiving votes in the preseason United Soccer Coaches Top 25 poll, led by No. 10 Penn State. Rutgers was also ranked at No. 25, while Michigan, Ohio State and Wisconsin all received votes.
Also on Monday, the conference unveiled the 2021 Big Ten Players to Watch List, as selected by the conference coaches. Nearly half (19) of the student-athletes on the 2021 Big Ten Players to Watch List are returning all-conference selections, including all four of last season's individual award recipients — Penn State's Ally Schlegel (Big Ten Forward of the Year), PSU's Sam Coffey (Big Ten Midfielder of the Year), Ohio State's Izzy Rodriguez (Big Ten Defender of the Year) and Wisconsin's Jordyn Bloomer (two-time Big Ten Goalkeeper of the Year).
The Big Ten Players to Watch List features six United Soccer Coaches All-Americans (three-time selection Amirah Ali of Rutgers, two-time honoree Bloomer, Schlegel, Coffey, Rodriguez and Rutgers' Frankie Tagliaferri, who transferred from PSU during the summer), along with 17 United Soccer Coaches all-region honorees and three student-athletes (Ali, Coffey and Schlegel) who have been named semifinalists for the Missouri Athletic Club Hermann Trophy at least once during their careers.
Off the pitch, more than half (24) of the 42 student-athletes earning preseason honors have received Academic All-Big Ten recognition during their careers, highlighted by 13 Big Ten Distinguished Scholars and two Academic All-Americans, including 2020-21 Academic All-America Women's Soccer Team Member of the Year Kerry Abello of Penn State. Abello is also one of two returning Big Ten Medal of Honor recipients on the Big Ten Players to Watch List, along with Indiana's Hanna Németh, and Abello leads a group of four Big Ten Senior CLASS Award finalists from a season ago (the others being Ali, Bloomer and Coffey).
The 2021 Big Ten women's soccer season kicks off Thursday with 13 of the 14 conference schools in action, highlighted by Ohio State at 15th-ranked BYU (9 p.m. ET). Northwestern will be the final Big Ten program to open its season at 1 p.m. (ET) Sunday on the road at Xavier.
The 2021 composite Big Ten women's soccer schedule can be found online at bigten.org, while the complete 2021 Big Ten Women's Soccer Preseason Poll and Players to Watch List is as follows:
2021 BIG TEN WOMEN'S SOCCER PRESEASON POLL
1.         Penn State
2.         Rutgers
3.         Ohio State
4.         Michigan
5.         Wisconsin
6.         Indiana
7.         (tie) Iowa and Northwestern
9.         Illinois
10.       Minnesota
11.       Purdue
12.       Nebraska
13.       Michigan State
14.       Maryland
2021 BIG TEN WOMEN'S SOCCER PLAYERS TO WATCH LIST
Hope Breslin, Sr., M, Illinois
Kendra Pasquale, Jr., M, Illinois
Makena Silber, Sr., F, Illinois
Jamie Gerstenberg, Fr., GK, Indiana
Avery Lockwood, Jr., M, Indiana
Hanna Németh, Grad., M, Indiana
Samantha Cary, Jr., D, Iowa
Hailey Rydberg, Sr., M, Iowa
Sara Wheaton, Sr., D, Iowa
Malikae Dayes, Grad., D, Maryland
Mikayla Dayes, Sr., F, Maryland
Alyssa Poarch, Grad., F, Maryland
Meredith Haakenson, Sr., F, Michigan
Raleigh Loughman, Sr., M, Michigan
Sammi Woods, So., F, Michigan
Camryn Evans, Sr., F, Michigan State
Lauren Kozal, Jr., GK, Michigan State
Samantha White, Sr., D, Michigan State
Sophia Boman, So., M, Minnesota
Megan Gray, Sr., M, Minnesota
Delaney Stekr, Sr., D, Minnesota
Dakota Chan, Sr., M, Nebraska
Eleanor Dale, So., F, Nebraska
Reagan Raabe, So., F, Nebraska
Josie Aulicino, So., M, Northwestern
Regan Steigleder, Grad., M, Northwestern
Mackenzie Wood, Sr., GK, Northwestern
Kayla Fischer, Sr., F, Ohio State
Izzy Rodriguez, Sr., D, Ohio State
Emma Sears, Jr., F, Ohio State
Kerry Abello, Sr., F, Penn State
Sam Coffey, Sr., M, Penn State
Ally Schlegel, Jr., F, Penn State
Marisa Bova, Sr., GK, Purdue
Sarah Griffith, Sr., F, Purdue
Grace Walsh, Sr., M, Purdue
Amirah Ali, Sr., F, Rutgers
Gabby Provenzano, Sr., D, Rutgers
Frankie Tagliaferri, Sr., M, Rutgers
Jordyn Bloomer, Grad., GK, Wisconsin
Maia Cella, Grad., M, Wisconsin
Cammie Murtha, Grad., F, Wisconsin