South Georgia Tormenta FC wins inaugural USL W League Final over Minnesota Aurora FC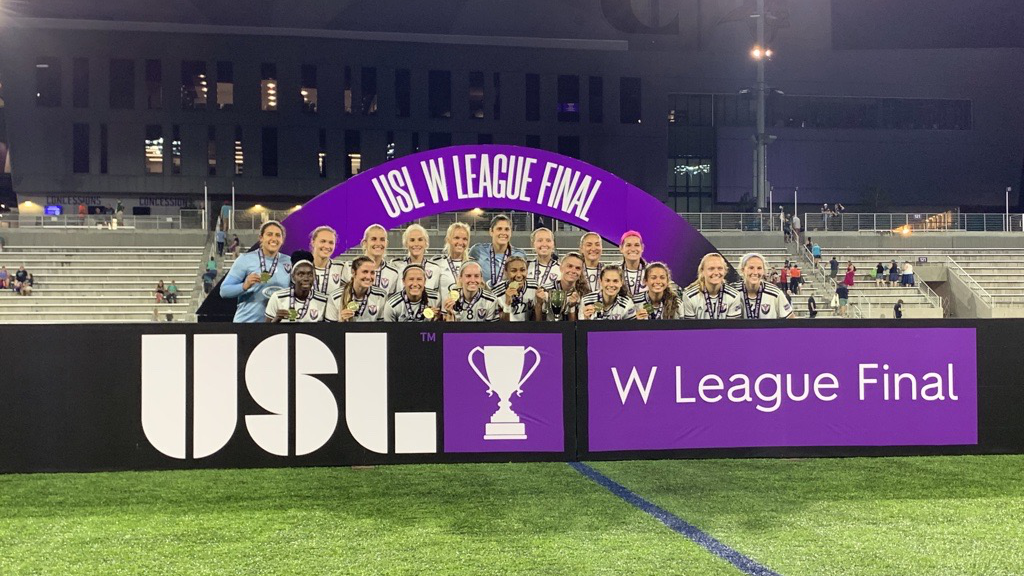 EAGAN, Minn. – Fly, Ibises, fly. Jaida Nyby's second goal of the night with four minutes to go in extra time, which followed a brilliant penalty kick save by goalkeeper Sydney Martinez five minutes earlier, sent South Georgia Tormenta FC to a 2-1 victory against Minnesota Aurora FC to claim the inaugural 2022 USL W League title before a sellout crowd of 6,489 fans at TCO Stadium on Saturday night.
Nyby had given South Georgia an early lead in the eighth minute as she finished sharply off a free kick that was flicked on into the penalty area by Erin O'Hearn. Aurora FC replied 14 minutes later with a brilliant long-range strike by Addy Symonds from almost 30 yards out to bring the hosts level, but that would be the last effort that got past Martinez on the night.
Jaida Nyby opens up the scoring early for @TormentaWLeague 🎥#MNvTRM | #ForTheW pic.twitter.com/1ZAY4pUBBZ

— USL W League (@USLWLeague) July 24, 2022
The W League Golden Glove winner made a key save with five minutes to go to keep out a first-time chance by Morgan Turner, a stop that was matched by Aurora FC's Sarah Fuller in second-half stoppage time to deny W League Player of the Year winner Amy Andrews for the visitors, but Martinez stepped up twice more in extra time.
Minnesota almost took the lead in the 95th minute when Kenzie Langdok launched a thunderous effort from the right flank that was just tipped over by Martinez, but the biggest save of the game came in the 111th minute. After Aurora FC was awarded a penalty kick for a handball in the penalty area, Martinez made a diving save to palm Turner's shot to the left corner onto the post before recovering to turn wide a second chance on the rebound, keeping the game level.
Nyby made that moment count five minutes later as after South Georgia had a chance cleared off the line following a corner kick, the clearance was kept alive by the visitors and came to the attacking midfielder who powered home a shot from 20 yards into the right corner of the net, sending Tormenta FC to its first league title in organization history.
A few minutes later, chaos ensues in front of goal, leading to Jaida Nyby scoring the winner for @TormentaWLeague 🔜#MNvTRM | #ForTheW pic.twitter.com/JgQrSfWxLa

— USL W League (@USLWLeague) July 24, 2022
Scoring Recap:
8' Jaida Nyby (Erin O'Hearn) – TRM 1, MN 0
A free kick forward by Camryn Scully was flicked on by Erin O'Hearn into the path of Jaida Nyby, who stole in-between two defenders and shot first time into the left corner.
22' Addy Symonds – MN 1, TRM 1
Symonds received a throw-in from the right in space almost 30 yards from goal and hit an outstanding long-range strike that picked out the top-left corner of the net.
116' Jaida Nyby – TRM 2, MN 1
After Minnesota half-cleared a corner kick by the visitors, Tormenta FC kept the play alive, and Nyby controlled and powered home a shot into the bottom-right corner from 20 yards.
Line ups/Substitutions:
Minnesota Aurora FC: GK: Sarah Fuller; D: Kenzie Langdok, Kelsey Kaufusi, Rachel Preston, Abby Ostrem (Jill Bennett 46'); CDM: Sangmin Cha (Arianna Del Moral 116'), Addy Symonds; AM/W: Jelena Zbiljic (Morgan Turner 46'), Cat Rapp, Mariah Nguyen (Eli Rapp 85'); F: Maya Hansen (Kristelle Yewah 77')
Substitutes: Taylor Kane, Rami Rapp
South Georgia Tormenta FC: GK: Sydney Martinez; D: Isabel Kopp, Camryn Scully, Jhenesis Ellerbe, Abby Wolf; M: Emily Burke, Janae Packard, Erin O'Hearn; F: Elis Nemstov (Isabella Gutierrez 62'), Jaida Nyby (Helen Gutierrez 116'), Amy Andrews
Substitutes: Joni Medina, Bridget Schuler, Lauren O'Hearn, Kelly Giddes, Remi Olalere
Cards:
MN: 52' Mariah Nguyen – Yellow Card
TRM: 79' Maxi Rocco (asst. coach) – Yellow Card
TRM: 79' Maxi Rocco (asst. coach) – Red Card
TRM: 90+' Jaida Nyby – Yellow Card
MN: 105+' Addy Symonds – Yellow Card