Sixty-five soccer players nominated for 2021 NCAA Women of the Year award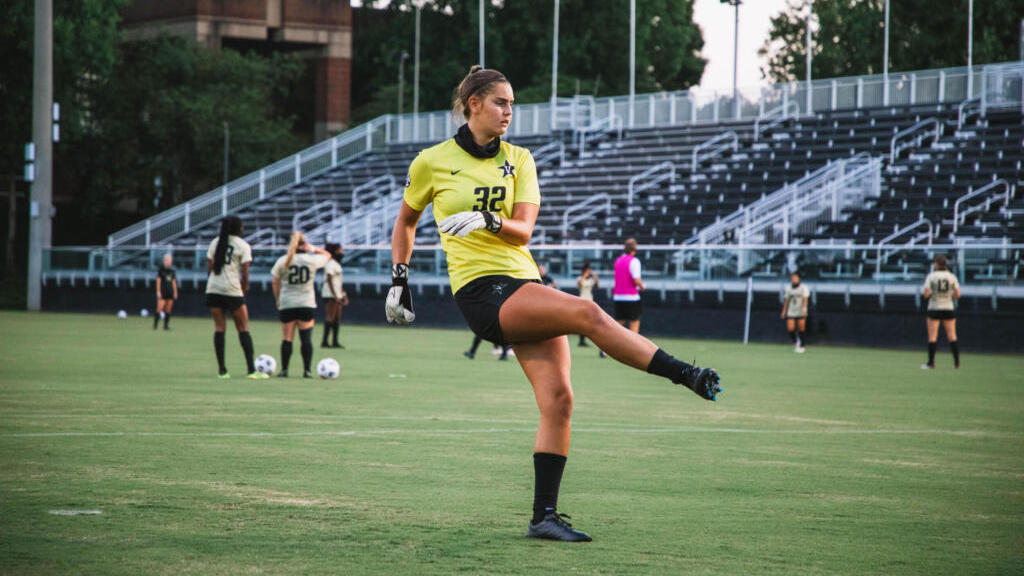 A total of 535 athletes have received nominations for the 2021 NCAA Women of the Year award, including 65 soccer players from across Division I, II and III.
Established in 1991, the NCAA Woman of the Year award is rooted in Title IX and recognizes graduating female college athletes who have exhausted their NCAA eligibility and distinguished themselves in academics, athletics, service and leadership throughout their collegiate careers.
Highlighting the list of soccer nominees is goalkeeper Sarah Fuller, who made history last fall as the first woman to appear in a Power 5 football game, when she filled in as a kicker for Vanderbilt. Fuller was a part of Vanderbilt's run to the SEC soccer championship this fall, and she is joining North Texas as a graduate transfer this season.
Reigning Big East Offensive Player of the Year Jenna Menta is also featured, following her spectacular career with Georgetown. Menta recently joined Wake Forest as a graduate transfer.
University of North Carolina standout Rachel Jones, hailed by Anson Dorrance as one of the Tar Heels' most creative players, secured a nomination after an impressive junior season.
The NCAA encourages member schools to honor their top graduating female college athletes by nominating them for the Woman of the Year award. Schools can recognize two nominees if at least one is a woman of color or international student-athlete.
Next, conferences will select up to two nominees each from their pool of member school nominees. All nominees who compete in a sport not sponsored by their school's primary conference, as well as associate conference nominees and independent nominees, will be considered by a selection committee. Then, the Woman of the Year selection committee, made up of representatives from the NCAA membership, will choose 10 women from each division to make up the Top 30.
The selection committee will determine the top three honorees in each division from the Top 30, and the nine finalists will be announced this fall. From those nine finalists, the NCAA Committee on Women's Athletics will choose the 2021 NCAA Woman of the Year later this fall.
See below to view all 65 soccer players who received nominations. To view the full list of 535 nominees from all sports, Click Here.
| | | |
| --- | --- | --- |
| Nominee Name | School | Division |
| Kayla Togneri | Macalester College | Division III |
| Holly Passetti | Alfred University | Division III |
| Alexis Segura | LeTourneau University | Division III |
| Amanda Ashmen | Union College (New York) | Division III |
| Miku Okada | New Jersey Institute of Technology | Division I |
| Kendra Schumacher | Wisconsin Lutheran College | Division III |
| Brianna Stegmeier | Hilbert College | Division III |
| Hannah Wolfe | Kalamazoo College | Division III |
| Nayla Abney | California Institute of Technology | Division III |
| Jill Aguilera | University of Arizona | Division I |
| Emily Alvarado | Texas Christian University | Division I |
| Chloe Arnold | University of Tennessee at Chattanooga | Division I |
| Haley Brown | California State University, Fullerton | Division I |
| Erika Caldro | University of Pittsburgh, Greensburg | Division III |
| Fern Calkins | University of Maine, Farmington | Division III |
| Keeley Catarineau | Greensboro College | Division III |
| Billie Clark | Eastern Kentucky University | Division I |
| Sydney Cummings | Brown University | Division I |
| Lexi D'Abrosca | Texas Woman's University | Division II |
| Meghan Dalton | Bryant University | Division I |
| Cedar Davidson | Lincoln University (Pennsylvania) | Division II |
| Kristin Dean | Centre College | Division III |
| Chyanne Dennis | University of South Florida | Division I |
| Chelsie DePonte | Stony Brook University | Division I |
| Kathryn Dixon | McDaniel College | Division III |
| Abigail Drezek | University of Massachusetts Lowell | Division I |
| Sarah-Lisa Dubel | Flagler College | Division II |
| Cora Duininck | Liberty University | Division I |
| Alyx Farris | Knox College | Division III |
| Kendyll Freeman | Covenant College | Division III |
| Sarah Fuller | Vanderbilt University | Division I |
| Anna Goorevich | Franklin & Marshall College | Division III |
| Meredith Hamby | University of North Carolina | Division I |
| Lindsey Hardiman | Loyola University Chicago | Division I |
| Madison Brooke Harris | Illinois Institute of Technology | Division III |
| Samantha Hatfield | Dominican University (Illinois) | Division III |
| Kate Heimer | University of St. Thomas (Minnesota) | Division III |
| Molly Hutter | The College of Wooster | Division III |
| Kailah "Kai" Jeffries | Georgia College | Division II |
| Rachel Jones | University of North Carolina, Chapel Hill | Division I |
| Cassie Kirk | Piedmont University | Division III |
| Courtney Kline | Medaille College | Division III |
| Grace Kwiatkowski | University of North Carolina Asheville | Division I |
| Nicole Loehle | New Jersey Institute of Technology | Division I |
| McKenna Lupori | Alabama State University | Division I |
| Taylor Malasek | University of North Georgia | Division II |
| Alexzondra Mattson | Ferrum College | Division III |
| Tiffany McBrayer | Sarah Lawrence College | Division III |
| Alexandra McCraven | Yale University | Division I |
| Jenna Menta | Georgetown University | Division I |
| Julia Mulhern | St. Lawrence University | Division III |
| Jenna Pannone | University of New England | Division III |
| Jade Piper | University of the Incarnate Word | Division I |
| Amber Posthauer | Louisiana Tech University | Division I |
| Sabine Postma | Humboldt State University | Division II |
| Cathy Rahill | University of Vermont | Division I |
| JoAnnie Ramos | The University of Southern Mississippi | Division I |
| Rachel Ann Rocha | St. Joseph's College (Brooklyn) | Division III |
| Dana Ruchti | Embry-Riddle Aeronautical University (Florida) | Division II |
| Kimberly Sanford | East Carolina University | Division I |
| Bella Shivley | Otterbein University | Division III |
| Gina Steiner | The University of Texas Rio Grande Valley | Division I |
| Brooke Zidek | Milwaukee School of Engineering | Division III |
| Chana Boltax | Yeshiva University | Division III |
| Anna Curran | Brooklyn College | Division III |