All three Duke women's soccer captains to use extra year of eligibility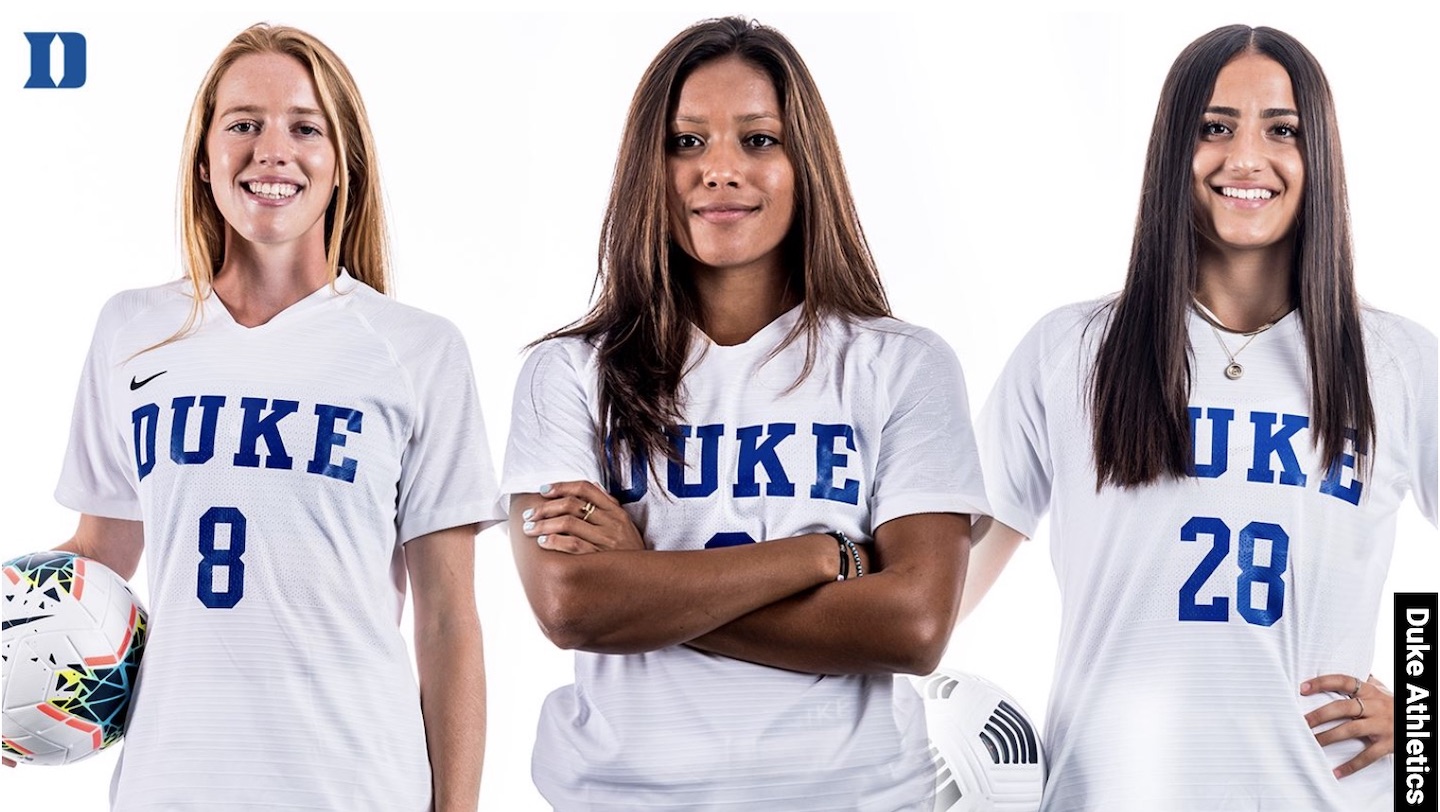 DURHAM – After an unprecedented 2020-21 season for the Duke women's soccer program, seniors Tess Boade, Caitlin Cosme and Lily Nabet have each announced that they will use the extra year of eligibility granted by the NCAA due to the COVID-19 pandemic and join the team for the upcoming campaign.
Boade, Cosme and Nabet served as tri-captains for Duke this past season, leading the Blue Devils to a 12-5-4 record, an appearance in the NCAA Quarterfinals and a final national ranking of No. 7 in the United Soccer Coaches poll. Over the last four years, they have contributed towards a combined 112 wins.
"We're thrilled to have Tess, Caitlin and Lily back, returning for a fifth year" head coach Robbie Church said. "It's a unique situation and we're really glad that they took advantage of it. All three of them are what we're looking to have as players in our program. They do a great job on the field and in the classroom, and they're fine young ladies. It will make us an even stronger team for what we feel is going to be a strong 2021 fall."
In her four seasons at Duke, Cosme has logged 4,020 minutes in 49 matches with 42 starts on the back end. The New Hyde Park, N.Y., native emerged as a key member of the Blue Devils' defensive corps over the last two years, appearing in all 41 of the team's games in that span. While she played a significant role in helping Duke record 12 clean sheets and eight shutout wins in 2020-21, Cosme also showcased her offensive abilities, tallying six goals and one assist. Her six goals in 21 matches were the most among all ACC defenders and tied for the team lead, and came after she scored just one goal in 28 appearances through her first three seasons. Cosme's efforts at both ends of the pitch earned her first-team All-Atlantic Region honors from the United Soccer Coaches. She graduated with a degree in Psychology this spring after being recognized on the ACC Academic Honor Roll the past three years.
"After the fall season ended, we got news that the NCAA was going to give us another year of eligibility," Cosme said. "I thought about what it would look like to play for Duke one more year and decided that I wasn't ready to hang my cleats up and leave the team just yet. It wouldn't have felt right, especially after such an unprecedented year. The fact that I get one more season with this team, plus I get to further my education as a graduate student, sounded like a win-win situation for me and I would regret not taking this opportunity. I am so excited to be coming back and getting one last shot at growing with this team and competing for a national championship!"
Boade has taken the pitch 73 times with 47 starts in her Duke career. A native of Highlands Ranch, Colo., she has steadily increased her offensive output over the last four seasons, totaling 14 goals and 10 assists for 38 points. She played 11 matches during the 2017 campaign in which Duke advanced to the NCAA College Cup, and has appeared in at least 20 games in each season since then. As a senior in 2020-21, the midfielder led the Blue Devils with 15 points on six goals and three assists. In the National Women's Soccer League (NWSL) Draft on January 13, Boade was selected in the fourth round (40th overall) by NY/NJ Gotham FC – formerly known as Sky Blue FC. She became the Duke program's 15th all-time NWSL draft choice, and will return to Durham for the upcoming season after training with Gotham FC this summer. A three-time member of the ACC Academic Honor Roll, she earned her undergraduate degree in International Comparative Studies this spring.
"Duke has been my home for the past four years and I wasn't quite ready to leave this Duke family just yet," Boade said. "Not without a trophy at least."
Nabet is set to compete for a fifth season after making 37 starts in 65 total matches from 2017-21. The Los Angeles, Calif., native started all 20 matches in 2019, ranking third on the team with 1,820 minutes played while recording four assists. After being sidelined for two games during the fall 2020 campaign due to an injury, she played in each of the season's last 17 games, starting 10 of those contests. On five occasions throughout her career, Nabet has played a full 110 minutes of regulation plus two overtime periods, with the most recent performance coming against 14th-ranked Vanderbilt on April 11. She graduated in May as a Sociology major, and was named to the ACC Academic Honor Roll in 2019 and 2020.
"A big part of my decision to come back and play for a fifth year was due to the COVID year," Nabet said. "My senior year was not the one that I had planned on having and I am extremely grateful that I have the opportunity to come back and play another season with this program. The fact that I have another year to prepare on winning a national championship is incredible and I can't wait to get started once again!"