Seven MLS NEXT standouts called up to Sacramento Republic first team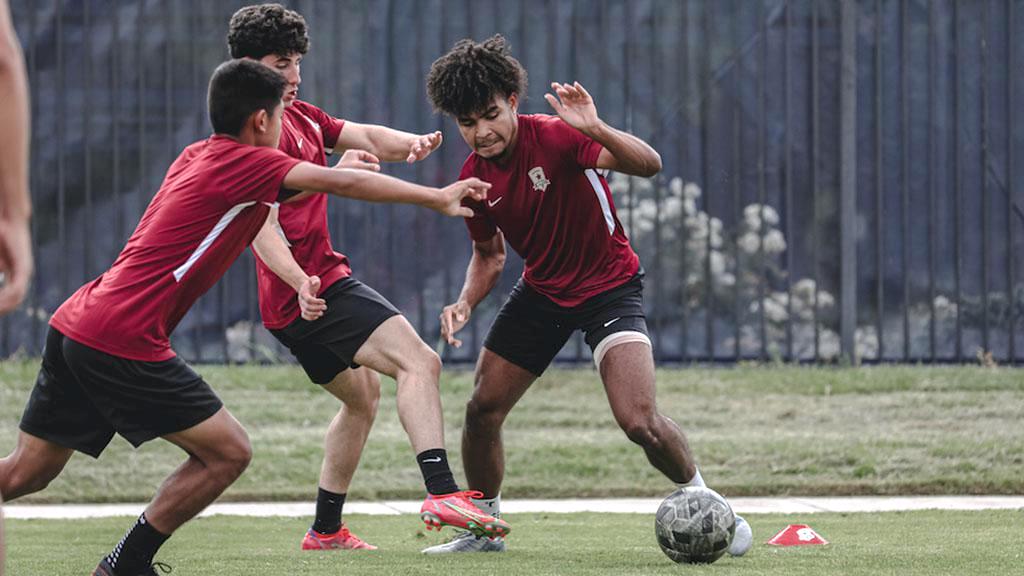 Sacramento, Calif. – Following impressive semifinal finishes for the Sacramento Republic FC U19 and U17 Academy teams at the MLS NEXT Cup earlier this summer, the club has added seven players from the club's youth development academy to the first team roster.
The seven players – Amjot Narang, Josemaria Barrera, Daniel Govea, Giovanni Ceja, Fernando "Pepe" Venegas, John Pablo "JP" Cortez and Jonathan Dadzie – have signed USL Academy contracts, making them eligible to join Republic FC for USL Championship matches, pending league and federation approval. Additionally, nine Republic FC Academy players have committed to play college soccer throughout the country with many beginning this fall.
"Our academy teams, players and coaches continue to shine on the biggest stage, and we're proud of how they have represented the city and club," said Republic FC President and General Manager Todd Dunivant. "Amjot, Josemaria, Daniel, Gio, Pepe, JP and Jonathan have shown that they are eager to compete at the highest levels, and we're excited to help them continue to grow. Our academy staff deserves a tremendous amount of credit for developing these talented players, as well as encouraging them to take the next step – whether it be moving to the pros or into an elite college program."
USL Academy contracts allow academy players the chance to play with the first team in professional matches, while retaining their NCAA eligibility by preserving their amateur status. Since its founding, Republic FC's youth development academy has created a pipeline of players including four current first team pro members — Nabi Kibunguchy, Hayden Sargis, Mario Penagos and Rafael Jauregui, as well as several contributors on USL Academy contracts. In the last 17 months, players from Republic FC's academy system have logged over 1,500 minutes in USL league play.
Since 2017, 24 Republic FC Academy players have signed USL Academy contracts, and joined the first team for training and matches to continue their development at the highest level. Republic FC is the only soccer club in the Sacramento region that can provide talented players with an opportunity to compete against top-tier talent at the youth and senior levels.
[MLS NEXT Cup Playoffs 2021: Club-By-Club Results]
Four members of from the 2004 age group – Barrera, Ceja, Govea, and Venegas – will be able to join the first team for trainings and will be available for selection through the remainder of the season. En route to the MLS NEXT Cup semifinals, the U17 squad defeated two top 25 clubs.
Barrera, a 17-year-old midfielder from Stockton, has been a member of Republic FC's Academy since 2016. Before joining Republic FC, he played youth soccer for the Stockton Earthquakes. Ceja, a 17-year-old defender from Merced, has been with the Indomitable Club's Academy since 2016. A co-captain for this year's 2004 squad, he joined the first team earlier this season for preseason training camp. Govea, a 17-year-old midfielder from Los Banos, California, started with Republic FC's Academy in 2017. Before joining Republic FC, Govea played for BK Elite. His older brother spent three seasons with the club's Academy before joining the men's soccer team at Sac State. Venegas, a 16-year-old defender from Sacramento, California, started with Republic FC's Academy in 2015 after representing Placer United. He started in 8 of 9 league matches in 2021 while serving as co-captain and joined the first team during preseason training camp.
The MLS NEXT Cup semifinalist U19 team is well represented with three first-team call ups – Narang, Cortez and Dadzie. The squad reached the final four after defeating three top 40 clubs. Narang, a 17-year-old central midfielder from El Dorado Hills, joined Republic FC's academy in 2016. After a brief tour with FC Dallas, he returned for the 2020-21 season and was selected for each match in MLS NEXT division play, as well as the MLS NEXT Cup. Cortez is an 18-year-old forward from Petaluma, California, who before joining the Republic FC Academy played with North Coast FC. Dadzie, a 17-year-old center defender from Sacramento, joined Republic FC's academy in 2015. After a brief stint with FC Dallas, he returned to the Indomitable Club for the 2020-21 season. In his return, he scored in his first appearance at MLS NEXT Cup.
The U19 team also serves as a springboard for players who are preparing to play at the collegiate level. Nine members of the team are moving on to play at several top tier schools around the country. Four members from the U19 squad – Centeno, Esquivel, Yang, and Narang – have signed USL Academy contracts allowing them to log valuable training opportunities and retaining their college eligibility.  Since the academy's founding, 50 SRFC Academy players have signed to Division I college soccer programs.
2002/03 members moving into college soccer:
Erik Centeno – University of Pacific – Fall 2021
Ulises Esquivel – University of Washington – Fall 2021
Jorge Galvan – University of Pacific – Fall 2021
Maxwell Johnson – UC Santa Barbara – Fall 2021
Mason Pahule – Colgate University – Fall 2021
Ian Reis – Sonoma State University – Fall 2021
Aris Yang – Cal State Fullerton – Fall 2021
Armando Jimenez – Cal State Sacramento – Spring 2022
Amjot Narang – UCLA – Spring 2022
All seven players on USL Academy contracts will be available for selection for this Saturday's match at Heart Health Park. The nine members moving to on to play at the college level will be honored at halftime.
After two road matches, Republic FC return home to host New York Red Bulls II on Saturday, July 31 at 8:00 p.m. The match will be broadcast locally on KQCA My58 and Estrella TV Sacramento, as well as streamed on ESPN+.