MLS NEXT Cup Playoffs 2021: Club-By-Club Results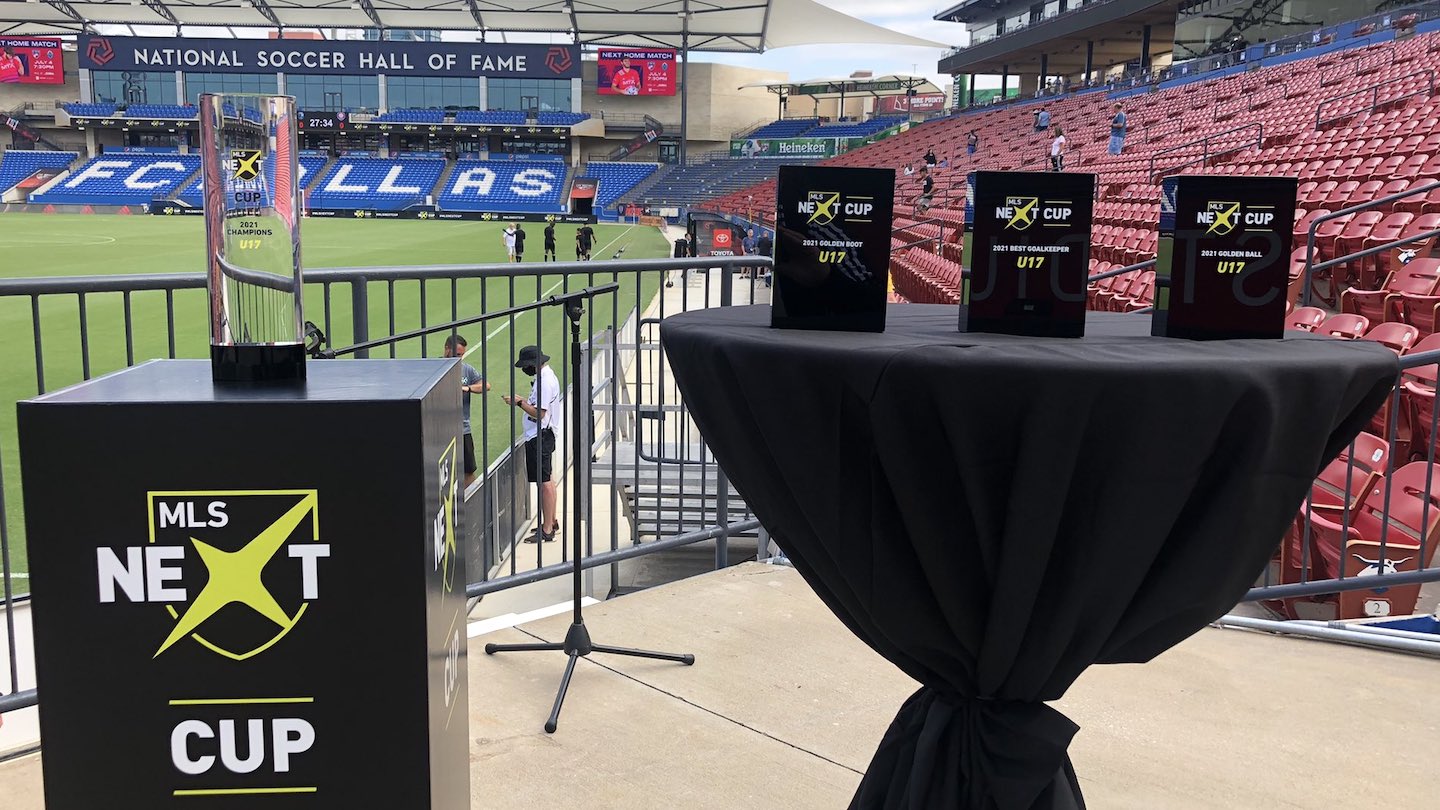 With the inaugural MLS NEXT season officially in the books, SoccerWire has compiled a club-by-club breakdown of how the postseason played out.
Real Salt Lake (U15), Weston FC (U16), Orlando City SC (U17) and Chicago Fire (U19) captured the first-ever MLS NEXT Cup championships. Philadelphia Union (U15), Tampa Bay United (U16), PDA (U17) and Solar SC (U19) earned second place finishes after advancing all the way to the finals.
Five total clubs accomplished the impressive feat of qualifying for the MLS NEXT Cup Playoffs across all four age groups: Atlanta United FC, Cedar Stars Academy – Bergen, Force SC, Indiana Fire Academy and Tampa Bay United.
An additional 12 clubs were represented in 3-of-4 age groups for the postseason: ALBION SC San Diego, Barca Residency Academy, Bethesda SC, Chicago Fire, IMG Academy, LAFC Academy, New England Revolution, PDA, Real Colorado, Sacramento Republic, Sockers FC and Solar SC.
See below for a complete look at how each MLS NEXT club fared in the 2021 playoffs.
| | | | | |
| --- | --- | --- | --- | --- |
| MLS NEXT Cup Playoffs 2021 | U15 | U16 | U17 | U19 |
| ALBION SC San Diego | Qualified | Quarterfinalist | Round of 16 | |
| Atlanta United | Round of 16 | Round of 16 | Qualified | Qualified |
| Austin FC | Quarterfinalist | | | |
| Baltimore Armour | | Round of 16 | | Qualified |
| Barca Residency Academy | Qualified | Qualified | | Round of 16 |
| Beachside of Connecticut | | Round of 16 | | Qualified |
| Bethesda SC | | Qualified | Round of 16 | Qualified |
| Blau Weiss Gottschee | | Qualified | | |
| Cedar Stars Academy – Bergen | Round of 16 | Qualified | Qualified | Quarterfinalist |
| Chargers Soccer Club | | | | Qualified |
| Charlotte FC | | | Round of 16 | |
| Chicago FC United | | Qualified | | Round of 16 |
| Chicago Fire FC | Qualified | | Round of 16 | Champion 🏆 |
| Colorado Rapids | | | Quarterfinalist | Qualified |
| D.C. United | Quarterfinalist | | | |
| De Anza Force | Qualified | Round of 16 | Qualified | Round of 16 |
| FC Cincinnati | | | | Quarterfinalist |
| FC Dallas | Quarterfinalist | | Quarterfinalist | |
| FC Delco | | Semifinalist | Qualified | |
| FC Greater Boston Bolts | | Qualified | | Qualified |
| Florida Rush Soccer Club | | Qualified | | Qualified |
| IMG Academy | | Qualified | Qualified | Qualified |
| Indiana Fire Academy | Qualified | Qualified | Qualified | Round of 16 |
| Inter Miami CF | Qualified | | | |
| Jacksonville FC | | Quarterfinalist | | Qualified |
| L.A. United Futbol Academy | | Qualified | | Qualified |
| LA Galaxy | Round of 16 | | Quarterfinalist | |
| LA Surf Soccer Club | Qualified | Round of 16 | | |
| Los Angeles Football Club | Round of 16 | | Quarterfinalist | Round of 16 |
| Metropolitan Oval | | | Qualified | |
| Miami Rush Kendall SC | | | | Qualified |
| Michigan Wolves | Qualified | Qualified | | |
| Murrieta Surf Soccer Club | Qualified | | | |
| New England Revolution | Semifinalist | | Qualified | Round of 16 |
| New York City FC | Round of 16 | | Qualified | |
| Nomads | | Qualified | | |
| Oakwood Soccer Club | Qualified | | Qualified | |
| Orlando City SC | Qualified | | Champion 🏆 | |
| PA Classics | Qualified | | | |
| Philadelphia Union | Finalist 🥈 | | Round of 16 | |
| Phoenix Rising FC | Qualified | Quarterfinalist | | |
| PDA | | Semifinalist | Finalist 🥈 | Quarterfinalist |
| Portland Timbers | Qualified | | | Round of 16 |
| Real Colorado | Round of 16 | Round of 16 | Qualified | |
| Real Salt Lake | Champion 🏆 | | | |
| RSL Arizona | | Quarterfinalist | Round of 16 | |
| Sacramento Republic | Round of 16 | | Semifinalist | Semifinalist |
| Saint Louis FC | | Qualified | Qualified | Qualified |
| San Antonio FC | | Round of 16 | | |
| San Jose Earthquakes | Semifinalist | | Round of 16 | |
| SC Del Sol | | | | Qualified |
| Seacoast United | | Qualified | | |
| Seattle Sounders FC | | | Semifinalist | |
| Shattuck-St. Mary's | | | Round of 16 | Qualified |
| Sockers FC Chicago | Quarterfinalist | Round of 16 | | Round of 16 |
| Solar Soccer Club | | Qualified | Qualified | Finalist 🥈 |
| Sporting Kansas City | Qualified | | | Quarterfinalist |
| Tampa Bay United Rowdies | Qualified | Finalist 🥈 | Qualified | Qualified |
| Total Futbol Academy | Round of 16 | | Qualified | |
| Vardar Soccer Club | | Qualified | Qualified | |
| Weston FC | | Champion 🏆 | | |